Betsy McCann
Vice President of People Operations
"People at Embroker really move the line on what's possible."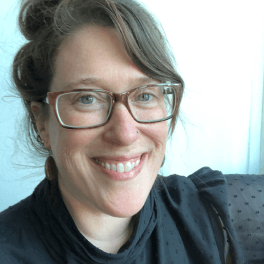 Three Words That Describe Embroker
How did you join Embroker?
Before Embroker, I worked as an HR director in Fintech. I was responsible for buying our insurance policies and had to go through the traditional broker model for insurance. It took weeks and was a super frustrating process. I remember thinking in 2016: "Why isn't there an easier way to do this?" When I found Embroker in 2019, I immediately liked that they were disrupting the traditional insurance industry.
What are you responsible for in your role?
I'm responsible for all aspects of our People Operations function: recruitment, hiring and employee training, performance management, as well as facilitating our Embassador Culture Team. I'm the point person for all of our Pack surveys and long-term response for COVID-19. Most recently I have been working on our IDEA initiative, which is inclusion, diversity, equity and acceptance. It's all about trying to build a company of the future: what we look like, who we hire, how we attract talent and how we evolve our own DNA to include people that are traditionally underrepresented in technology, engineering, and insurance. We really want to build a company that brings all of these perspectives together.
What's a typical day like for you?
I live on Zoom. It's enjoyably grueling. On a typical day, I kick off with my team in Belgrade, I schedule interviews with candidates, do follow-ups on surveys and survey data, do research and planning for IDEA, have the occasional disciplinary conversation, do management and performance coaching, and plan our long-term strategy and headcount. I know I'm strengthening our foundation while building our future. It's startup life. I'm getting my hands dirty every day, but I'm also getting to grow through delegation and developing my team and asking "what else?."
"We're David and traditional insurance is Goliath, and we're ready."
What's your most memorable moment on the job so far?
here've been a lot of memorable moments and I've only been here 10 months. We have an office in Belgrade, Serbia and when I was there for the first time, on my last day, I came in early and worked in their kitchen, which is like the hub of all of their team activity. It was the best moment seeing all of the team coming in slowly. They have their morning rituals, where they get their coffee, they make some smoothies, they make oatmeal, they sit and eat breakfast together, and they talk to each other. Just getting to observe that was so incredible. Pure community building. It's what is special about our path and what we have to offer.
What's the best part of your job?
Number one – it's the people. During COVID, what we have seen consistently is people willing to be creative, to figure out how to make it work, to be very compassionate and understanding of other people's limitations or needs. Two, the sense of adventure of what we're doing. We're David and traditional insurance is Goliath, and we're ready. Everybody wants to say yes, all the time. We still are in this very luxurious place of being able to say yes to being able to experiment and being able to pivot quickly and make new changes just to try things out and see if they work.
In what ways is your team innovative?
We don't have to do anything in a traditional way. Even on the executive level, we like to create things we haven't seen before, and do things in a different way. I've been working with some hiring managers on adding some fun questions to our hiring process. One of our VPs of Alliances was like 'Can I ask them what TV show or movie they like to quote the most?' and I was like 'You absolutely can.' No one has done what we're doing before, so it's incredible to get to trailblaze instead of follow.
How do you bring the brand alive in your work?
Every day I want to create magic for people. I'm very disappointed that I haven't shown up in more meetings with wigs or silly makeup or costumes during our extended work from home life. I don't usually have time for a costume change in between meetings and I wonder how I would navigate 'I was just wearing black lipstick for my prior meeting, how are you today?' My job is to make this a place where people want to show up because they enjoy it. And so that they want to come to that 10th meeting of the day because there may be something to laugh about or there might be a place to relax and let off some steam while building together. I want to build a culture of psychological safety where people are allowed to be human beings with lives outside of work and don't feel they have to be available 24 hours.
Why would you recommend Embroker to someone?
Because we are such a fun rocketship. People are committed, determined, willing and ready to share. Thinking back of when I was coming into that environment, I was so welcomed and people were so generous with their knowledge. We are a young company, so we still have a lot of freedom and flexibility in what we do. There's big growth potential in a lot of our roles as we are still building some foundations. This is super exciting.
On a different note, what do you like to do in your spare time?
When I turned 40, I bought myself an orange bicycle. I named her Carrots and became a bicycle commuter in Chicago. Now I really love biking and tell everyone when Carrots has 10,000 miles on her back, she's gonna get a PhD and she'll be Dr. Carrots.