David Li
Email Marketing Manager
"Embroker has built an awesome corporate culture."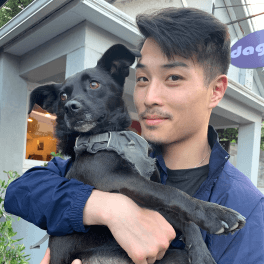 Three Words That Describe Embroker
How did you join Embroker?
I was on a job search and I found a listing for an email marketing manager position at Embroker on LinkedIn. I was looking for an innovative place and Embroker fit the bill.
What are you responsible for in your role?
My job is to ensure that our emails do well. There's two facets of that: I'm in charge of the prospecting emails that bring in new customers and I help with retention and nurture campaigns for existing customers. This means we're cross selling and bringing more value to our customers, telling them about how they can get the most out of their insurance—all through the email channel.
What's a typical day like for you?
I work with everybody because everybody works with email. So I'm working with Sales, the Customer Success team, the Sales Development Reps and the DemandGen team, which research the leads that we reach out to. My job touches everybody so I have all these different chains of communication going on every single day. I constantly try to figure out how to prioritize and how to execute on the projects that are important for me, while also helping people where needed.
"My team is really good at coming up with solutions for problems. I am really proud of us for that."
What's your most memorable moment on the job so far?
We were using a product called Pardot for our marketing emails and I noticed that Pardot gave us an IP that was compromised and that would have hurt our marketing campaigns. I pointed that out to my managers, and they switched out the IPs. We've been set up for success since then.
What's the best part of your job?
It is that I get to work with everybody, because everybody has to send out emails. I like helping people become a master of email and be more efficient and ultimately execute well on their projects. There's always a more efficient way to do email and to look over your analytics to make a decision on what type of email you should send. I think that is the same as Embroker's mission to bring great products to consumers without all the cumbersome processes of the insurance industry. I hope to bring the same type of ease, fun and efficiency to emails as Embroker does to insurance.
In what ways is your team innovative?
My team is really good at coming up with solutions for problems. I am really proud of us for that. I know that's very broad, but whenever a problem comes our way, I feel we're well equipped to problem solve on the fly. We are here to take these inefficient processes, chop them down, and make it a lot easier and more pleasant to work.
How do you bring the brand alive in your work?
By innovating, by making things more efficient, and by disrupting. Every project that I work on is informed by the need to make things more efficient for scale. If a process is cumbersome, it is slowing somebody down or making their job difficult, the onus is on me to come up with an idea to fix that problem. With regards to our customers, I try to provide them with the best experience, so that an account executive, for example, doesn't have to enter stuff manually. I make sure that our SDRs get notified when a customer signs up and can reach out to them right away so that we can drive the best customer experience that's the same goal that we all have.
Why would you recommend Embroker to someone?
The team is doing something brave and innovative, why wouldn't you want to be a part of that?
On a different note, what do you like to do in your spare time?
Oh, I'm so boring, it's crazy. We can end the interview now. I read books all the time. My background is in English literature. I was hoping to be a writer one day, but that's a tough one. I'm still writing though. I also play with my dog a lot. I like to run and most importantly do whatever my wife says. She wants to do something, I'll do it.