Natasa Lucic
Product Designer
"Embroker has a bold approach to business and visual presence, an innovative product, and a friendly working environment."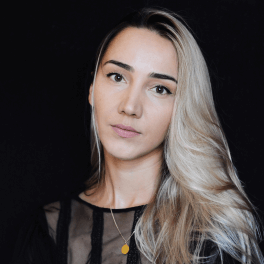 Three Words That Describe Embroker
How did you join Embroker?
After ten years of working in digital design agencies, I decided it was time to gain hands-on knowledge about brands and switch to being a product designer. That's how I came across Embroker, and it seemed like a perfect opportunity for me: A digital product with a lot of potential.
What are you responsible for in your role?
I work with the design and engineering team to keep the design system up to date, visually manifest the brand values, and to make the otherwise complicated insurance system easier: By implementing a better user interface and user experience.
What's a typical day like for you?
I have daily syncs with my team and we discuss the design approach for each user scenario. I also keep up with current design practices and trends, and I'm there for our engineers to make sure they have everything ready for design implementation.
"We are not afraid to think outside of the box when it comes to visuals."
What's your most memorable moment on the job so far?
I think it was my first day at Embroker: I was surprised at how everyone was there to help, how it was all very well organized, and about their understanding for newcomers.
What's the best part of your job?
Even though insurance may sound boring to some, there is a challenge in making something complicated look simple and user-friendly. That challenge is the best part of the job.
In what ways is your team innovative?
Embroker is innovative in many ways, and we back it up with the implementation of up-to-date design. We are not afraid to think outside of the box when it comes to visuals.
How do you bring the brand alive in your work?
By implementing everything, I've learned from my experience at design agencies to always think about our users first and put my personal design preferences second.
Why would you recommend Embroker to someone?
Because why get insurance the hard way?
On a different note, what do you like to do in your spare time?
I like hiking or taking long walks with friends. Spending time with animals is a must.