Directors & Officers Insurance
Embroker helps you get D&O insurance to protect the assets of your board of directors from lawsuits related to misuses of company funds, misrepresentations of company assets, breach of fiduciary duty, non-compliance, and more.
Directors and Officers have accountability to investors and shareholders. This means personal asset exposure when expectations are not met. The company itself is also exposed.
If a shareholder sues your CFO and senior management for breach of fiduciary duties, a tailored directors and officers (D&O) liability product can help indemnify and protect the personal assets of the individuals leading your company. The right D&O product can give a high growth company's management and board members the confidence to take strategic risks essential to supporting growth goals.
We wrote this guide to help you, the reader, understand both the basics of D&O insurance as well as some more advanced considerations. Our hope is that you walk away from this article a more empowered buyer, with a better understanding of the risk you can transfer to other parties via the D&O insurance product.
We've quickly become the leading digital D&O insurance broker for high growth businesses. If you'd like help, we'd invite you to talk with a broker or get started by creating an Embroker account.
Finally, if you are involved with a venture-backed startup, you can get market leading D&O insurance in less than 60 seconds through the Embroker Startup Program – click here to get an instant quote.
What Is D&O Insurance?
Directors and officers liability insurance (D&O) is liability insurance that covers the directors and officers of the company against lawsuits alleging a breach of fiduciary duty. A company pays for this coverage so executives can serve confidently as leaders of their organization without fear of personal financial loss.
In essence, D&O is a liability insurance policy, payable either to directors and officers of a company or the company itself. The policy will reimburse settlements or defense costs that result from covered claims.
Why Should You Have Directors and Officers Insurance?
In the event of a claim against directors and officers, the insurance carrier will help navigate the lawsuit, negotiate settlements, and cover expenses. Ultimately, this translates into significant time and money savings.
D&O insurance can also protect executives and board members in the unfortunate case of bankruptcy. The D&O policy will provide indemnification, acting as a buffer between the personal assets of the directors and officers and the legal costs spent defending litigation brought by creditors, trustees, or past investors.
Public and Private Companies
Both private and public companies secure D&O insurance to protect company leaders and the business.
Private and venture investors typically mandate that companies buy D&O insurance either before closing a round of financing or within some specified time after closing. A proper D&O policy will support the company leaders as well as the board.
There are material differences between D&O policies for private and public companies. The biggest difference is that public policies cover Securities Class Actions brought by investors. As such, D&O insurance for a public company will be more expensive, which makes complete sense because there are simply more stakeholders involved.
Nonprofits
When trying to run a successful nonprofit, the organization commonly pays more attention to the philanthropic cause than to the "business" side of things. It's quite common to see nonprofits name directors and board members who might not have much experience occupying relevant leadership positions. Many will recruit their leaders based on how much passion they have for the cause, not based on their experience as nonprofit leaders.
A seasoned leadership team typically understands the value of D&O insurance, as it can offer protection to them personally from the nonprofit constituents alleged financial mismanagement – even if the leadership and board are acting with the best intentions.
Highly-Publicized Examples of D&O Liability Insurance at Work
The SEC sued Tesla's CEO Elon Musk for making "false and misleading" statements to investors. According to the SEC, Musk did not consult with any board members, employees, or outside advisers before he sent tweets rounding up the Tesla go-private price to $420 per share because he thought his girlfriend (pop singer Grimes) would find it funny.
See: SEC sues Elon Musk for his allegedly misleading tweets
American investor Daniel Loeb's activist hedge fund Third Point filed a lawsuit against Campbell Soup and all of its board members, alleging they sent misleading information to shareholders and withheld relevant material in the midst of a proxy fight between the two.
See: Loeb's Third Point files suit against Campbell Soup
A company shareholder filed a putative class action lawsuit against a Chinese hotel group, Shanghai-based Huazhu Group Ltd, in connection with a stock drop that followed news of a cyber breach.
See: Shareholder Sues Hotel Group for Stock Drop Following Breach
What Does D&O Insurance Cover?
Some of the most common lawsuits that D&O insurance can protect against are related to misuses of company funds, misrepresentations of company assets, breach of fiduciary duty, failure to comply to workplace laws, and a lack of corporate governance.
The right policy will provide coverage regardless of who is suing the directors and officers. It's important to remember that company leadership can be sued by a slew of different parties, not just investors, but also customers, vendors and even employees.
A D&O policy contains three insuring agreements – commonly referred to as Side A, Side B, and Side C. While this might seem complicated, the three insuring agreements are actually pretty simple:
Side A
covers directors and officers when the company refuses to or is unable to provide indemnification. This is most commonly seen in cases of bankruptcy.
Side B
will cover companies that make the decision to indemnify their directors and officers. The D&O policy, in this case, will reimburse the company for defense and other related costs.
Side C
covers the company itself. If the company is being sued for financial mismanagement, the D&O policy will provide coverage.
The coverage that a company buys will vary and depend on each company's individual business characteristics and needs.
Duty to Indemnify vs. Duty to Defend
It's important to remember when getting D&O insurance that defense costs fall within the policy limits, which means that they will erode the total limit of liability available for claims payment. Therefore, it's very important to understand whether your policy is a duty to defend or indemnity (often called non-duty to defend) policy. Both have their advantages and disadvantages.
An indemnity policy allows the company to choose its own legal counsel. The carrier will then reimburse what they consider to be "reasonable" defense costs. The issue here is that the company and carrier might not agree entirely on what they consider to be reasonable costs for a D&O claim.
A duty to defend policy stipulates that the insurance carrier is responsible for defending the company's D&O lawsuits, even if they are groundless. For smaller and mid-sized businesses, this is almost always preferable to non-duty to defend, because defense costs are covered, settlements are efficient, and offloading this to the carrier saves a great deal of time. Of course, the one downside is that the company will not be able to choose its own legal counsel.
What Doesn't D&O Insurance Cover?
One of the areas of D&O insurance that isn't entirely black and white is the question of what, if any type of behavior, the policy does not cover. When it comes to D&O insurance exclusions, they are usually negotiable and vary from policy to policy according to the company's needs.
Lawsuits between directors and officers within the company are typically not covered; this prevents collusion against the insurance company. Likewise, if a director or officer is accused of fraudulent acts, defense costs are provided until final judgment proving guilt. If the executive is found guilty of fraud, they would be required to repay all defense costs.
Read more about typical D&O liability exclusions.
While D&O insurance is not an absolute must-have for every single business, it should be strongly considered by businesses and organizations that could be accused of financial mismanagement.
For example, if your business owes millions to creditors, D&O insurance will help protect the leadership and company in general if it ever goes under. Many times, creditors will want to blame the company's directors and officers for the business's inability to pay them back, which is a situation in which D&O insurance would come in very handy.
Also, if a company is looking to attract top-tier executives and leadership to the organization, getting D&O insurance is a good start for that process because a vast majority of top executives will not even consider joining a company that lacks this type of coverage.
Smaller, private companies and startups are often under the incorrect impression that they do not need D&O insurance, believing that their chances of getting hit with a claim are relatively small, but that simply isn't true.
In fact, a 2016 survey performed by Chubb shows that more than 25 percent of private companies experienced a claim over a three-year period and the ones that did not buy D&O insurance reported an average loss of nearly $400,000.
Therefore, it can be concluded that any private or public company that has a board of directors should also have D&O insurance. Some of the exposures that directors and officers are most vulnerable to include regulatory actions, misrepresentation allegations, securities litigation and breaches of fiduciary duties.
D&O insurance fills the gap that general liability and umbrella insurance do not cover when it comes to protecting company board members and executives. Nonprofits should also have it since these types of organizations are managed by a board of directors as well.
More Examples of D&O Insurance at Work
Rebecca Woods, an Oklahoma medical recruiter, was sued for fraudulent business practices and misrepresentation by the College Street Medical Group and CS Medical Management. The defendant was allegedly told that the staff hired had to conform to certain Medicare regulations in order for her to get paid for her services, but the doctor that was hired through her recruitment service did not comply with the necessary regulations.
See: Medical recruiter sued for fraudulent business practices
Skylark Meats filed suit against Angel Food Ministries accusing the former ministry of a breach of contract – not paying or returning food that had already been delivered to the nonprofit before it closed down.
See: Angel Food Ministries: Sued for Breach of Contract
Signet Jewelers Ltd. was accused of making false or misleading statements about the severity of sexual harassment claims against executives. The Irving Firemen's Relief & Retirement Fund, a Signet shareholder, claimed that they suffered economic losses after a Washington Post story alleging widespread sexual harassment at Signet Jewelers Ltd. was published.
See: Signet Jewelers sued for securities fraud in wake of sexual harassment allegations
Typical Enhancements Include:
Broad coverage for non-indemnifiable ("Side A") and corporate reimbursement claims
Separate limits provided for the D&O, EPLI, and Fiduciary coverage sections
Separate limits provided for the D&O, EPLI, and Fiduciary coverage sections
Additional $1 million limit of liability for non-indemnifiable "Side A" claims
Fully non-rescindable policy
Fully non-cancelable policy (except for non-payment of premium)
Pro-rata return of premium if the insured elects to cancel
Full individual severability for representations and warranties made in the application as well as all the applicability of all exclusions
Limited individuals whose knowledge and actions impute to the insured entities' available coverage
The "Conduct" and "Personal Profit" exclusions are crafted with "final adjudication in any underlying action" language
Coverage for all employed lawyers
Insured's discretion to settle any claim within the retention without the Insurer's prior consent
Outside directorship liability Coverage – coverage for individuals while acting as a director and/or officer of an outside (for profit or non-profit) entity
Insured's "duty to defend policy" with the option to tender any claim to the Insurer
No "Hammer Clause" – giving the insured full discretion on whether to continue defending or settle a lawsuit
The Insurer in not permitted to subrogate against any Insured
100 percent coverage for defense costs spent defending both covered and uncovered matters
120-day post policy reporting window
Extended coverage to spouses and domestic partners
Automatic coverage for all acquisitions
Coverage for derivative investigations costs
More Examples of D&O Coverage at Work
D&O Insurance Costs
Naturally, there is no one correct answer to this question. The cost of any D&O policy depends entirely on the characteristics of the company:
Generally, businesses that have been in business for longer will probably pay less for D&O insurance. A company with a long history and an experienced group of leaders on their board of directors poses lower risk of litigation and can expect to pay less.
Also, the more assets, income, and shareholders your company has, the higher your rate will be, generally.
Financial stability is another important criterion. The lower your company's risk of bankruptcy is, the lower your Side A D&O coverage will be.
And obviously, the more coverage you need, the more you are going to have to pay. An industry estimate is that for every $1 million you want in coverage, your company will have to pay at least an additional $5,000 in annual premium.
For startups looking to buy D&O insurance (as well as EPLI and Fiduciary Liability Insurance), here's a rough guidance on limits, retention and premium when purchasing through the one-of-a-kind Embroker Startup Program: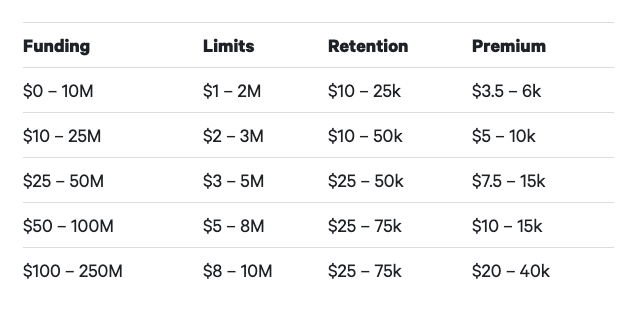 Further reading on D&O insurance costs.
What Happens With a D&O Claim?
Let's use a hypothetical situation in order to clearly demonstrate what a D&O claim process commonly looks like:
Assume you're the CEO of a SaaS company. A few years into starting your business, an early investor sends you a letter in the mail demanding you return their $800K investment in your company citing that you (1) misrepresented the existence of potential key partnerships and (2) breached your contract of employment by not securing key partnerships.
The lawsuit rests on the investor's claim that the failed partnerships would have helped net a large return on investment (ROI) after the sale of intellectual property and was both the main driver for their investment in the company and the selection of that particular CEO. While the lawsuit may be groundless, the time and expenses required to fight the allegations are likely going to pose a substantial distraction for the company.
Call Your Broker, Not Your Lawyer
Your gut reaction may be to call your attorney and start drafting a response and legal plan of action. However, the right thing to do is call your broker and submit a claim.
Why? Because legal costs are only covered after you submit a claim to the insurance carrier and get their pre-approval for those expenses. This is where the policy detail notification impacts the claim process.
Notification is the process of alerting the insurance company about a claim, specifically who has knowledge of the claim and the timeline for notifying the carrier. A good policy limits knowledge of claims to the directors and officers and provides reasonable timelines for reporting so that payments aren't denied for "late" notice.
Submit Your Claim
The next step is to start putting together a claim submission. A good broker will support you through the claims process. You package the plaintiff's demand letter and any other relevant materials to present a high-quality claim submission.
Your carrier then assigns an adjuster to review the details of the claim and policy and the assigned adjuster meets with you and your broker to discuss the full story. While discussing the claim, you begin learning the policy details, defining what's really covered throughout the legal process. This is where the policy detail duty to defend impacts the claim process.
You also discover that while the first allegation — (1) misrepresentation of key partnerships — is covered by your policy, the other allegation — (2) breach of contract, which claims the CEO was in breach of an implied contract because he was hired for key partnerships he did not end up delivering — is not covered by D&O insurance. It's quite common that there are multiple allegations in a single lawsuit and this is where the policy detail allocation impacts the claim process.
Allocation defines the percentage of settlement and defense costs the carrier will cover in the event that a claim has some allegations that are not covered by the policy. A good policy will provide 100 percent defense costs allocation. In this case, the insurance company would pay all defense costs even though only one of the two allegations are covered by the policy. Without 100 percent defense cost allocation, the carrier may only pay a portion of the defense cost, leaving you to pay the remainder of the legal costs and settlements.
Start your Legal Plan
Now that you know your carrier is defending you and covering all the legal expenses, it's time to select your legal team and start taking action. This is where the policy detail selection of counsel impacts the claim process.
Selection of Counsel defines who — you, the carrier, or both — gets to pick the law firm to represent you against the early investor. An indemnity policy will allow you to select the counsel. This helps avoid potentially frustrating situations where the carrier chooses a legal counsel that you and your company feel is under qualified to represent the company.
Based on the wording of your policy, your insurance covers the full cost of using a law firm on your carrier's Panel Counsel. These types of law firms bill on a pre-negotiated discount hourly rate because the carrier sends them a large volume of work.
You, however, want to use the law firm that has previously represented your company. Unfortunately, their rate is not discounted — it's $800/hour. This leaves you in a tough spot, because if you choose to use the law firm you worked with previously, your insurance carrier is entitled to foot your company with the delta in legal fees, roughly $450/hour. Disgruntled, you decide you'll go with the carrier's law firm to save the extra expense.
Over the next three months, multiple responses go back and forth between your counsel and the plaintiff's counsel. At this point, you've racked up almost $100,000 in defense costs, all of which are covered by your insurance carrier.
In the interest of recouping some of their investment, the plaintiff presents you with multiple settlement offers. You don't want to settle because you don't believe you've done anything wrong. With the carrier covering your legal fees, you're prepared to go to court. The carrier, however, is pushing you to settle because litigation defense costs are expected to be more than proposed settlement offers. This is where the policy detail hammer clause impacts the claim process.
The Hammer Clause defines the carrier's and insured's rights in settlement decisions. If you receive a settlement offer that an insurance carrier deems fair, but you prefer not to settle, the hammer clause defines the insurance carrier's right to limit its exposure to the amount that the claim could settle for, plus defense costs incurred to the date. A good policy will provide you with more influence on the settlement decision and define the carrier's portion of incremental settlement and defense costs above the fair settlement amount.
Settlement and Payment
It's now seven months in and you're approaching your court date. You are tired and no longer have the energy to fight this in court. You agree to a $200,000 settlement with the investor so you can get back to running your business.
Your insurance carrier ends up paying roughly $200,000 in settlement and $200,000 in defense costs.
Getting Started
Now that you have a better understanding of D&O insurance, you may be wondering how all of this affects your business and where to go from here. Any growing company looking to purchase D&O insurance should definitely work with a broker who specializes in it and not settle for generalists. If you prefer to get started on intelligent quotes, you can get started by creating an Embroker account today.
Finally, if you are involved with a venture-backed startup, you can get market-leading D&O insurance in less than 60 seconds through the Embroker Startup Program – click here to get an instant quote.
Having a quality D&O insurance policy in place and a broker who can help you navigate the terms and conditions, as well as the claims process, can save you money and, more importantly, time.
Embroker is the easiest way to intelligently insure any business. We're here to help!