Ivana Millasseau
People Operations Specialist
"Insurance can be a pretty complicated and boring subject. We make it fun!"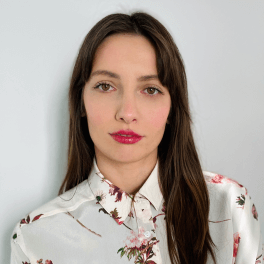 Three Words That Describe Embroker
Innovative

Disruptive

Welcoming
How did you join Embroker?
I joined in 2015, wanting to be part of something new and exciting, and Embroker was just that. I had never worked in a startup before and wanted to gain that experience. In all my previous roles I loved working with people. I was always part of the training team where I was able to help develop employees and support them to reach their potential. I moved to People Operations as this is the place where you follow the entire employee life cycle.
What are you responsible for in your role?
I am trying to create magical experiences for our employees starting with onboarding all the way to offboarding. I check on employee satisfaction levels through surveys, but I also do casual check-ins with everyone in the Belgrade office. These meetings provide a safe place where employees can share their worries, give constructive feedback on what they feel needs to change or is not contributing to their happiness and efficiency at work. Sometimes it can be just a chat about big things in everyone's life such as getting married or having a baby and it's great that you get to know about those moments as well. I also do exit interviews, plan team building activities and complete administrational tasks related to people management. Lastly, I do strategic planning to build a diverse, inclusive and engaging Embroker culture here at our Belgrade office.
What's a typical day like for you?
I usually handle documentation for various processes and procedures. At the moment, I'm working on Word templates for our onboarding and general written communication from the people team. The team is constantly in touch with each other to make sure that we are on top of things and that our employees have all the support they need. We have new employees joining us in the next few weeks, so I'm preparing their onboarding and working with Team Leads on implementing changes and new ideas in order to improve the onboarding experience in total. I am also involved in Risk Management. Due to COVID-19, I administer health and safety programs, assist in educating employees on how to behave and what the mandatory safety measures are.
"I am trying to create magical experiences for our employees starting with onboarding all the way to offboarding."
What's your most memorable moment on the job so far?
The start of the Embroker Belgrade office, which was also the start of my job with Embroker. There were only five of us in a homely apartment in the city centre that functioned as our office space. It felt like having a second home and family.
What's the best part of your job?
The best part is being around people, and contributing to our employees' happiness and assisting with their challenges where needed.
In what ways is your team innovative?
We do everything possible to create fun in the workplace. We empower our employees to give feedback in order to make Embroker an even better place to work. We ideate to come up with activities that encourage interaction between departments. And of course we come up with new company-wide processes and procedures such as how to better conduct exit interviews, how to set and achieve personal development goals for team leads and team members or how to write self-assessments.
How do you bring the brand alive in your work?
By promoting and living our company values. Our brand is our people. I believe we help people understand what the company values mean and how we promote them through every action we take.
Why would you recommend Embroker to someone?
This is the only place I have worked in with minimal to almost non-existing experience of toxic stress and sleepless nights.
On a different note, what do you like to do in your spare time?