Directors & Officers Insurance
Embroker helps you get directors & officers insurance to protect the assets of your board of directors from lawsuits related to misuses of company funds, misrepresentations of company assets, breach of fiduciary duty, non-compliance, and more.
What Is D&O Insurance?
Directors & officers insurance (D&O) is liability insurance that covers the directors and officers of the company against lawsuits alleging a breach of fiduciary duty. A company pays for this coverage so executives can serve confidently as leaders of their organization without fear of personal financial loss.
In essence, D&O is a liability insurance policy, payable either to directors and officers of a company or the company itself. The policy will reimburse settlements or defense costs that result from covered claims.
Who Is Directors and Officers Insurance For?
While D&O insurance is not an absolute must-have for every single business, it should be strongly considered by businesses and organizations that could be accused of financial mismanagement.
For example, if your business owes millions to creditors, D&O insurance will help protect the leadership and company in general if it ever goes under. Many times, creditors will want to blame the company's directors and officers for the business's inability to pay them back, which is a situation in which D&O insurance would come in very handy.
Also, if a company is looking to attract top-tier executives and leadership to the organization, getting D&O insurance is a good start for that process because a vast majority of top executives will not even consider joining a company that lacks this type of coverage.
Smaller, private companies and startups are often under the incorrect impression that they do not need D&O insurance, believing that their chances of getting hit with a claim are relatively small, but that simply isn't true.
In fact, a 2016 survey performed by Chubb shows that more than 25 percent of private companies experienced a claim over a three-year period and the ones that did not buy D&O insurance reported an average loss of nearly $400,000.
Therefore, it can be concluded that any private or public company that has a board of directors should also have D&O insurance. Some of the exposures that directors and officers are most vulnerable to include regulatory actions, misrepresentation allegations, securities litigation, and breaches of fiduciary duties.
D&O insurance fills the gap that general liability and umbrella insurance do not cover when it comes to protecting company board members and executives. Nonprofits should also have it since these types of organizations are managed by a board of directors as well.
Does it seem like your company needs D&O insurance? You can get a risk-free D&O insurance quote from Embroker in just a few minutes.

Analyzing Insurance Costs for Startups
Embroker's 2021 Q1 Benchmark Report Is Out!
We analyzed the insurance buying decisions of 2,000+ startups to find out how much startups are paying for key policies in each stage of growth. Get a clear, data-driven snapshot of how your startup's coverage needs can change over time.
Why Do You Need It?
In the event of a claim against directors and officers, the insurance carrier will help navigate the lawsuit, negotiate settlements, and cover expenses. Ultimately, this translates into significant time and money savings.
D&O insurance can also protect executives and board members in the unfortunate case of bankruptcy. The D&O policy will provide indemnification, acting as a buffer between the personal assets of the directors and officers and the legal costs spent defending litigation brought by creditors, trustees, or past investors.
What Does D&O Insurance Cover?
Some of the most common lawsuits that D&O insurance can protect against are related to misuses of company funds, misrepresentations of company assets, breach of fiduciary duty, failure to comply with workplace laws, and a lack of corporate governance.
The right policy will provide coverage regardless of who is suing the directors and officers. It's important to remember that company leadership can be sued by a slew of different parties, not just investors, but also customers, vendors, and even employees.
A D&O policy contains three insuring agreements – commonly referred to as Side A, Side B, and Side C. While this might seem complicated, the three insuring agreements are actually pretty simple:
Side A: Covers directors and officers when the company refuses to or is unable to provide indemnification. This is most commonly seen in cases of bankruptcy.
Side B: Will cover companies that make the decision to indemnify their directors and officers. The D&O policy, in this case, will reimburse the company for defense and other related costs.
Side C: Covers the company itself. If the company is being sued for financial mismanagement, the D&O policy will provide coverage.
The coverage that a company buys will vary and depend on each company's individual business characteristics and needs.
Duty to Indemnify vs. Duty to Defend
It's important to remember when getting D&O insurance that defense costs fall within the policy limits, which means that they will erode the total limit of liability available for claims payment. Therefore, it's very important to understand whether your policy is a duty to defend or indemnity (often called non-duty to defend) policy. Both have their advantages and disadvantages.
An indemnity policy allows the company to choose its own legal counsel. The carrier will then reimburse what they consider to be "reasonable" defense costs. The issue here is that the company and carrier might not agree entirely on what they consider to be reasonable costs for a D&O claim.
A duty to defend policy stipulates that the insurance carrier is responsible for defending the company's D&O lawsuits, even if they are groundless. For smaller and mid-sized businesses, this is almost always preferable to non-duty to defend, because defense costs are covered, settlements are efficient, and offloading this to the carrier saves a great deal of time. Of course, the one downside is that the company will not be able to choose its own legal counsel.
Plus Coverage for Growth Stage Companies
You can tailor a D&O coverage in many ways to make them fit to your company's unique requirements. Typical Enhancements Include:
Broad coverage for non-indemnifiable ("Side A") and corporate reimbursement claims

Separate limits provided for the D&O, EPLI, and Fiduciary coverage sections

Additional $1 million limit of liability for non-indemnifiable "Side A" claims

Fully non-rescindable policy

Fully non-cancelable policy (except for non-payment of premium)

Pro-rata return of premium if the insured elects to cancel

Full individual severability for representations and warranties made in the application as well as all the applicability of all exclusions

Limited individuals whose knowledge and actions impute to the insured entities' available coverage

The "Conduct" and "Personal Profit" exclusions are crafted with "final adjudication in any underlying action" language

Coverage for all employed lawyers

Insured's discretion to settle any claim within the retention without the Insurer's prior consent

Outside directorship liability coverage – coverage for individuals while acting as a director and/or officer of an outside (for-profit or non-profit) entity

Insured's "duty to defend policy" with the option to tender any claim to the Insurer

No "Hammer Clause" – giving the insured full discretion on whether to continue defending or settle a lawsuit

The Insurer is not permitted to subrogate against any Insured

100 percent coverage for defense costs spent defending both covered and uncovered matters

120-day post-policy reporting window

Extended coverage to spouses and domestic partners

Automatic coverage for all acquisitions

Coverage for derivative investigations costs
What's Not Covered?
One of the areas of D&O insurance that isn't entirely black and white is the question of what, if any type of behavior, the policy does not cover. When it comes to D&O insurance exclusions, they are usually negotiable and vary from policy to policy according to the company's needs.
Lawsuits between directors and officers within the company are typically not covered; this prevents collusion against the insurance company. Likewise, if a director or officer is accused of fraudulent acts, defense costs are provided until final judgment proving guilt. If the executive is found guilty of fraud, they would be required to repay all defense costs.
Read more about typical D&O liability exclusions.

Startup Insurance Calculator
Find out how much your startup can expect to pay for key insurance coverages.
What Does D&O Insurance Cost?
Naturally, there is no one correct answer to this question. The cost of any D&O policy depends entirely on the characteristics of the company:
Legal History (Claims)

Assets

Debt

Revenue

Industry
Generally, businesses that have been in business for longer will probably pay less for D&O insurance. A company with a long history and an experienced group of leaders on their board of directors poses a lower risk of litigation and can expect to pay less.
Also, the more assets, income, and shareholders your company has, the higher your rate will be, generally.
Financial stability is another important criterion. The lower your company's risk of bankruptcy is, the lower your Side A D&O coverage will be.
And obviously, the more coverage you need, the more you are going to have to pay. An industry estimate is that for every $1 million you want in coverage, your company will have to pay at least an additional $5,000 in annual premium.
For startups looking to buy D&O insurance (as well as EPLI and Fiduciary Liability Insurance), here's rough guidance on limits, retention, and premium when purchasing through the one-of-a-kind Embroker Startup Package: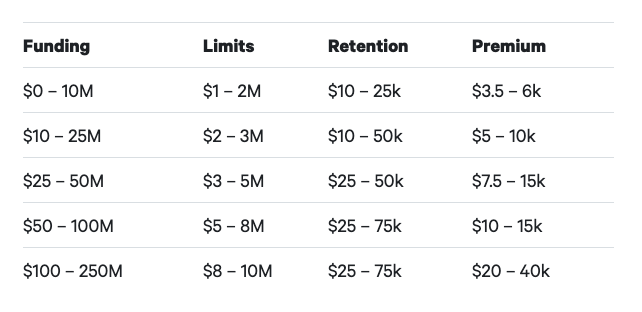 Further reading on D&O insurance costs.
Why Get It With Embroker?
Easy.
We've made it easier than ever before to complete the purchase and get coverage. How easy? We don't even need to see equity ownership or financial statements from you.
Affordable.
As a digital company, Embroker passes the savings for unnecessary administration on to you—for the most competitive price you'll find anywhere.
Complete.
Protect your business with the broadest coverage in the industry. You can tailor policies to your needs by choosing your own limit and deductible.
Human.
We provide you with expert support no matter your question: Reach us 24/7 via phone, email or live chat. You even get a personal account manager to look after you and your insurance needs.
"Could not have been easier. Their knowledge of the process and product was superb."
David Wentker
Tapcentive, Inc.
Don't Just Take Our Word for It!
With a Net Promoter Score (NPS) of 70+ Embroker is the highest rated business insurance company in the market.