Lauren Gillery
Product Management, Director
"Everyone at this company is helpful and willing to answer questions."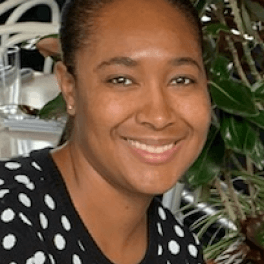 Three Words That Describe Embroker
Innovative

Helpful

Growing
How did you join Embroker?
I joined Embroker about three and a half years ago. I had been working in Financial Services, with companies that use technology to make things easier. Embroker does the same thing for insurance, and I was attracted to that.
What are you responsible for in your role?
I work on our digital products, the policies you can get an instant quote for. I build the sign-up flows and the roadmap for where they should go. Lately, I've been working on the package that we have for startups and the policy for lawyers.
What's a typical day like for you?
I usually start my day with the engineering or the product team. I see what's going on with them, catch up on how things are progressing. Then I might do some meeting with internal stakeholders and see whether anything changed with them, whether there are any new priorities, any bugs and issues that came up. For the rest of the day I focus on writing requirements for future features or doing research on how to evolve the roadmap.
"Everything I've learned about insurance, I've learned from other people at this company being helpful and willing to answer my questions. No one ever made me feel like I was asking a dumb question."
What's your most memorable moment on the job so far?
It was receiving customer feedback after we launched the startup package. It was our first digital product and I knew it would be helpful—but hearing how much pain it saved our customers was very rewarding.
What's the best part of your job?
Building things that make people's lives easier. Getting the right insurance quickly and easily allows business owners to focus on running and growing their business. Our online service also allows brokers to focus explaining and helping customers rather than on collecting data and passing it on to someone else for a quote.
In what ways is your team innovative?
So far, it's been all about the online products we have built. The next step of innovation is how to improve the service: Making it even easier to buy products and take care of the insured. However, it's important to remember that we use technology to make things better. We're not trying to replace people with technology.
How do you bring the brand alive in your work?
No matter how we promote our services, once a user logs on, the experience has to live up to the promotion. We make sure that's the case.
Why would you recommend Embroker to someone?
There's still so much to do! There's a wealth of things you can make your mark on.
On a different note, what do you like to do in your spare time?
Before Covid, I would have said: Trying out new restaurants. I think now it's cooking and trying out new recipes at home. I've actually started going on daily walks and listening to podcasts. It's a good way to get your daily exercise.