Miguel Hernandez
Director of User Experience
"Embroker cares about its customers and gives its best to make life easy for them."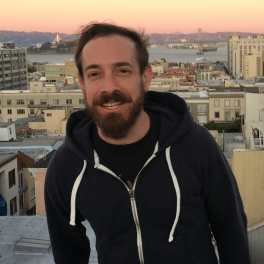 Three Words That Describe Embroker
How did you join Embroker?
I've been working as a consultant in Silicon Valley for a long time. I was recommended to Embroker by one of my previous employers and during their interview process I just really liked the people. They all had very different backgrounds, were very straightforward and nice. Plus, there's a lot of potential in the insurtech market: It's comparable to the fintech market five years ago, where I was working at the time. I thought I could apply my knowledge and help out!
What are you responsible for in your role?
I'm responsible for everything related to the user experience of our website, customer portal, and the overall product design. I also manage our team of designers.
What's a typical day like for you?
I wake up super early because part of the team I'm working with is in Serbia. I usually spend my mornings having meetings with the design and product engineering teams over there. In the afternoons, I get to do hands-on work apart from the meetings with the marketing team and product owners over here in the Bay Area.
"It's very rare that you get the opportunity to work with people that you also like hanging out with."
What's your most memorable moment on the job so far?
When I joined, I scheduled a series of workshops for me and the designers to set up a design system for us. We didn't have any fancy tools yet, so I wanted to introduce them to Figma and use it as a way to set up a collaborative methodology, meaning organizing and structuring our designs. Our first workshop was scheduled for 4 AM my time, which was 2 PM their time, and apart from being very tired, I was also super nervous. But when we began our session, I was amazed how quickly the designers started working together as a full team and we finished a whole week's worth of work in two days. They complement each other incredibly well. They play on each other's strengths and there are no egos. They all have a strong sense of ownership and help each other. I knew then that with this team I could do the job of revamping the product and marketing design of Embroker.
What's the best part of your job?
It's the team. It's very rare that you get the opportunity to work with people that you also like hanging out with. Sometimes you're in a meeting which extends the scheduled time for like an hour and we are just talking about everything and anything. And I look forward to those meetings and also to do the kind of work that we do: it's fun work. We are doing interesting stuff especially for this industry. I think we are one of very few companies that are implementing new design techniques in the insurtech market.
In what ways is your team innovative?
My team is innovative in a lot of ways. I think even the collaborative process that we've put together is very novel. We are all super open and everyone is always looking for new ways of improving efficiency by using the latest tools and by doing benchmarking and trend research. Meetings are never boring, because we always learn new things from each other. Even when we look at design trends, my team always examines not only whether to incorporate them, but also how to incorporate them in a meaningful way. How can we put our own spin on existing design ideas and develop them further.
How do you bring the brand alive in your work?
All of my work is creating intuitive user experiences and making the customer journey easier and more enjoyable.
Why would you recommend Embroker to someone?
You can learn a lot and it's never going to be a boring job, because we are doing cutting-edge work here at Embroker. You will be working with really smart people. You're going to be learning all the time not only from the kind of work that you're doing, but also from everyone around you, because they are all really well-versed in insurance.
On a different note, what do you like to do in your spare time?
I make experimental music. Before Covid, I used to have a weekly session here in a bar in the Mission District.