Mike Sullivan
VP of Sales & Operations
"We are 100% committed to improving the experience of purchasing and managing insurance. Customers deserve it!"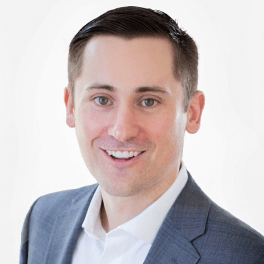 Three Words That Describe Embroker
Fast-Paced

Innovative

First-Mover
How did you join Embroker?
I was an insurance broker for nine years. I was extremely busy and got more and more frustrated with the out-dated way of doing things. At the same time, I was seeing a change in the buyer behavior: Customers were really looking for a buying experience like in banking. So I was thinking of starting my own company and had actually started paying somebody to build code to digitize applications. But then I stumbled across Embroker and I reached out to the founder Matt Miller. Three days later, I met him in New York and that was it. I left my brokerage job and joined their startup as a Key Account executive. As Embroker grew, so did my role.
What are you responsible for in your role?
I'm responsible for offering consultative brokering services to our largest and fastest growing technology accounts, while also providing subject matter expertise to both our clients as well as our internal employees. I also manage individuals that support technology accounts.
What's a typical day like for you?
In the mornings I focus on sales-oriented tasks like deliverables to my largest prospects. Then I work on a lot of the new business-oriented tasks that I have on my desk. In the afternoons, I usually focus on relationship building and retention. That means I do contract reviews, claims help, and compensated advice on insurance policies. Throughout the day, I speak with underwriters as well as my client managers, who support me on those accounts and handle the day to day work.
"We are the front-runner in the business insurance space."
What's your most memorable moment on the job so far?
I have two best moments. The first moment was actually the first time that we had someone come onto our platform, sign up and upload a policy. Before that I was selling just a dream. The second best moment was the launch of our first intelligent insurance product, the Startup Package. From then on, you could buy the Directors & Officers, Employment Practices Liability and Fiduciary Liability insurance in minutes rather than weeks.
What's the best part of your job?
The best part of my job is educating clients and prospects on how they can manage, integrate, and transfer risk in their business to insurance.
In what ways is your team innovative?
In the way we become more and more efficient. This means creating new back office processes and using technology to provide a better customer service experience. Compared to other brokers that work in our space, they're not really doing any of that. We constantly try to innovate and to come up with ways that we can cut down on response time and deliver renewal quotes quicker, faster, and easier.
How do you bring the brand alive in your work?
I try to be as innovative as I can be. For example, I recently created benchmarking reports for our Embroker startup coverage. That's never really been done before. We provide benchmarking data to our clients that represents over 1500 of our Embroker startup package customers. But it breaks down the buckets of comparison to very real and actionable buckets. It's a really great useful benchmarking tool for a lot of our current clients, whereas what's available in the traditional markets is very not applicable.
Why would you recommend Embroker to someone?
Because we are the front-runner in the business insurance space. Then there's the opportunity for advancement and taking on responsibility. Let's say you work in a traditional company, there are just so many people in so many layers standing in the way of you getting a promotion and having more responsibility on tasks. Whereas here, there's massive amounts of opportunity if you're performing and it's in a fast-paced environment. You really are provided with all the tools that you need to succeed. Lastly, we have a lot of great insurance and non-insurance people working at Embroker that are all really trying to do something important and change the industry.
On a different note, what do you like to do in your spare time?
I like to play the guitar and golf.