On July 28th, the Commerce Department announced that the US economy had registered a second consecutive quarter of negative growth, meeting the technical definition of a recession. Since then, politicians and economists alike have been debating whether the country is in a full recession or not.
Technical definitions aside, the truth is that it feels as if the country has been in an economic downturn for a while now. There is no shortage of reasons why it feels that way. Inflation is up 9.1% year-over-year, the largest increase in 40 years. To combat this rampant inflation, the Fed has increased interest rates at the steepest rate since the 1980s. The markets just experienced the worst first half in over 50 years. It's no wonder then that only 13% of Americans consider economic conditions to be excellent or good, according to a recent survey by Pew Research.
Startup founders, small business owners, and tech workers have been experiencing the effects of an economic downturn since the beginning of the year. In many ways, the tech industry has been ahead of the trend. Startups in particular have felt the effects of decreasing VC funding and steep market losses, causing founders and owners to reassess their business strategies and adjust their future plans. That has included painful decisions about employee layoffs. 

SVB, remote work, and… PR?
2023 Startup Risk Index Report
Based on a survey of over 500 VC-backed startup founders in the U.S., the report shows what they're most worried about this year, what they're doing about it, and what they aren't.
Faced with a widening recession, where do startup founders and their companies go from here? Startups are not responsible for the current woes that are impacting the economy on a global scale, and yet they have been disproportionately impacted by the market downturn. These are unique, challenging times, and the startup and VC communities have been in the trenches fighting back this entire year.
Understanding the Current Economic Downturn
At the end of July, Shopify announced that it would lay off nearly 1,000 of its employees, about 10% of its global workforce. The Canadian online giant's CEO Tobias Lütke made the announcement in a letter posted on the company's website. The move marks one of the more sweeping rounds of layoffs that have impacted tens of thousands of workers in the tech sector across the US and beyond.
According to Crunchbase, more than 32,000 workers in the US tech sector had been laid off by late July of this year, marking a significant reversal from the strong job market of 2021. The trend is by no means limited to the US, with the Layoffs.fyi Tracker counting almost 63,000 employees laid off by 453 startups globally so far this year. 
These numbers will not come as a surprise to anyone who has been on LinkedIn recently and seen posts by startup founders and former employees alike announcing layoffs. The trend has been clear for months now. The stock market continues to reel from significant losses despite an uptick in July. And faced with the likelihood of decreasing VC valuations and investment, many startups are being forced to look for ways to secure their financial bottom line.
What Startup Founders Think About Risk
The economic downturn marks a period of heightened risk. Faced with this new economic reality, how are startup founders responding? The 2022 Embroker Startup Risk Index Report sets out to answer precisely this question. Based on a survey of over 500 VC-backed startup founders across the US, the report provides important insights into how founders are responding to the risks they and their businesses are facing. 
Founders were surveyed about both internal and external risks, and from an individual as well as a business perspective. The report reveals that 26% of founders identified inflation as the top external risk faced by their businesses in 2022. The top internal risks were increased debt (26%), the rising cost of business (25%), and employee or management burnout (25%).

Regarding investor expectations and demands, 38% of founders across the board said that their investors' primary concerns are financial, specifically funding, profitability, and cash flow. Diversity, equity, and inclusion (DEI) was also identified as a major concern among investors.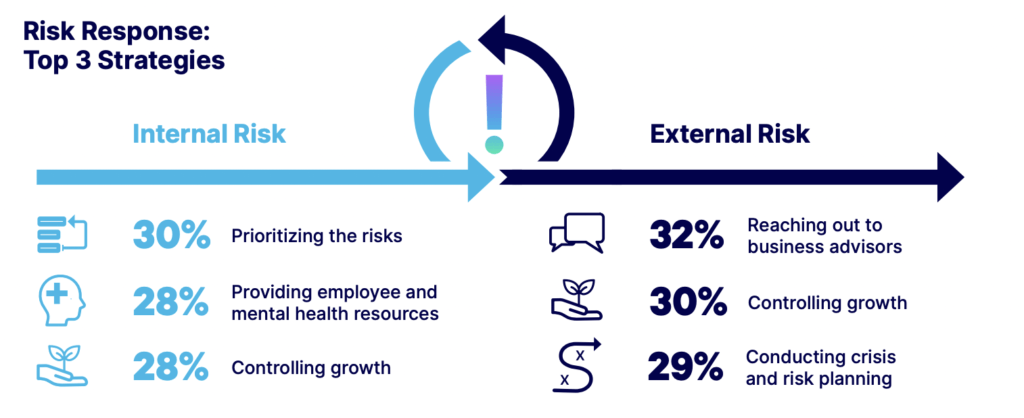 The report also shows that founders are retrenching in the face of adversity. Faced with many internal and external risks, startup founders identified three primary strategies: 
Seeking help from advisors (

32%

)

Controlling growth (

30%

)

Prioritizing risks (

30%

) 
For both internal and external risks, founders cited controlling growth in their top 3, as well as providing employee mental health resources (28%, internal risks), and conducting crisis and risk planning (29%, external risks). 
The report makes it clear that founders understand the need to manage and respond to the many internal and external risks they face and are willing to proactively take steps to protect their businesses from the effects of those risks. 
The results from the report also highlight that startup founders are concerned about the well-being of their employees, the need to manage and control growth, and the importance of responding to investor demands and expectations. For business leaders, striking the right balance in addressing all these issues is of paramount importance in managing risk during the current, and any, economic downturn. 
How can startup founders manage to strike that balance? The results from the report and the actions taken by startups so far point to one key strategy: retrenchment. 
What is Retrenchment?
In business terms, retrenchment is the reduction of costs and spending to respond to financial and economic challenges. In financially challenging times such as a recession, retrenchment allows businesses to cut back on redundant departments and business operations to minimize costs and improve the company's financial stability.
Retrenchment has an even more specific definition in relation to employment: it involves the dismissal of employees from their positions in the company. The layoffs that we are currently witnessing in the tech sector, such as at Shopify, fall under this definition of retrenchment. 
Employees who are laid off during a retrenchment do not lose their positions through any fault of their own, but rather because financial conditions have forced a company to restructure its operations to ensure the long-term financial stability and profitability of the business. 
Companies that want to implement a retrenchment strategy have three options available to them:
Turnaround

: As the name implies, the goal of a turnaround strategy is to turn the business around by improving its financial position. That may involve lowering costs, increasing profitability, and reducing the headcount to limit expenses. 

Divestmen

t: A divestment strategy involves divesting from parts of the business that are less financially viable and a drag on profitability and growth. An effective divestment strategy will include assessing whether segments of the business are part of its core interests or not. For example, if certain segments or departments do not contribute to advancing the company's goals, the company's leadership might divest from them through a sale or spin-off. A divestment strategy becomes an option if a turnaround of the entire business can't be achieved.

Liquidation

: A liquidation strategy is the most extreme form of retrenchment. It involves liquidating all assets and the permanent shut down of the company. That will inevitably involve firing all of the company's employees. For some small businesses and startups with limited resources, liquidation may be the only viable option without adequate investment. 
An effective retrenchment strategy can make a company more cost-efficient and profitable. For mid-to-large-sized companies, retrenching can help give the business a renewed focus. For startups and small businesses, retrenchment can be an opportunity to re-evaluate the company's goals and future plans. 
The downside of retrenchment is that good, well-performing employees are often forced to leave the business. As many startups are experiencing right now, letting go of competent, hard-working employees is a painful process, both for the staff and the company. 
Get a comprehensive insurance policy in 15 minutes.
Get an instant quote to find out how little peace of mind can cost.
How Founders Can Implement an Effective Retrenchment Strategy
As with the implementation of any other business plan, there are certain steps startup founders can take to ensure a successful retrenchment strategy:
Open communication

: business leaders need to be clear about why retrenchment is happening. Managers should be involved in announcing any news internally, so that those who are impacted have a direct line of communication. 

Fair, transparent selection process

: the purpose behind retrenchment is to strengthen the financial bottom line of the company, and that should determine which positions are impacted. Any favoritism should be avoided. 

Provide support services

: all your employees will be impacted by the decision, whether they are laid off or not. Those who remain will lose valued colleagues, while those who depart will have to look for new positions. In both instances, employees should have access to resources that will allow them to process the effects of the decision. 

Keep it personal

: the news, whether good or bad, should be delivered to employees personally. Larger companies may need to send out broad, general announcements, but small startups should reach out to each impacted employee individually whenever possible. 

Prepare for the response

: retrenchment is difficult, and not everyone impacted will take the news well. You should be prepared for any potential reaction, and stay hopeful and positive. Consider providing coaching services for those affected to help them with their next steps. 

Focus on the facts

: in communicating any news about the retrenchment internally and externally, you should be ready to back up your decision with key facts and figures. Demonstrate what the financial benefits of retrenchment will be for the company. 

Get insurance

: litigation is a serious risk when it comes to retrenchment, and you should have the right insurance policies in place to stay protected.
During economic downturns, businesses need to have the right insurance coverage in place to respond to the heightened risk environment. The tough job market makes it especially necessary for startups to have EPL coverage. Employment practices liability insurance protects a company against employee lawsuits, including against lawsuits alleging discrimination and wrongful termination. It is an essential policy for any startup that intends to implement a retrenchment strategy. 
Founders need to have a thorough understanding of insurance to deal with the risks of owning startups during a recession. That includes having directors & officers insurance (D&O) to protect the company's leadership, including the founder(s). Business leaders must be prepared to have an effective risk management plan to identify and counteract potential risks during the recession. 
Staying Resilient and Recharging for the Future
Recessions are always challenging, and the current economic downturn is no exception. Businesses, in fact, are facing an unprecedented set of risks in the current environment. While the global economy continues to be impacted by the shock of the pandemic and its aftermath, a new set of challenges, from war to inflation and rising interest rates, is coming together to create what is increasingly looking to be a global recession. 
As has been clear since the beginning of this year, startups are often at the forefront of economic trends. They are among the first businesses to be impacted by recessionary forces. In many ways, this is an inevitable part of startup culture. Startups by their nature take on risks to innovate and grow in ways that other businesses are unable or unwilling to do. 
While such risk-taking comes with challenges, it's also a source of strength for startups and founders. This is the clear lesson from Embroker's Startup Risk Index: when the going gets tough, founders get tougher and pull through. 
Since the 1980s, through the dot-com boom of the late 90s, the Great Recession of the 2000s, and most recently the global pandemic, the fact has been that startups, their leaders, and their employees are tough and resilient. If history offers any lessons, it's that the current downturn will provide further opportunities for founders willing to take on the challenge of managing the risks. 
That includes managing the retrenchment process in an effective and conscientious way. Layoffs are always painful, and when businesses retrench, they often have to make difficult decisions about parting ways with valued employees. Such decisions are never made lightly, but in service of protecting the business and keeping the rest of the employees safe. At the same time, every effort should be made to support those who will depart to ensure they can succeed in the future. In that way, startup founders can set their companies up for success while doing their part to help the tech sector and broader economy pull through the recession.
Related Articles
2 min read
On September 14, 2023, we announced Gene Linetsky as our new Chief Technology Officer (CTO). Gene has over 30 years of experience in the computer science industry — founding several technology and startup companies and serving in various executive and technology leadership positions. Most recently, he held the role of CTO of healthcare technology company […]
Read More
9 min read
Insurance for bookkeepers is much more important than you think. When it comes to the business world, bookkeepers provide a vital service. Whether handling a company's payroll, paying vendors, creating and maintaining financial records, or reviewing transitions, bookkeepers play a leading role in a business's success and growth.  But the essential services that bookkeepers provide […]
Read More