If you're looking for the biggest, most powerful and highest-earning law firms in the country, there is no shortage of places to find them. Each year, rankings and publications like the ABA Journal, the U.S. News Best Lawyers, the Vault Law 100, and many others highlight the firms with top marks in areas like high annual revenue and prestigious attorney alma maters.
So what makes the Embroker Law 300 Award different?
As disruptors, we're more interested in innovation and ingenuity than earnings reports or number of employees. That's why the Law 300 Award is based on a different set of criteria than those used by traditional firm rankings. We scoured the industry to find firms of all sizes that are breaking new ground with enhanced courtroom technology, environmental sustainability initiatives, progressive employment practices, and commitments to providing equal access to justice for all.
Selected from a pool of over 1,000 candidates, these 300 awardees represent America's most innovative, most impactful, and most promising law firms leading the industry into 2022 and beyond.
Table of Contents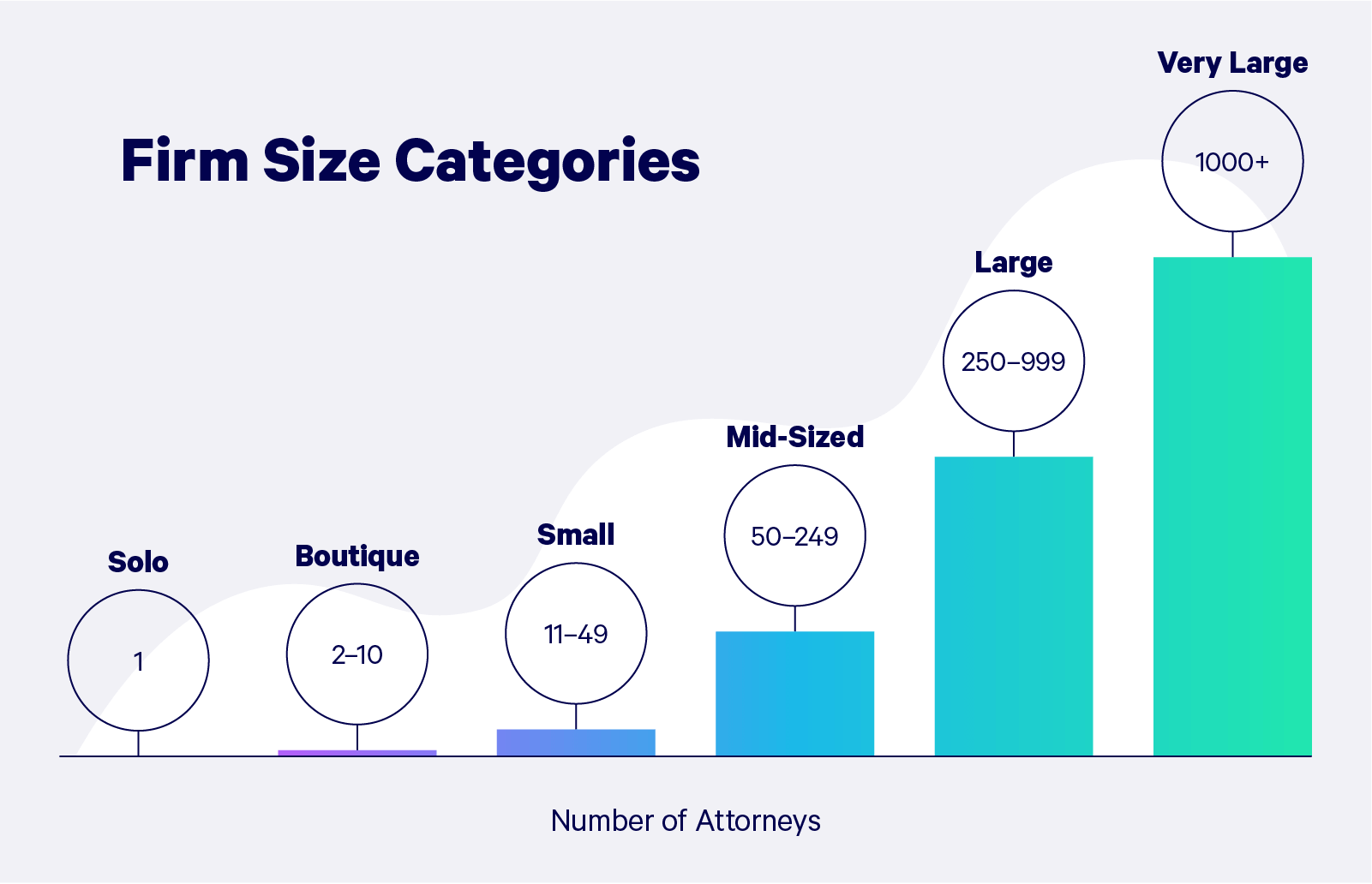 A Quick Look
Firms with 10 lawyers or less:88%
Most popular practice area:Corporate
Number of sites talking about these firms:616,286
Firms with sustainability initiatives:136
Firms with higher-than-average minority representation among lawyers:56%
Firms with higher-than-average number of female lawyers:40%
Firm Highlights
Sustainability is at the heart of our commitment to become the world's most progressive law firm….We recognise our responsibility to protect the environment by ensuring the sustainable use and disposal of scarce resources.
— Ashurst
Our pro bono racial justice initiative includes a firm-wide focus on alleviating the collateral consequences of criminal convictions in response to over-policing of communities of color and systemic racism in the criminal justice system.
— Robins Kaplan
We've set ambitious and independently assessed greenhouse gas emission reduction targets approved by the Science-Based Targets initiative….The approval from SBTi confirms that [our] new commitment is consistent with the most ambitious goals of the Paris Agreement, with the firm's reductions in line with those required to keep global warming to….what is needed to prevent the most damaging effects of climate change.
— Allen & Overy LLP
Diversity is not just a slogan for us—it's a core aspect of who we are and how we win. Simply put, our diversity allows us to avoid the pitfalls of conformity and make smarter decisions based on an objective review of the facts.
— Willenken LLP
As a firm committed to the pursuit of social justice and equity, maintaining a robust pro bono practice is one way that we are closing the gap between those who can afford a lawyer and those who cannot.
— Brown, Goldstein & Levy
Our gender-neutral Balanced Hours Program is the cornerstone of our broader initiative to help lawyers achieve a balance between their personal and professional lives. The program includes individually tailored, flexible working arrangements, such as reduced hours or remote work, designed to meet the needs of our lawyers.
— K&L Gates
Candidate Selection
The Embroker Law 300 Award is determined via a rigorous research and assessment process. In order to identify award candidates, our research team compiled a list of directories and publications highlighting factors like workplace culture, gender equality, sustainability initiatives, progressive employment policies, high gender and ethnic diversity, outstanding pro bono initiatives, and innovative technological advancements.
Sources included:
ABA Journal, "Members Who Inspire"
Association of Law Firm Diversity Professionals
Chambers Associate, Featured Firms 2021
Financial Times, "Special Report: Innovative Lawyers"
Human Rights Campaign Foundation, Corporate Equality Index 2021
Law Firm Sustainability Network
Lawyer Monthly, Women in Law Awards 2021
Lawyers Worldwide Awards Magazine, Innovative Lawyers 2021
Minority Corporate Counsel Association
National Association of Minority and Women-Owned Law Firms
National Association of Women Lawyers
National Conference of Black Lawyers
National Hispanic Prosecutor Association
National LGBT Bar Association
National Native American Bar Association
The American Lawyer, 2021 Pro Bono Scorecard
Vault, Best Law Firms to Work For 2021
Working Mother, Best Law Firms for Women 2021
We also performed an extensive search through state and local publications as well as state bar newsletters and magazines to identify smaller law firms making an impact in their own communities. The 300 final award recipients were selected from a candidate pool of over 1,000 firms.
Evaluation Criteria
After initial candidate selection, firms were evaluated using quantitative data in categories measuring gender diversity, ethnic diversity, web presence and authority, and a commitment to pro bono, sustainability, and diversity and inclusion initiatives. Read on for more information on each assessment category.
Minority Representation Among Attorneys (Gender)
According to the ABA, 37% of lawyers in the United States are women. Progress toward gender equality has been slow; between 2011 and 2021 the percentage of female lawyers increased by just 4%.
The legal industry also lags behind the majority of other occupations in the U.S. when it comes to gender equality. According to the Bureau of Labor Statistics, female representation is lower among lawyers than it is among chemists (40%), financial analysts (42%), producers and directors (45%), and medical scientists (52%).
Additionally, there's a significant gender imbalance within the legal profession between attorneys and legal support staff. While 37% of attorneys are female, 86% of paralegals and legal assistants are women.
Of the firms listed in the 2022 Embroker Law 300, 119 had greater-than-average female representation among attorneys. Twelve awardees were 100% female-owned and operated. Many firms offered progressive family leave policies, remote-flexible work arrangements, and dedicated retention and leadership training programs designed to facilitate a more equitable workplace across genders.
Minority Representation Among Attorneys (Ethnicity)
Ethnic representation in the legal industry is, unfortunately, even worse than female representation across the board. According to the ABA, minority representation among attorneys was just 15% in 2020, a mere 3% increase from a decade prior.
Additionally, percentages of African-American and Asian lawyers have remained the same over a decade, at 5% and 2% respectively. Hispanic representation increased from 4% to 5% over the same period, while the number of Native American lawyers dropped to less than 1% in 2020.
More than half of Embroker's Law 300 awardee firms exceed the industry average for minority lawyers, and 11 firms are 100% minority-owned and operated. A majority of awardees also have established diversity and inclusion initiatives designed to attract and retain a greater number of attorneys of color.
Web Presence and Authority
While businesses with established web presences were once seen as ahead of the technological curve, today the ABA reports that 94% of law firms have a website. However, how firms use their web presence for business and for service to the community varies greatly across the industry.
Most firm websites include information designed to help promote the firm to potential clients, like partner profiles (99%), associate profiles (86%), and recent successes (55%). Far fewer firms utilize their web presence to provide something to the reader. Of the 37% of ABA survey respondents whose websites included a blog, just 59% said they maintained it because they enjoyed writing and connecting with the wider community. Just 11% of firms with websites publish guides designed to help readers make better legal decisions.
Pro Bono & Sustainability Initiatives
There are no federal requirements for performing or reporting pro bono hours, which makes it difficult to measure the average charitable commitments made by firms industry-wide. Sustainability is even more difficult to measure—with multiple different green certifications and sustainability programs in which law firms may participate, there is no central or standardized data on program participation.
For this same reason, firms that publicize their pro bono and sustainability initiatives have an important impact on the industry. The competitive nature of the industry demands that firms keep up with other practices vying for the same clients, so when firms publicize their own charitable contribution data, they increase the pressure for other firms to improve their charitable and sustainability efforts.
We measured these factors by assessing the significance of the pro bono and sustainability information featured on each firm's website. Of the 300 awardees on this list, 161 published information on company pro bono programs and attorney charitable involvement, and 128 outlined the firm's commitment to environmental sustainability.
Congratulations to our 2022 Embroker Law 300 Award winners!
You're leading the way for the legal profession in innovation, equality, and positive impact on the world. Click below for access to your award badge, which can be embedded on your website.
Related Articles
18 min read
Difficult legal clients are inevitable, but there's no need to stress. We've laid out 9 common challenging clients and exactly what you need to know to handle them.
Read More
19 min read
Ready to expand your business, but not sure where to start? We've assembled an all-inclusive manual on how to grow a law firm.
Read More