The Client
Full Harvest is an innovative startup working on tackling the world's very real food waste crisis while helping farms and food retailers in the process.
This B2B platform connects large farms to food businesses in order to help sell so-called "ugly" produce – imperfectly-shaped fruits and vegetables that many retailers shun.
Full Harvest enables farms to sell these surpluses of perfectly good produce that would otherwise go to waste to willing buyers at discounted prices.
Issue
Full Harvest CFO Russell Sprole approached Embroker after waiting several weeks to get a single quote from a traditional broker. At the time, Full Harvest was in the process of closing the company's first institutional round of fundraising.
Sprole was interested in purchasing directors & officers insurance, which is required coverage for all funded startups that are venture-backed.
Startup Insurance Calculator
Find out how much your startup can expect to pay for key insurance coverages.
The Journey
It wasn't just the fact that the entire process of purchasing an insurance policy was taking so long, Sprole was also concerned that Full Harvest wasn't getting the right amount of coverage for the price they were paying.
According to Sprole, it would take in between three and four weeks to buy a policy using a traditional broker. Being used to the fast-paced tempo of startup culture, it only made sense to look for a more modern and digital way to buy insurance.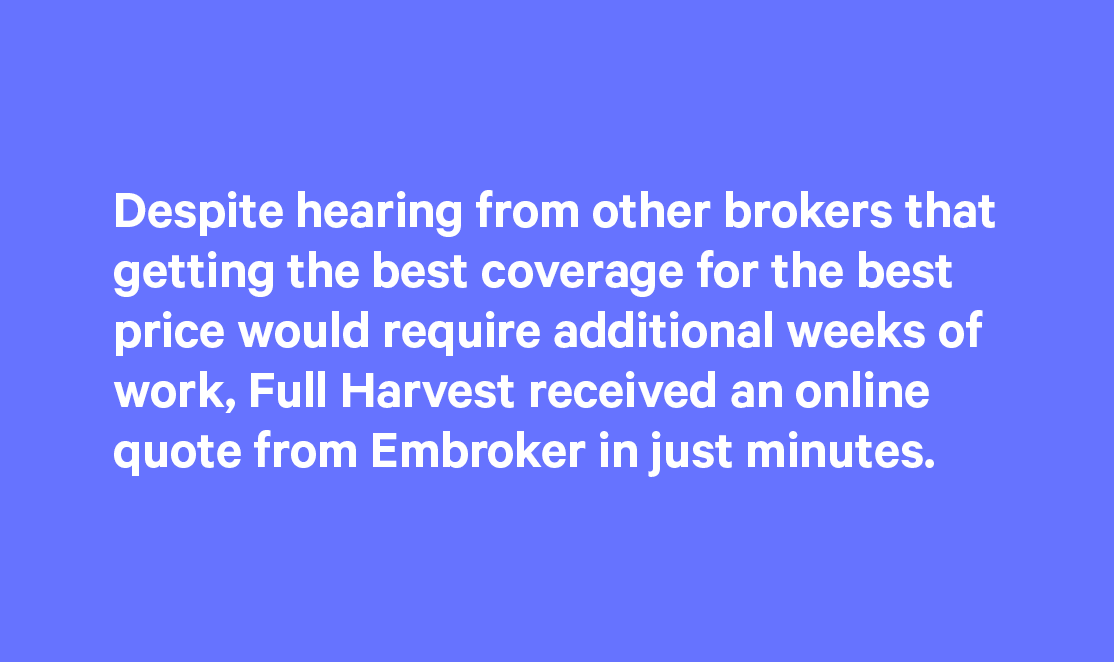 Results
Sproles contacted Embroker initially to ask for a second opinion regarding his insurance options. Embroker's experts took a look at Full Harvest's coverage and quickly came to the conclusion that Embroker's Startup Plan was a significantly better fit for Full Harvest in every way.
Despite hearing from other brokers that getting the best coverage for the best price would require additional weeks of work, Sprole received an online quote from Embroker in just minutes.
Full Harvest was happy to see that Embroker was able to deliver on every promise. They received a quote in minutes and found the perfect coverage, developed by a startup for startups. Time and money saved, peace of mind secured.

Now that you have a better understanding of how Embroker helps startups get insured intelligently, you may be wondering how all of this affects your business and where to go from here. If you need more help or information, you can reach out to our team of expert brokers. Or, if you prefer to get started on intelligent quotes, create your Embroker account today.
Related Articles
4 min read
The 2023 edition of InsureTech Connect Vegas was a wild one. Big booths, two puppy playpens, a beer garden (that we definitely didn't explore), and some of the biggest players and innovators in the insurance space all gathered in Mandalay Bay for an incredible week. Our presence at this year's ITC was a big step […]
Read More