With Tom Cruise back in the news lately, starring in the (critically acclaimed? What?) Top Gun remake, Risky Business seemed like a great segue… until this week. 
While we would love to make references to the King of Scientology's underwear and sock-wearing Bob Seager rendition, we can't risk going further back in time. 
While inflation and prices go up, it seems our rights are going down… the drain. While the sun is shining as we celebrate the pride of peoples and inclusivity, June has taken a slightly darker turn. But, we won't ignore it, because we can't. 
It seems the world is more unpredictable than ever, and riskier. So, while we talk about what's been going on, we also want to offer some resources, some way to make sense of the senseless. Stay tuned.
In The Risky Business Environment What's Going On?
Supreme Court Overturns Roe v. Wade — CNBC
Ending 50 years of federal abortion rights, the Supreme Court of the United States overturned the landmark decision in a 5-4 vote.

Recession Looms, Fed Looks to Avert — Bloomberg
The task of inflation reduction has become more challenging in recent months, but Federal Reserve Chair Jerome Powell is confident in the "strong labor market."
Inflation hits hard for small businesses in key states — MSN
Nebraska, Wisconsin, Arkansas, and South Dakota have all seen an over 85% increase in prices of goods and services from small businesses.
Roe v. Wade: What the Tech Sector Has to Say
Tech Companies are Reacting, When they Should be Preparing
In an industry where only 24% of women hold technology positions, it may seem odd to wonder what the tech sector had to say about the recent Supreme Court decision. But, the cultural pull and sheer workforce of some of the country's largest tech companies, as well as the smaller ones in Silicon Valley and beyond, makes this more of a story than you might think.
Companies with the resources to make a statement, have, including "Bumble, Microsoft and Tesla, [who] announced almost immediately that they would cover abortion-related travel costs." Other giants like Google and Apple have made recent announcements as well. 
But for smaller companies in the tech sector, startups that are strapped for cash, and rightly worried about what might come next, this news isn't merely a PR opportunity. As the Protocol article linked above shows, the consequences of this decision may reverberate, affecting minority populations including and beyond the LGBTQIA+ community. 
Beyond that, for companies large and small, the very real possibility of user data requests from law enforcement raise privacy, moral, and reputational concerns.
Companies around the country will need to help their staff today, while preparing for the risks that tomorrow may bring. 
Business Protection, Made Simple
Subscribe for tips, tricks, and more
Risk Index: Employees & Hiring Practices a Major Concern
To close out the month, Embroker released a few resources to help business owners and founders better understand their relationship with risk, both personal and operational.
While we didn't include Supreme Court decisions as an option for founders to identify as a potential risk, our data did show some trends that the current decision (and potential future ones) would affect.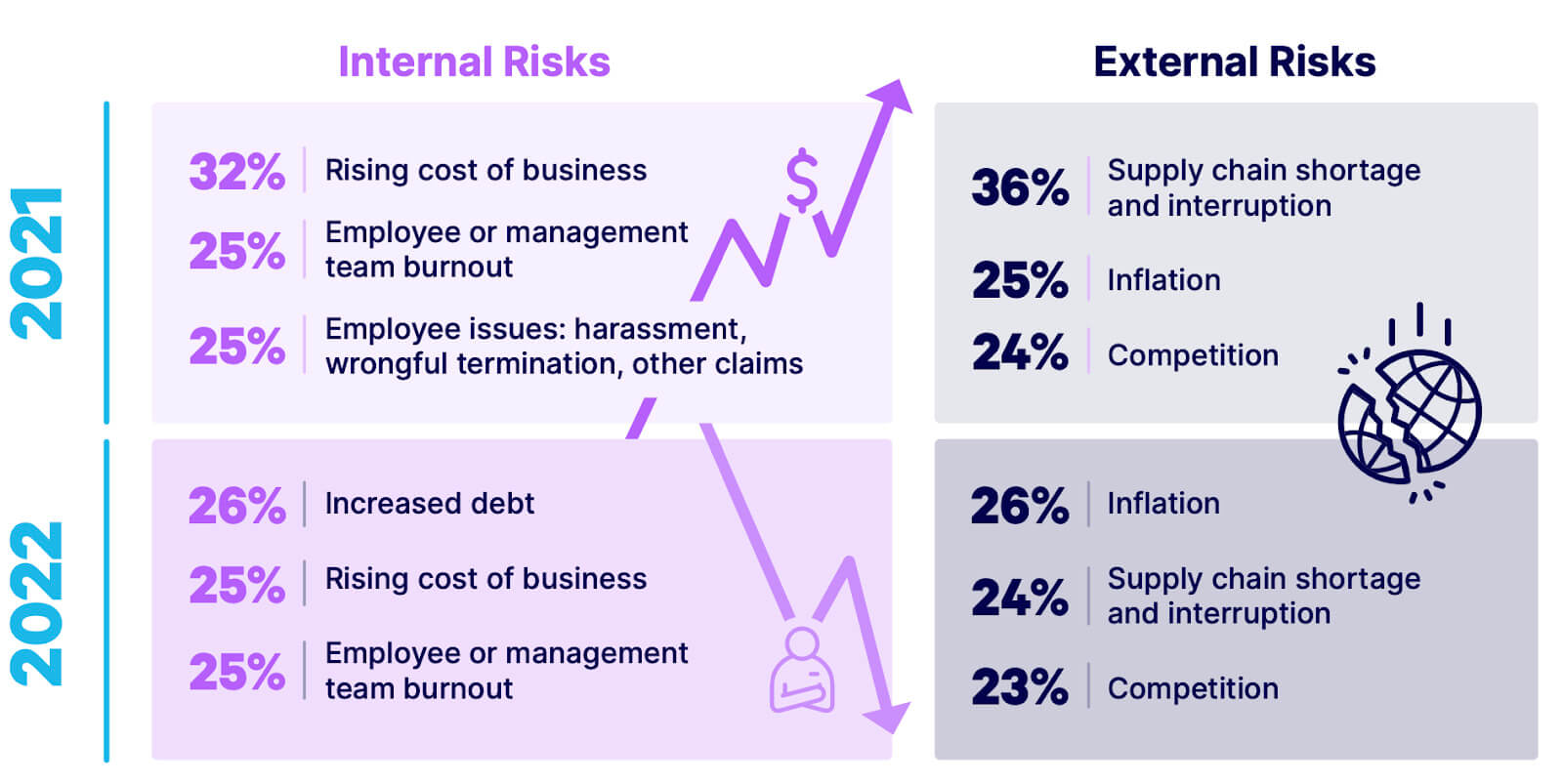 In the top 3 internal concerns for businesses in 2022 is employee or management team burnout, similar to the year before. While employee issues around harassment, wrongful termination, and more fell out of the top 3 this year, decisions like this may see those results change. Are business owners going to stop hiring in certain states? Are women going to look for jobs in abortion-friendly states?
Of course, inflation has been the story of 2022 for businesses thus far. But, with the year we're having, it may end up at the bottom of the list of concerns.
Check out the full report to learn what over 500 VC-backed founders in the U.S. had to say about risk.
So, how do you respond to risk? Are you someone who takes every opportunity to make change, or do you sit back and let the world happen to you?
In our Risk Archetype Quiz, we've created a way for business owners to understand what kind of risk taker they are so that they can make better decisions about their team structures and risk mitigation strategies. Plus, you can find out if your risk profile matches some of the world's most well-known CEOs and founders like Jeff Bezos, Richard Branson, and more.
You can learn more about the quiz here, or take it yourself here.
How do you handle risk?
Take our Risk Archetype Quiz to find out if your risk mitigation strategies are helping your business thrive, survive, or otherwise.
Like What You're Reading? Check out the Embroker Blog for more. To learn more about the right insurance policies for your business, check out Embroker's digital insurance platform.
Related Articles
4 min read
The 2023 edition of InsureTech Connect Vegas was a wild one. Big booths, two puppy playpens, a beer garden (that we definitely didn't explore), and some of the biggest players and innovators in the insurance space all gathered in Mandalay Bay for an incredible week. Our presence at this year's ITC was a big step […]
Read More