In tech, it's natural to move fast and break things. But how do you protect yourself from potential loss? The answer is a solid risk management strategy. Insurance allows your businesses to shift part of its financial risk to another entity (i.e., insurance carrier), freeing you to take other, bolder risks like a product launch or marketing blitz.
How to find the right coverage for your business
It comes down to four factors:
Premiums: how much does adequate coverage from your risks cost?
Broker experience: how well do they know the tech industry, and — more specifically — your needs?
Time: how long does it take to secure and manage policies?
Coverage terms and conditions: the quality of specialized coverages like Directors and Officers (D&O), Errors and Omissions (E&O), and Cyber can entirely depend on the terms and conditions in the policy wording. A savvy broker who knows your industry and vertical will negotiate these terms and conditions to match your exposures.
Embroker makes purchasing insurance smart, easy, and cost-effective for everyone. To get you started on the right path, let's consider a few points before you bind coverage:
Your potential alone exposes you to risk
Technology: that disruptive force that transforms life, business, and the global economy. In 2013, McKinsey Global Institute estimated that certain technologies will have a combined economic impact of $14 trillion to $33 trillion a year by 2025. With all those zeroes, it's virtually impossible avoid risk exposure.
Whether you've launched something or not, you could face potential losses if not properly insured. Lawsuits between co-founders are common (i.e., when large amounts of money are concerned, people sue). That's why it's important to consult with an experienced broker at the inception of your company to identify gaps in your coverage and to employ proper risk management strategies.
If you're a growing private technology company or startup, here's an insurance roadmap to reference. Click on the roadmap to see additional details: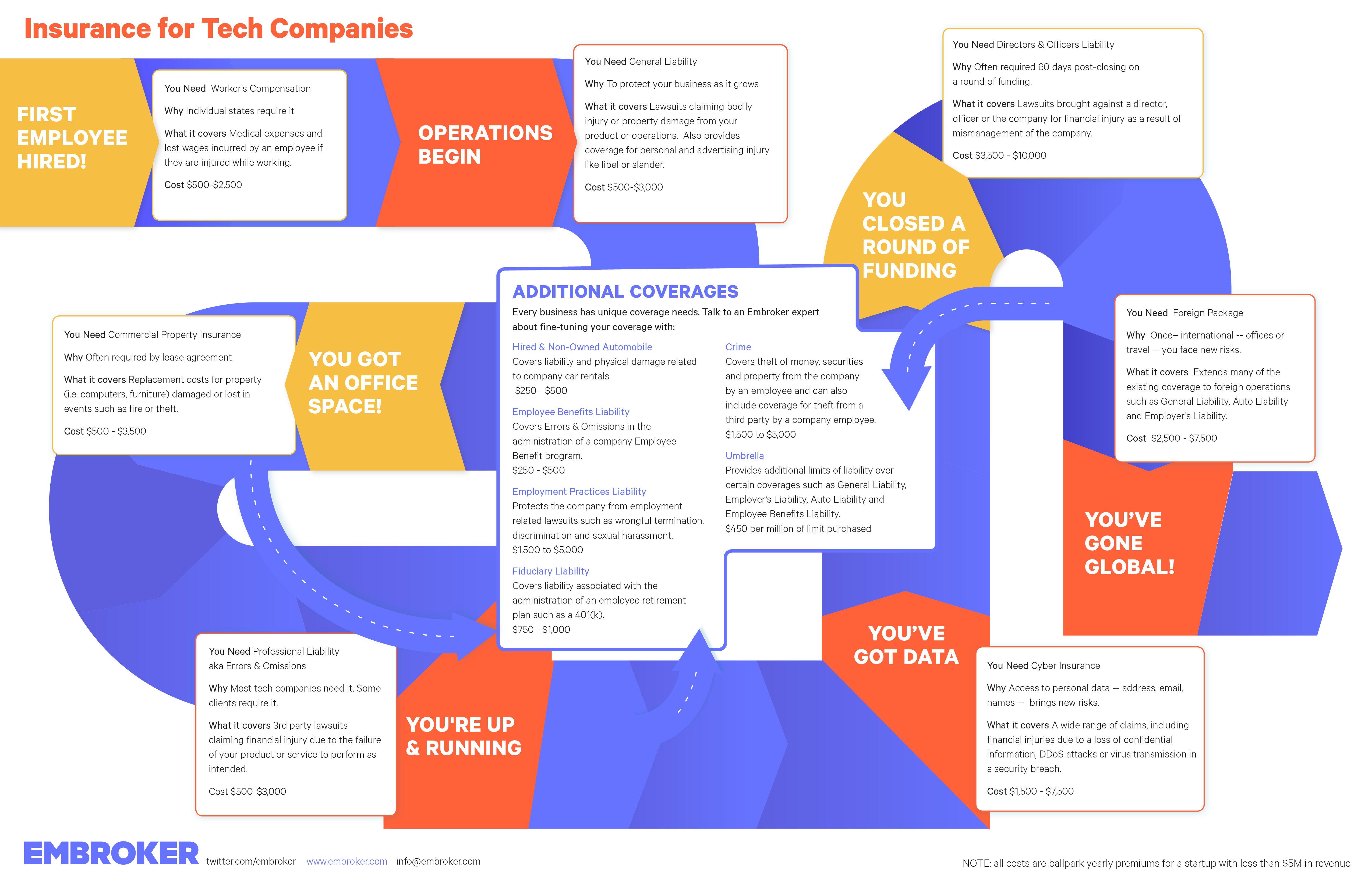 More than 1 in 4 private companies reported a D&O loss in the last three years
Unlike public companies that have highly-publicized lawsuits from shareholders, private companies often get sued by customers, partners, vendors, and other third parties.
Failing to protect your directors and officers can have a serious financial impact on your business. The average cost of a private D&O loss is nearly $400,000, yet privately-held and family-run companies often opt out of D&O coverage because they feels it's unnecessary.
Got questions about D&O coverage? We can help, our team has specialists that work with technology companies on these exact exposures (check out our D&O guide as well).
U.S. data breaches rose 40% from 2015 to 2016
Do you collect data from users? What kind of data, and how do you store it? These are common questions you hear when creating a partnership or onboarding a new customer, and they should alert you to review your Cyber Liability policy.
The ITRC attributes some of the spike in Cyber Liability to CEO spear phishing and ransomware attacks. As such, you may want to consider adding Social Engineering coverage to your Cyber or Crime policy — it protects against losses that result from fraudster who trick employees into sending them funds or sensitive data.
Do you like or love paperwork?
Probably neither. Working in technology doesn't excuse you from some of the old ways of doing business. All those mind-numbing forms, memos, calendars, contracts, applications — they run counter to our tech sensibilities. Like how many hours have you sacrificed on internal paperwork, including the insurance stuff?
We also hate paperwork at Embroker, and we've found a way to rid of some of it for you. Our online platform eliminates the burden of paper by turning all your insurance policies, certificates, claims, etc. into clean, easy-to-access digital documents. Sayonara, file cabinets. Adios, papercuts.
Premiums can be rated on payroll or square footage
A frequent question we hear (and a common problem with insurance underwriting in general) is that no one really knows how an underwriter arrives at a premium.
Your company's premiums are primarily determined by the number of employees, projected 12-month revenue, services offered (assurance, tax, consulting, etc.), location, and claims.
If you're an early stage startup, you might not have any projected revenue for the following year. In this case, certain insurers will determine your premium based on the square footage of your physical business location(s) or your payroll.
Embroker believes in giving our clients better choices using data and transparency. We benchmark your policies against similar companies in your vertical, then procure quotes from multiple insurance carriers for coverage you may not carry and want to consider purchasing. We also cross-reference your costs with companies of comparable size, policy limits, claims history, and risk tolerance so we know your premiums are as competitive as possible.
Once set up on our platform, our tools and data ensure you're adequately covered and getting the best value possible in the insurance marketplace, even as market conditions change and your business grows.
Where would you like to start?
Innovative startups like yours require unique insuring expertise and experience. Embroker helps you get the best coverage at the best price, and we start with a thorough audit of your current policies to look for gaps in coverage and potential premium savings.
Schedule a call with one of our industry experts. It's free and there's no obligation.
Is this your first time buying commercial insurance?
At minimum, tech companies with raised funding or one actively selling to customers should purchase the following coverages: Workers' Compensation, Business Owner's Policy (BOP), D&O Insurance and Cyber Liability.
Directors and Officers (D&O): covers defense costs and damages (awards and settlements) from wrongful acts, allegations, and lawsuits brought against your company's board of directors and/or officers.
Workers' Compensation (aka "Workers' Comp"): a mandatory policy that provides benefits to your employees for injuries and illnesses arising out of and during employment. This policy is mandated and controlled on the state level and can vary from: required after the first employee (i.e., New York and California) to not required at all (Texas).
Business Owner's Policy (BOP): includes three basic insurance coverages: business liability, business property, and business income policies. It protects legal business much like the way a homeowner's insurance policy protects a home and personal possessions.
Cyber Liability: covers first-party costs associated with a data breach, including forensics, notification costs, and credit monitoring. Also protects from third-party lawsuits involving various network security and privacy-related losses, and protection against costs related to Cyber Extortion; Regulatory Fines and Penalties; and PCI Fines, Penalties, and Assessments. As your company grows, you will eventually broaden your insurance program to include additional policies like an umbrella policy that extends the limits of existing coverage.
All tech companies are unique. Take charge now and consult with one of our experienced brokers to find the right coverage for your company. We promise to make your next insurance experience smart, easy, and cost-effective.
P.S. Check out our blog to learn more or create an account on the Embroker platform.