Anyone who knows what a certificate of insurance (COI) is, knows how painful it can be to obtain them from traditional insurance brokers. Wouldn't it be great if you had a certificate of insurance solution?
It often takes traditional brokers between two and seven days to send you a simple piece of paper that helps your client feel comfortable about working with you.
This is what the "old school" process of obtaining a COI typically entails:
The customer asks for a certificate (days of phone tag involved sometimes).

The broker clarifies requirements and details needed (could also take a few days).

The broker goes to the carrier (another game of phone tag).

The broker sends the COI to the customer. 

The customer sends it to their client.
With Embroker, the process is unequivocally easier and more convenient.
Not only is this much quicker and more efficient, but the Embroker certificate of insurance solution also gives you access to your COIs anytime, allows you to resend them if needed, and know exactly if and when they were completed and sent.
Why is this important? Because a COI provides proof of insurance as verification on specific insurance coverage. Companies that deal with many vendors and contractors may need hundreds of COIs to do business.
Imagine having to send dozens or hundreds of COIs a year and having to go through the slow and inefficient process of a traditional brokerage every single time. 
Explore Embroker's Certificate of Insurance Solution
How to Send Your COI with Embroker
Through the Embroker platform, clients and their partners can quickly and easily create and request their own COIs online, saving them sometimes a week of unnecessary back and forth work.
Once you've either purchased a liability policy from Embroker or moved your policies from another brokerage to us (see how to BOR Embroker), you can take advantage of our digital certificates of insurance. 
To begin the process, click on "Certificates" on the left navigation bar.
If you've previously requested or issued certificates via our platform, you'll see a list of all of your certificates along with pertinent information for each (date, status, etc.).
To begin the process of requesting a COI, click the "Get Certificate" button in the top right corner.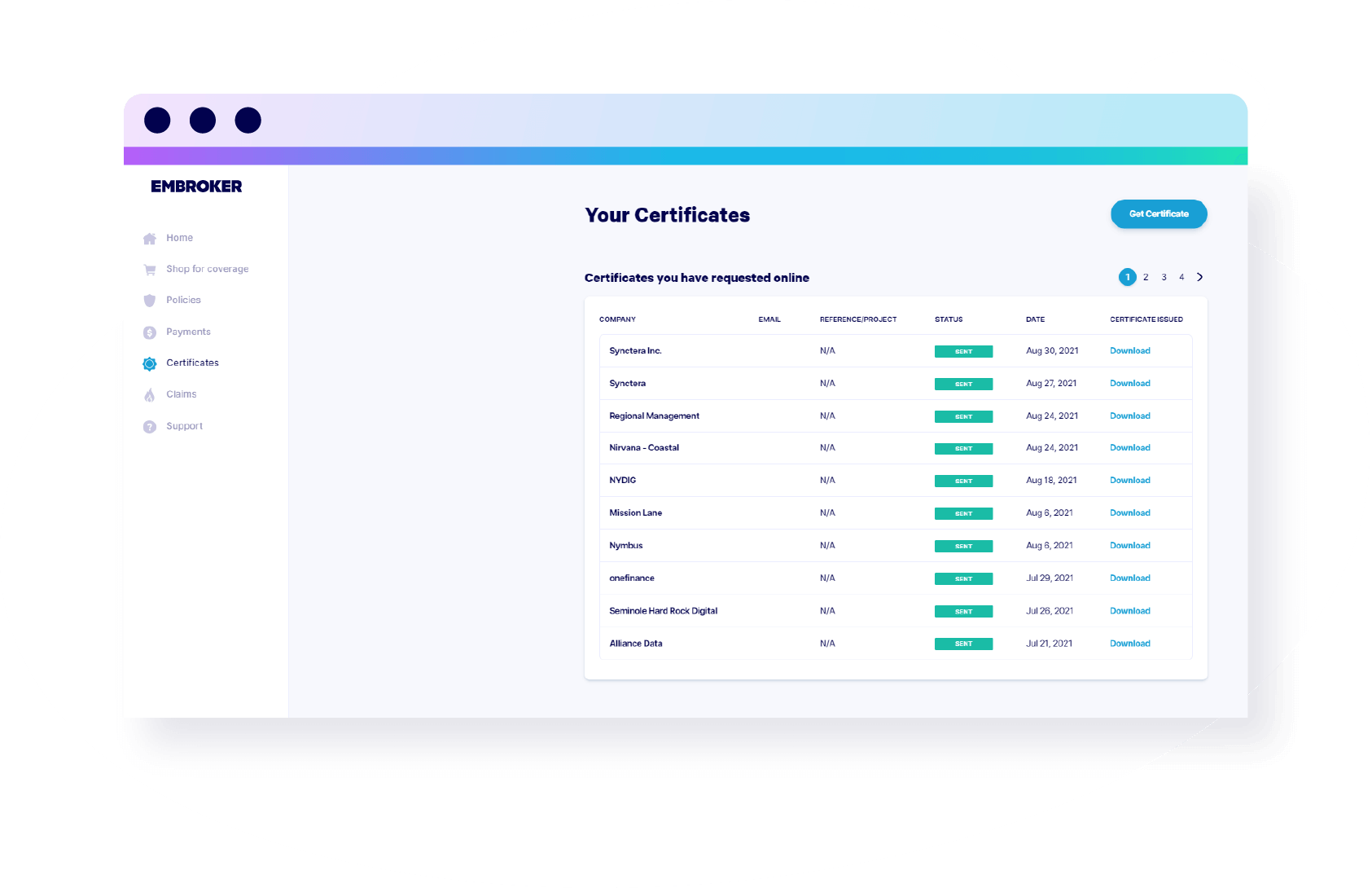 A form will slide out. This form needs to be completed so that we know which business you want the COI sent to.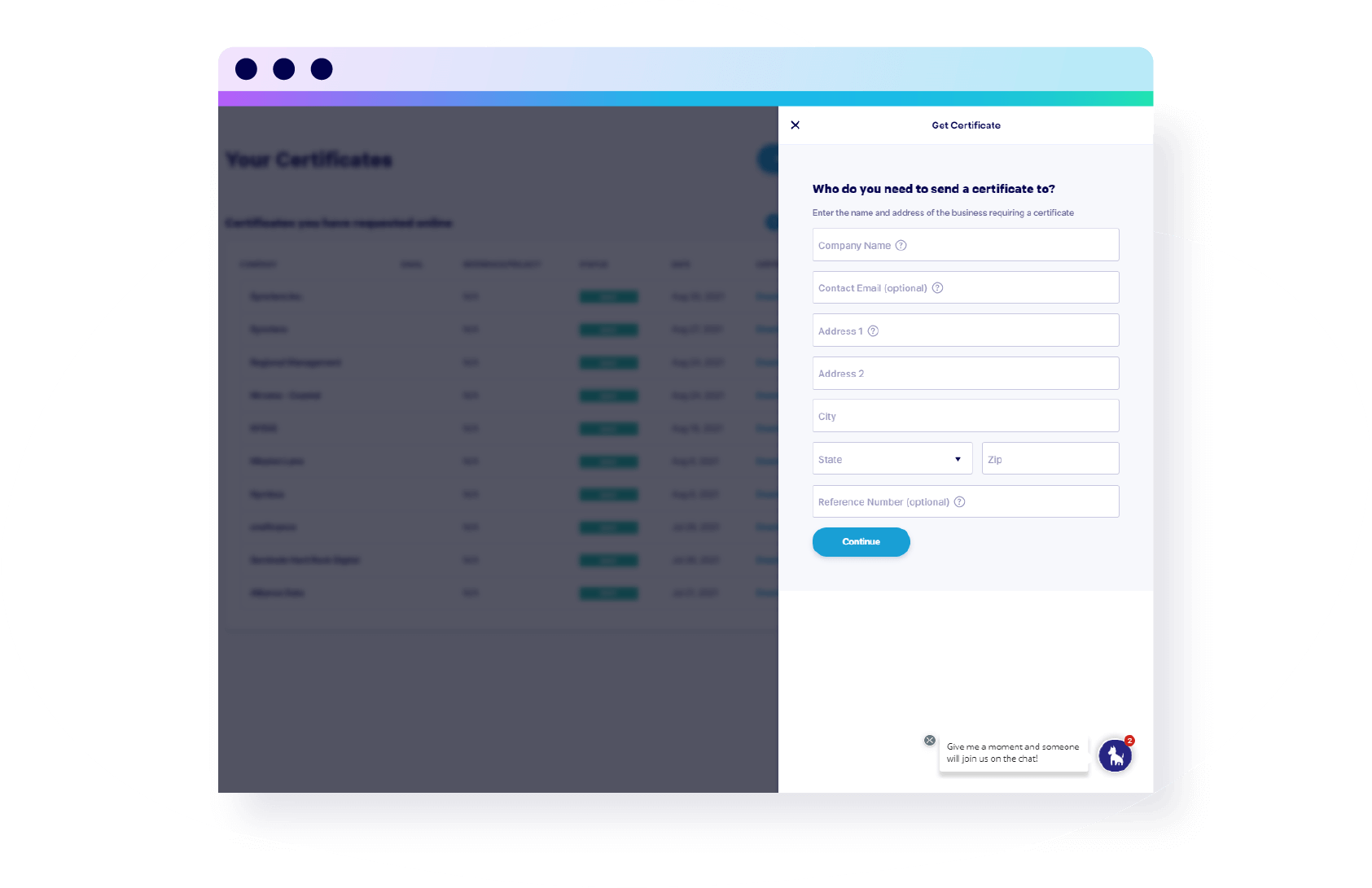 Once you have filled out the form, click on "Continue." 
Here you'll be asked whether you want to create your own COI using our certificate templates or submit a request for the Embroker client success team to create a custom COI for you.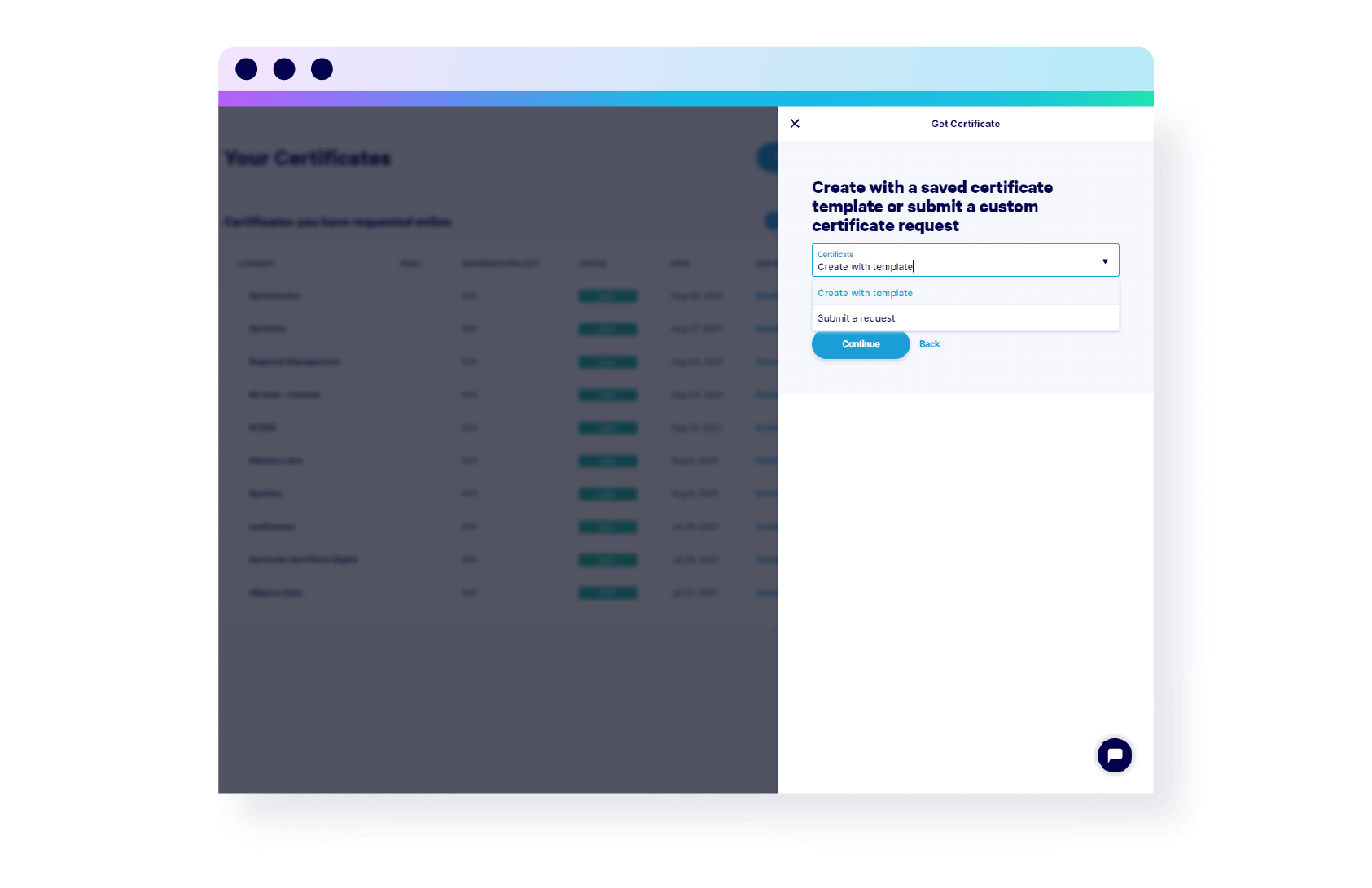 If you have at least one liability policy managed by Embroker, you'll have a "master template" available. This certificate template is created when you purchase a policy via Embroker or complete a successful BOR transfer.
The master template is updated every time you purchase a new liability policy or endorsement or renew an earlier policy. 
Depending on the availability of blanket Additional Insured and Waiver of Subrogation provisions on your policies, the master template is updated with different versions, evidencing those provisions on the issued certificates.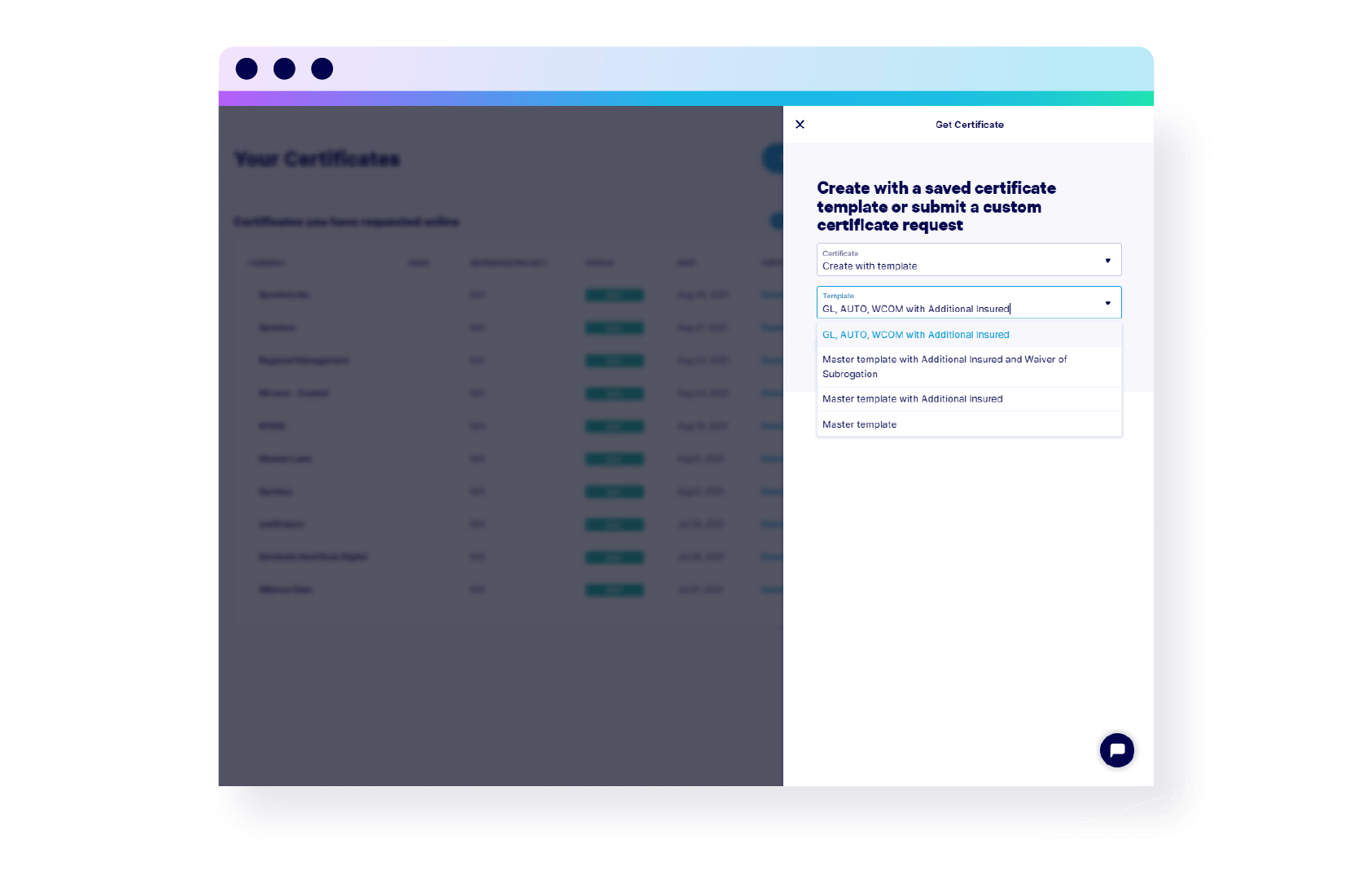 You can select different versions of the master template from the drop-down menu. This menu will also contain any custom templates our team has created for you earlier, which can all be generated upon your request to create a template that includes a custom combination of your policies if necessary. 
If you have selected a template without blanket Additional Insured and Waiver of Subrogation provisions, we'll ask you to let us know whether you will need this certificate again at renewal.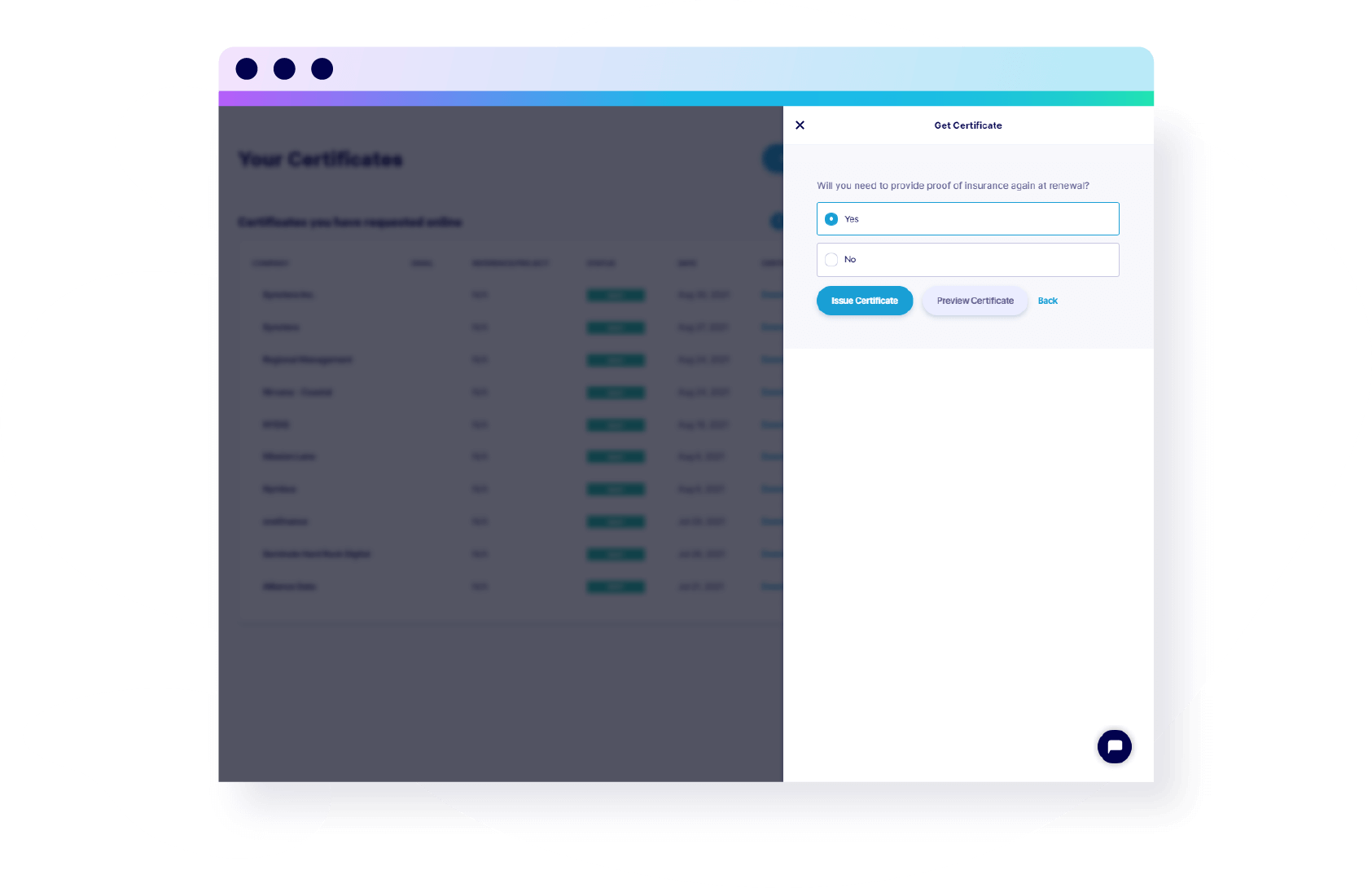 You can then preview the certificate to make sure everything is correct and issue it once you're certain that it is. 
All issued certificates will appear immediately in your updated list of certificates, where they are all stored and available for download at all times. 
If you're using a template with blanket Additional Insured and Waiver of Subrogation provisions, you can specify the entity that you would like to be assigned with those provisions.
The certificate will then be issued with the standard wording attributed to these provisions, like this: 
Remember, if the available certificate templates don't fully meet your demands, you always have the option of requesting a custom template from our team. Before submitting the request, be sure to provide any additional information and details related to what you would like to include or amend in the certificate and attach any and all relevant documentation.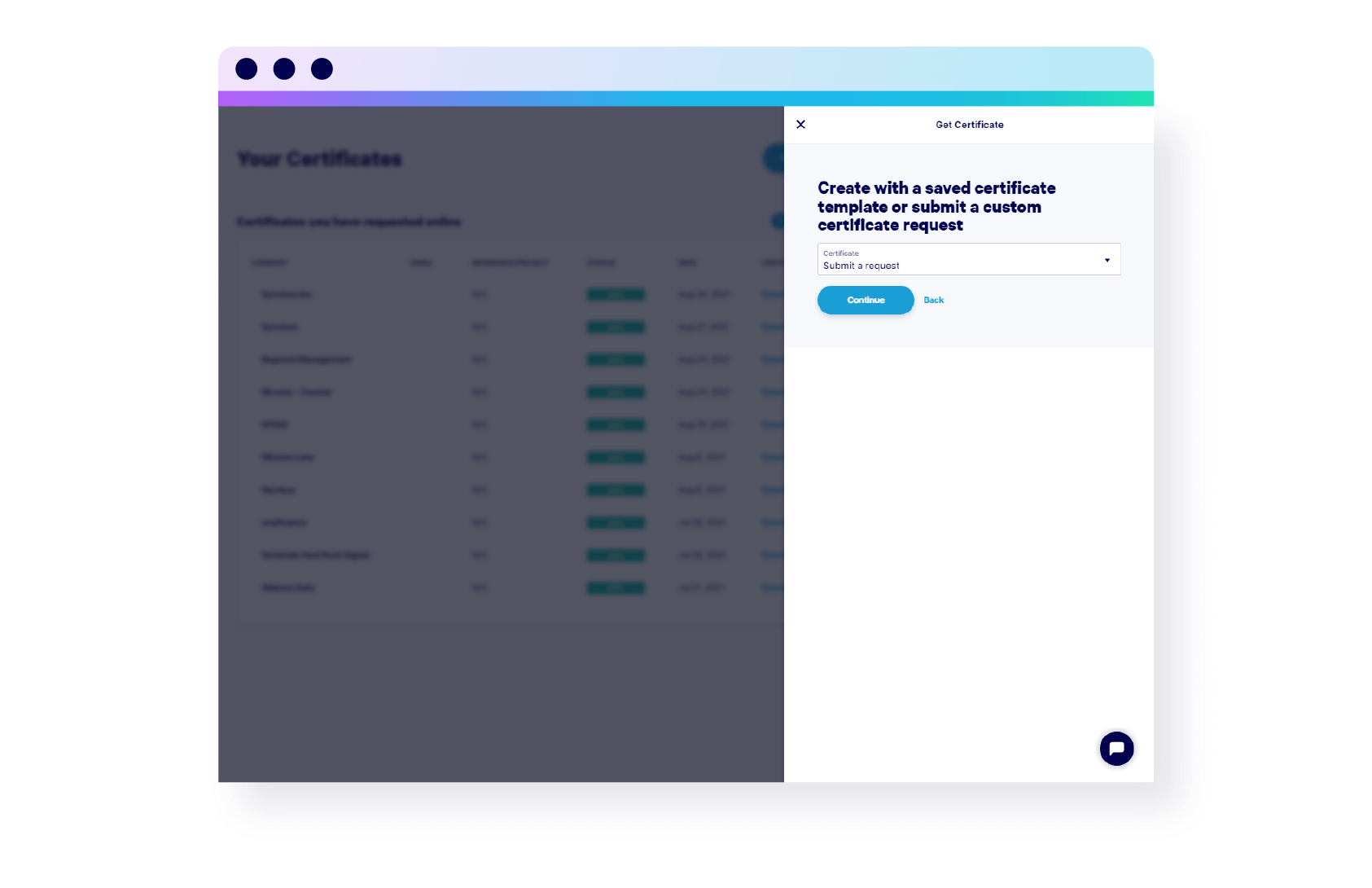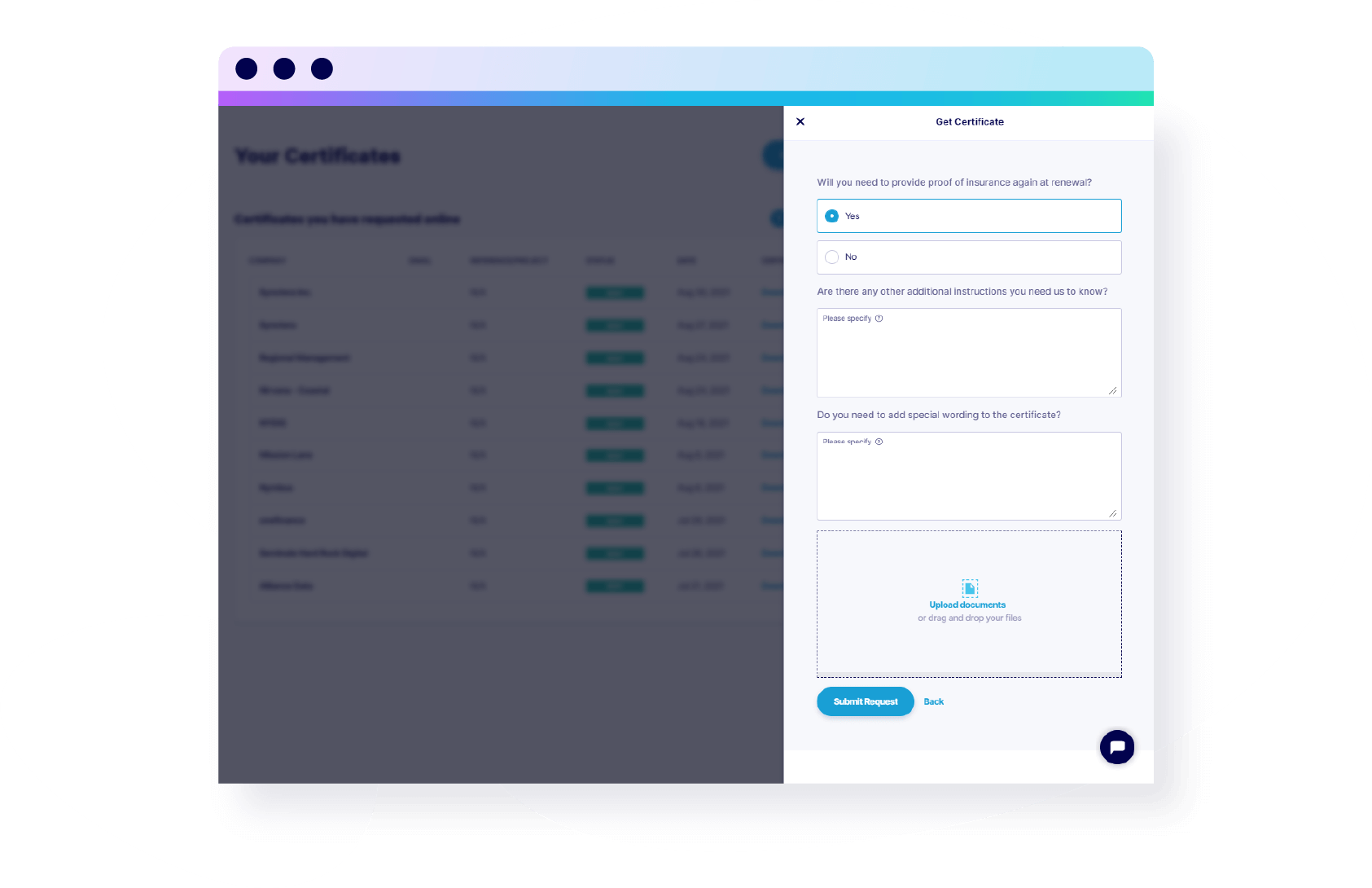 Once the certificate is ready, we'll send both you and your client an industry-standard PDF (ACORD 25) certificate which can be downloaded, printed, and stored through your Embroker account. 
Note: Most certificates will be sent instantly, while more complex certificates can take up to 24 hours to be created. 
To find the right coverage for you business, check out Embroker's digital insurance platform.
Related Articles
5 min read
What is an ACORD certificate of insurance and why have they become the industry standard for providing proof of insurance?
Read More
12 min read
Buying and renewing commercial insurance can be a loathsome process. This guide was created to make your insurance renewal process as smart, easy, and cost-effective as possible.
Read More