Celebrity chef Marcus Samuelsson thanks his grandmother Helga for his love of cooking and his happiest childhood food memories. Growing up in Sweden, he spent summers in Smögen, on the west coast of Sweden. He fished with his dad, and with his grandmother, he learned how to pickle vegetables (an important part of Swedish cooking), make jams, and of course bake Swedish apple cake, which grew into his signature spiced apple pie with cheddar cheese crust.
Samuelsson is one of the most recognized chefs in America. Owner of 31 restaurants, including Red Rooster in Harlem, Streetbird Rotisserie, and Red Rooster Shoreditch in London, and author of numerous cookbooks, he's been a judge on the Food Network's popular cooking shows, Chopped and Chopped Junior, since 2010. We were lucky to talk to him recently in the Bay Area.

Looking for restaurant insurance? Learn more about the Embroker difference – where technology and expertise come together.
Background on Marcus Samuelsson:
Samuelsson was born in Ethiopia in the 1970s during a tuberculosis epidemic. His mother, sister, and he were all stricken with the infectious disease that affects the lungs, and which is still the second biggest killer around the world. Recognizing they would not get the medical attention they needed in their small village, his mother walked with his sister and carried two-year-old Samuelsson 75 miles to a Swedish hospital in the capital Addis Ababa.
The children recovered but his mother died, and the siblings were adopted by Ann Marie and Lennart Samuelsson and raised in Sweden. Samuelsson may have lost his understanding of the Ethiopian language and culture, but his love of food flourished in Sweden.
"I take my American hat off, take the Swedish hat off. It's a different thing."
Reconnecting with his birth family in Ethiopia wasn't easy. He and his sister began their search in 2004, and it was especially difficult because they had so little information. But he soon found out that his biological father was still alive and living in the village of Aberagodana, south of the capital. So, 30 years after he was adopted, Samuelsson returned to Ethiopia where he was born. He has since gone back to Ethiopia many times, but each trip raises more questions and a thousand thoughts.
On his first trip back, Samuelsson met his eight half brothers and sisters, whom he has since helped move into the city. He helped the girls first because traditionally in the countryside, girls leave school by the second grade to work at home. He wanted to make sure they would receive an education and find better opportunities than in their small village.
"Do you know the original meaning of a restaurant? It's food that restores."
Early in his career, he traveled and worked in France, Switzerland, and Japan – "Talk about Lost in Translation," he says with a smile. Then he landed in New York City. He became the youngest person ever to receive a three-star review from the New York Times as executive chef at the ground-breaking Aquavit when he was only 24, and soon won a James Beard award as "Best Chef: New York."
But Samuelsson's mom would ask him why he was always cooking for bankers; why not the people who work at the bank? She wanted him to cook for regular people.
So, it took real guts to open Red Rooster in Harlem, New York in 2010. Named after the legendary speakeasy of the same name, he not only wanted to make a positive impact on the neighborhood, but he also wanted to share the story of Harlem's music, artists, and food with his guests. Additionally, Red Rooster was part of his vision of opening restaurants in historically African-American communities and focusing on their rich histories.
Where is home for you?
I feel home in New York. I feel very much home when I'm in Africa but also out of place. When I come to this place, Aberagodana, it gives me a lot of humility. But I can't say it's home.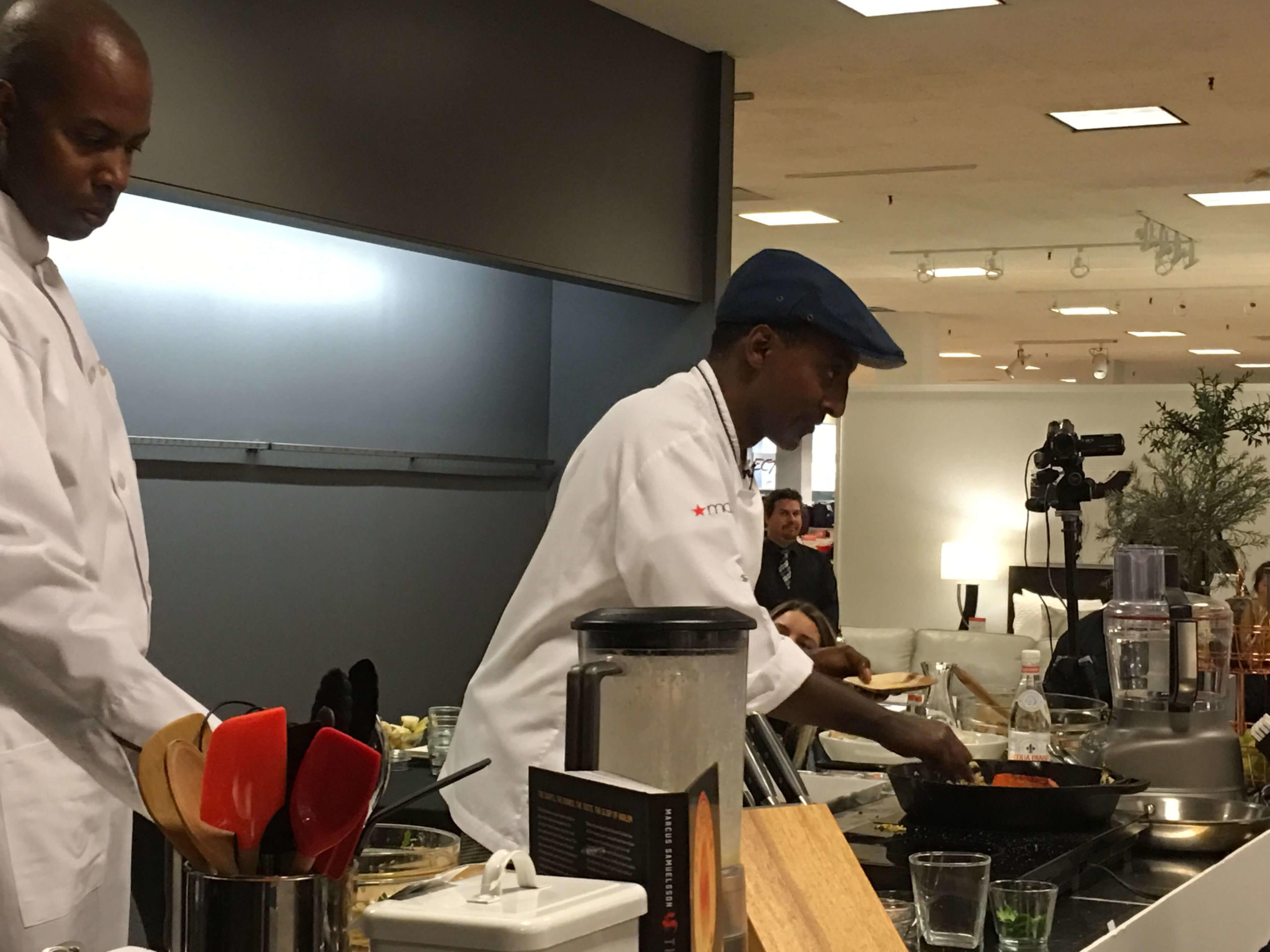 The structure in my cooking, that came from Sweden, but the vibrant, feel-based food comes from Ethiopia.

What was the biggest risk you have ever taken professionally?
It was going into the restaurant industry. Risk, reward… Lots of people have two, three, many jobs before finding their one thing. But I've been in only one but that's another thing.
What about risk in food?
Say if I was making a chocolate dessert, I would think curry notes, maybe kefir lime. You're used to it, but for someone else, it's a risk. It's like lamb balls! That's how food culture is. One people like it but others may not be used to it.
Think about fermented Swedish herring. Everyone makes a face when you open it. When guests came to our wedding in Ethiopia, it's traditional to serve raw meat. In Ethiopia, people eat very little meat day to day. It's mostly vegetarian. Meat is served at celebrations. They had huge animal carcasses, and they sliced the raw meat. And the guests had to eat it or they were being rude!

Photo by MarcusCooks: https://www.facebook.com/pg/MarcusCooks
When Samuelsson opened Red Rooster, it was to cook and be happy in his own neighborhood. His dishes are inspired not only by his Swedish grandmother but the South and the Great Migration. So, both pickled herring and mac and cheese are on the menu!
The restaurant is also inspired by church cooking and African-American culture, and Red Rooster looks to the great women restaurateurs in Harlem, such as Sylvia Woods, Edna Lewis, Leah Chase, and others.
And the risk of opening a restaurant in Harlem has paid off. Not only does it feel good to have a restaurant in his hometown, he also hosted President Obama's fundraiser at Red Rooster. He thought the biggest honor was when he cooked the State Dinner at the White House during President Obama's presidency, but it was nothing compared to hosting the president at his own restaurant.
"Every once in a while, you are part of something important, and you know it… A sitting president had broken bread at our restaurant. We passed out coffee and donuts to folks waiting to sneak a peek at the first black President. His presence put the building on the map."
Marcus Samuelsson, The Red Rooster Cookbook: The Story of Food and Hustle in Harlem
If you're interested in learning how Embroker can help you mitigate risk and intelligently insure your business, you can reach out to our team of expert brokers. Or, if you prefer to get started on intelligent quotes, create your Embroker account today.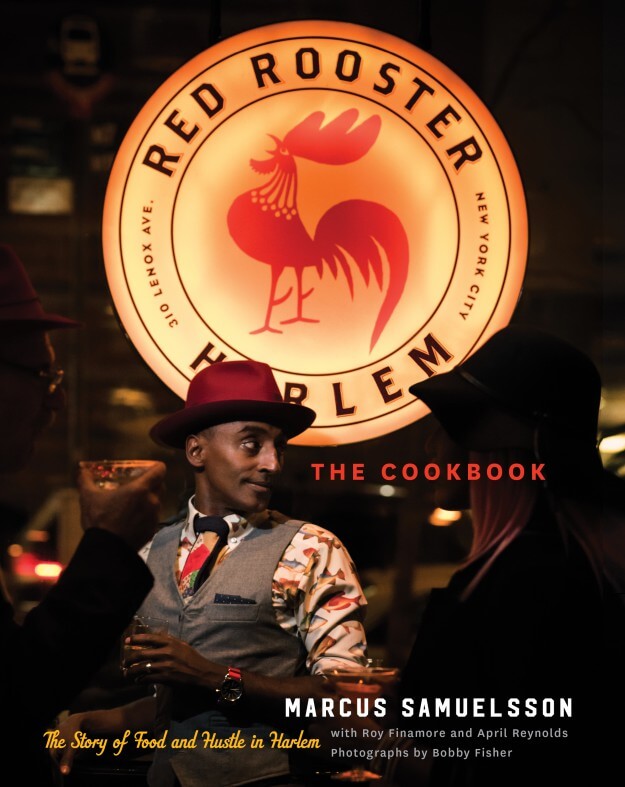 Related Articles
7 min read
Let's take a look at some of the types of insurance that just about every restaurant should look to acquire and how the cost of restaurant insurance coverage is determined.
Read More
11 min read
How do slip and fall injuries most commonly occur? What can be done to minimize the chances of these injuries occurring in the workplace? How can businesses protect themselves in the event that they do occur?
Read More