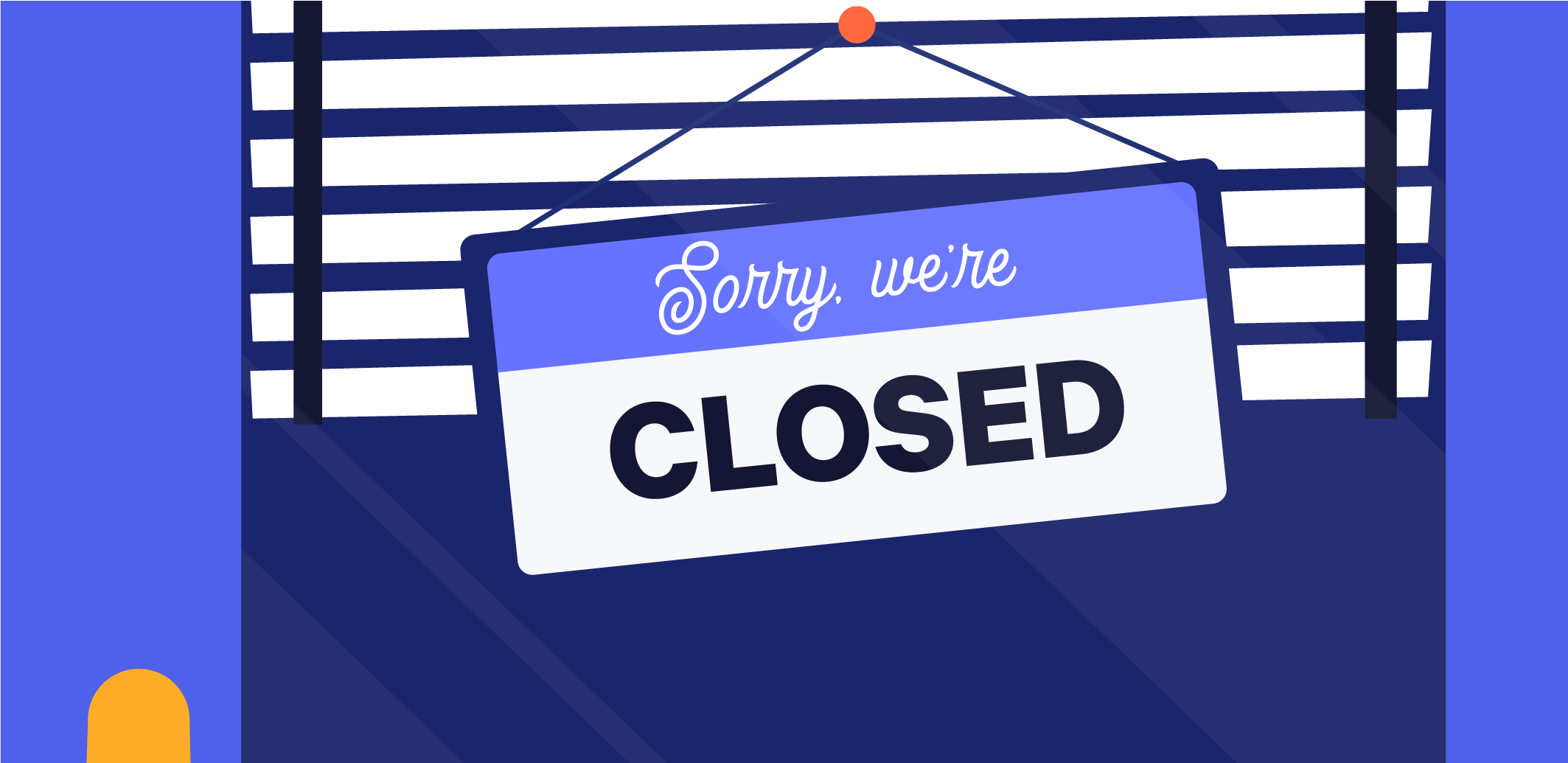 What Is Business Interruption Insurance?
Business interruption insurance, often called business income insurance, provides financial help to businesses that are forced to close down for a while as the result of a peril (covered by the policy) that impacted their business property.
Most commonly, business interruption insurance is bundled into what is called a Business Owner's Policy (BOP), which usually also includes general liability and property insurance. And while that's a common way to obtain this coverage, it's certainly not the only way.
Businesses can also add business interruption insurance to their commercial property insurance policy. Self-employed business owners who work at home, for example, typically add business interruption as an endorsement to their homeowner's insurance policy.
No matter how you go about getting the coverage, what's most important is knowing what costs and losses business income insurance covers and what expenses you'll have to count on other business insurance policies to cover.
What Does It Cover?
As already mentioned, business interruption insurance is very closely tied to your commercial property insurance, meaning that events and perils that are covered by your property insurance or BOP are also covered by your business interruption policy.
It's also important to note that the interruption needs to be significant for the coverage to kick in, meaning that you're probably not going to be covered for a power outage that lasts a couple of days.
Let's take a look at what costs are covered by a business interruption policy.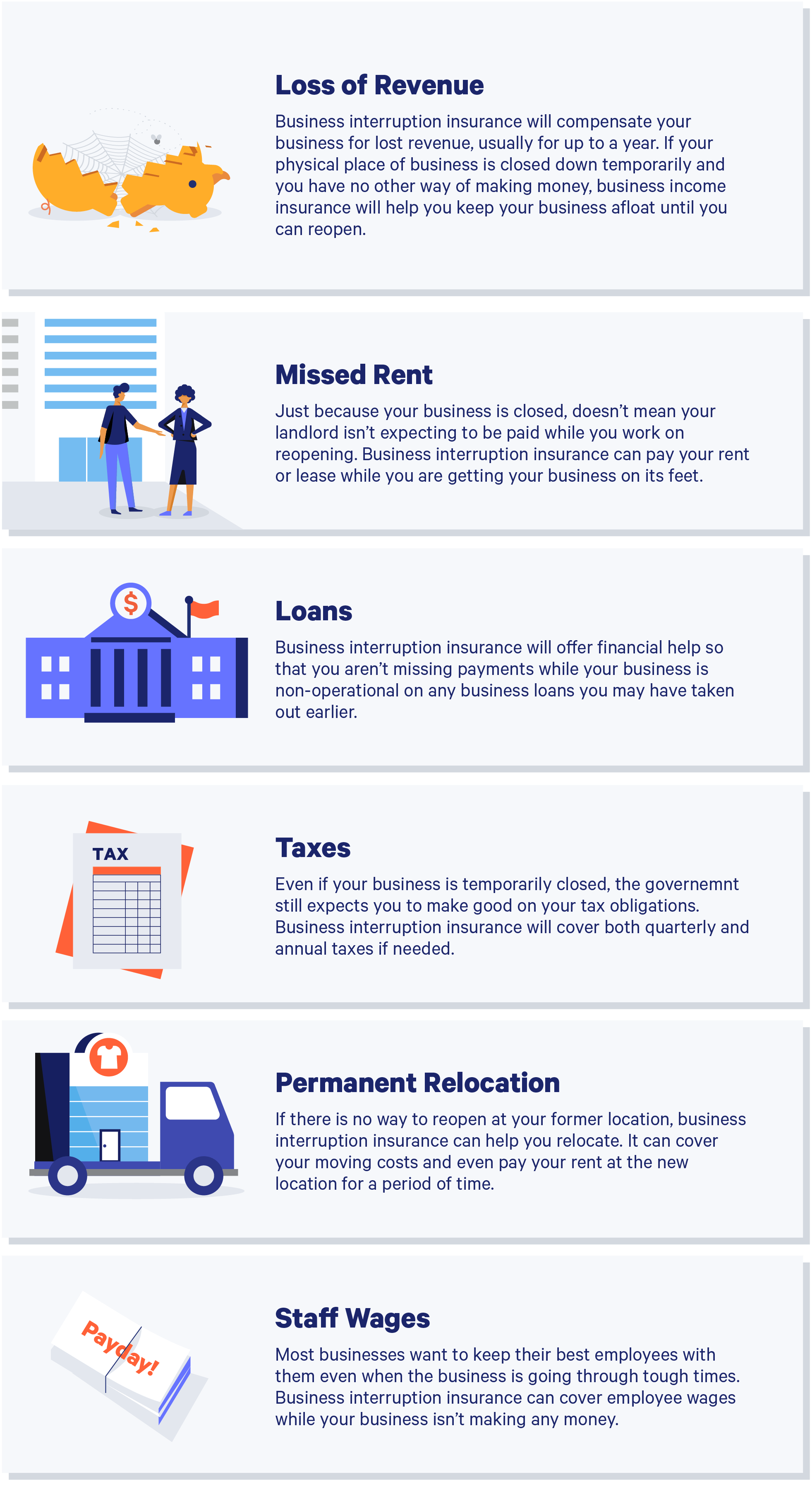 Loss of Revenue
Business interruption insurance will compensate your business for lost revenue, usually for up to a year. If your physical place of business is closed down temporarily and you have no other way of making money, business income insurance will help you keep your business afloat until you can reopen.
Missed Rent
Just because your business is closed, doesn't mean your landlord isn't expecting to be paid while you work on reopening. Business interruption insurance can pay for your rent or lease while you are getting your business back on its feet.
Loans
Business interruption insurance will offer financial help so that you aren't missing payments while your business is non-operational on any business loans you may have taken out earlier.
Taxes
Even if your business is temporarily closed, the government still expects you to make good on your tax obligations. Business interruption insurance will cover both quarterly and annual taxes if needed.
Permanent Relocation
If there is no way to reopen at your former location, business interruption insurance can help you to relocate. It can cover your moving costs and even pay your rent at the new location for a period of time. This coverage only covers a permanent move. If you want to reopen at another location while you repair or renovate your old space, then you should be looking into extra expenses coverage (which we'll talk about later).
Staff Wages
Most businesses want to keep their best employees with them even when the business is going through tough times. Business interruption insurance can cover employee wages while your business isn't making any money. Most policies will cover payroll costs for up to a year.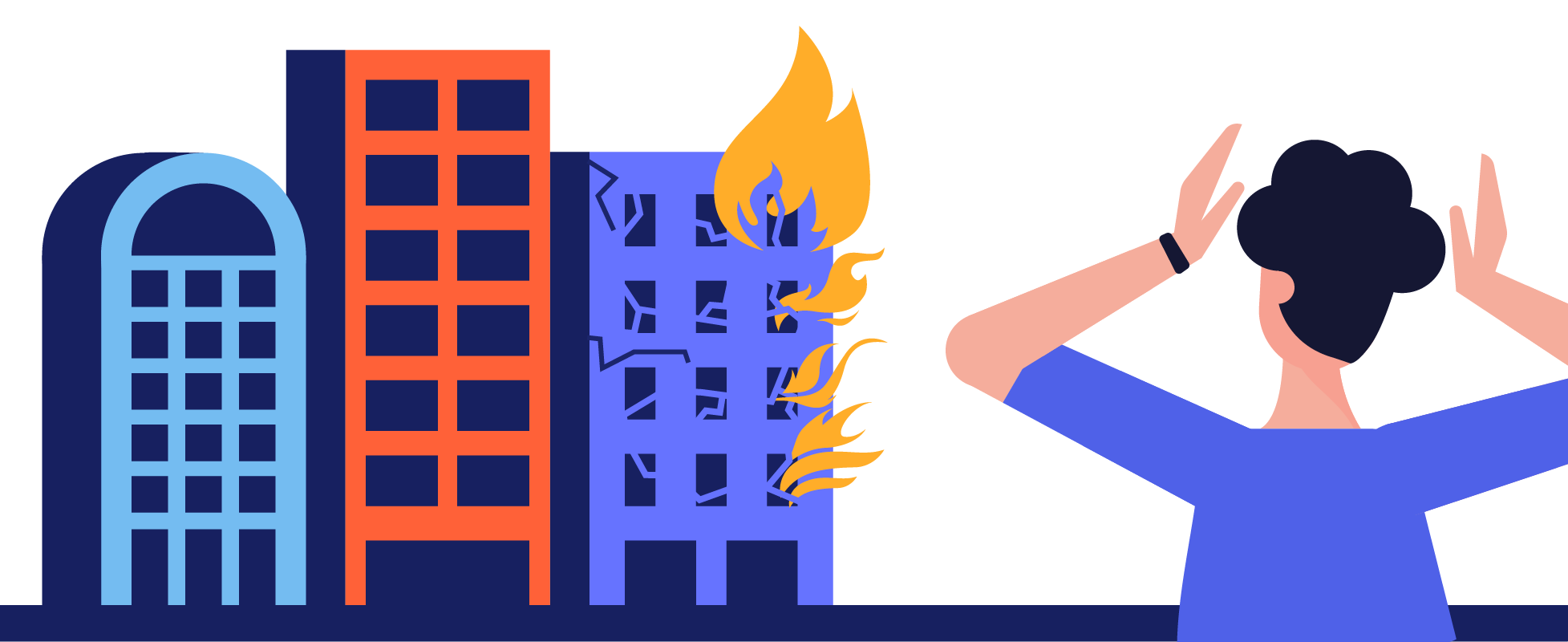 What Doesn't It Cover?
If your business needs to shut down because of extensive property damage, it's important to understand which insurance policy covers which losses. Business interruption insurance does not cover the material property damage, it covers financial losses.
In the simplest of terms, business interruption insurance will not cover the costs that your general liability and commercial property policies are designed to cover, most specifically, commercial property damage and third-party damages and injuries.
Instead, business interruption insurance provides you with the financial support you need to get your business back up and running while you're getting your property back into working order.

The Importance of a Policy's Restoration Period
Every business interruption policy has a designated restoration period, which signifies the duration of time during which your policy will offer you financial support after a covered claim. When you are putting your business interruption policy together, make sure that you clearly understand how long your restoration period lasts and when it starts. A typical restoration period will last 12 months and generally cannot be extended.
You should also note that your coverage benefits will be paid out for 12 months even if the actual policy expires before then. But if you're still making repairs after 12 months and aren't ready to open just yet, you will stop receiving reimbursement for things such as lost income from your insurer once the 12-month restoration period of your policy has ended.

What's the Difference Between Business Interruption and Extra Expenses Coverage?
Coverage that is often confused with business interruption insurance is extra expenses coverage, which is often added as a  commercial property policy rider but can also be purchased in a package with business interruption, as part of a BOP, or even as a completely separate insurance policy.
While business interruption covers regular expenses when your business is temporarily closed, extra expenses insurance covers "non-ordinary" costs.
For example, if you want to keep your business running at another location while your regular location is being repaired, extra expenses insurance would be able to provide support.
Extra expenses insurance would cover the following:
Moving to a temporary site
Renting equipment for your temporary site
Overtime payments for employees
Hiring additional employees
If your business has the ability to easily relocate and continue serving your customers while your main location is under construction, extra expenses coverage could provide your business with an opportunity to create a steady stream of income until your main location is ready to get back to work.
What is Contingent Insurance?
What if it wasn't your place of business that was damaged and had to close down temporarily, but it was the property of another business that your company relies upon heavily? In such cases, businesses could consider contingent business interruption and extra expenses coverage.
Contingent business interruption or extra expenses insurance can give you financial assistance when the loss of a major partner, supplier, manufacturer, or customer that your business heavily depends on negatively affects your ability to do business.
This coverage kicks in to reimburse your business for lost profits or extra expenses if the business entity that you rely on suffers property destruction or damage that makes it impossible for you to continue working with them until their property is restored.
In this type of policy, the property in question would be listed as a "dependant property," which is owned or operated by a relevant third party whose work is integral to the business of the policyholder. If that property is in some way damaged and the temporary closure of the property makes it impossible for your business to continue operating normally, contingent coverage could help you out financially while the property is being repaired.
Needless to say, there's a lot to think about and consider for any business that is looking to put together an insurance program that is going to address all of its most relevant risks and exposures. If you want help from an experienced professional that understands the needs of your industry and your business, feel free to reach out to one of our expert brokers at any time.