Property damage and destruction, regardless of cause, can take a considerable toll on any business. On the path to recovery, it's very normal for a business to experience a plethora of emotions, ranging from shock and uncertainty to sadness and a sense of helplessness and lack of control.
It's important to take a moment and acknowledge those feelings, as they are part of the healing process. Business owners, employees, customers, trading partners, everyone is human first and foremost.
For those that have experienced property damage recently, we've put together this quick review of the path to property damage recovery and preparing for the claims process.
Confirming the Safety and Security of Your Staff and Property
If there were employees present at your business location when it was damaged, make sure that they are safe first. Take actions to get your staff to safety, and if anyone was hurt, contact all first responders (police, doctors, etc.) for assistance and reports.
Once you have made sure that your employees are out of harm's way, do everything you possibly can to protect your business location from further damage. Cover your property if possible to protect it from further damage.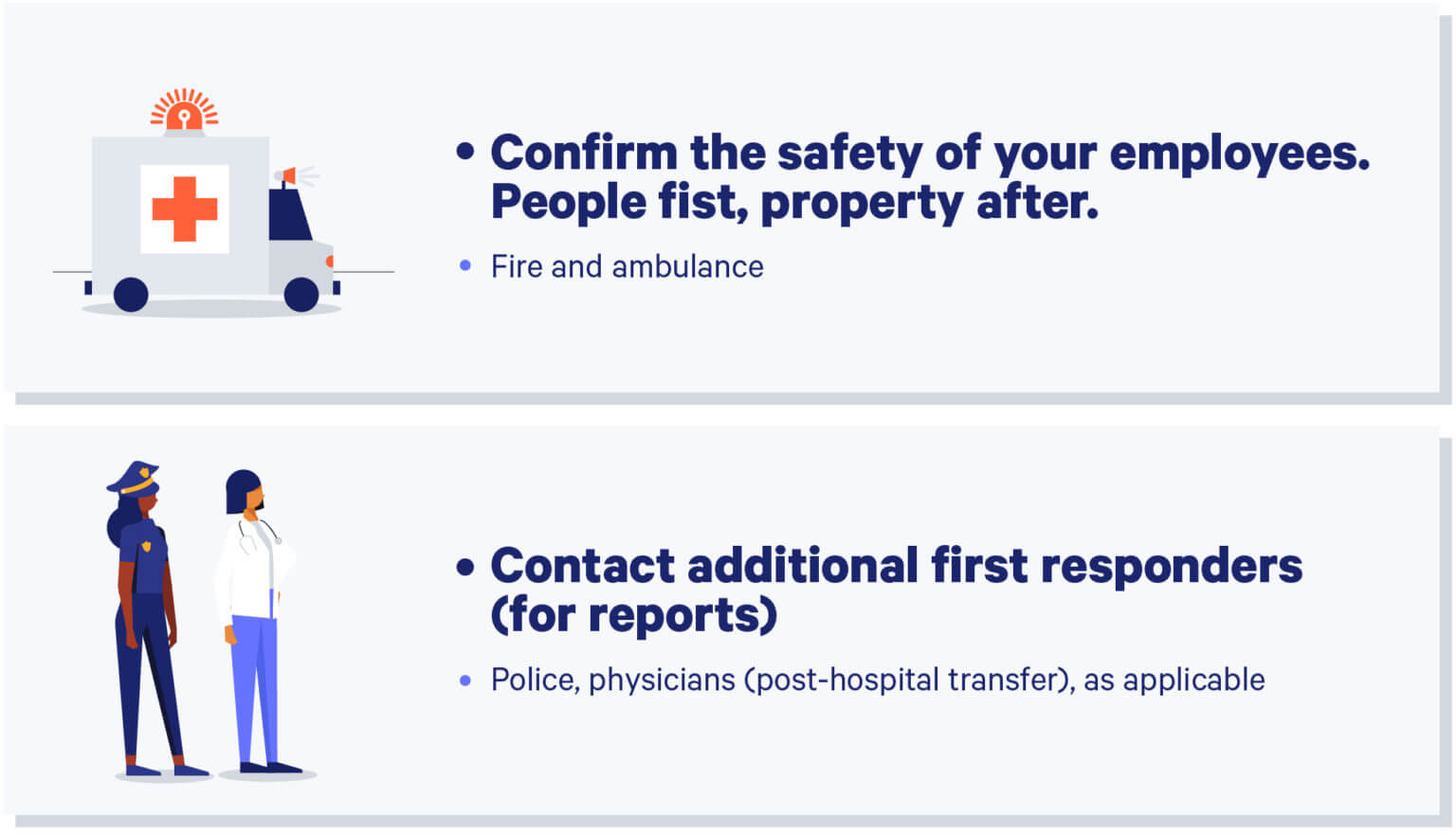 However, if you believe that your business location cannot be secured with certainty to protect these items, you should move all of your undamaged property, including equipment and inventory, to another facility. However, a notification to your underwriter is important to assure your property is effectively insured.
If you're able, make temporary repairs and board up the property to minimize further damage. If you have any security cameras or other equipment present at your business location, determine if they are working properly and be certain they continue to work, even when your business is not.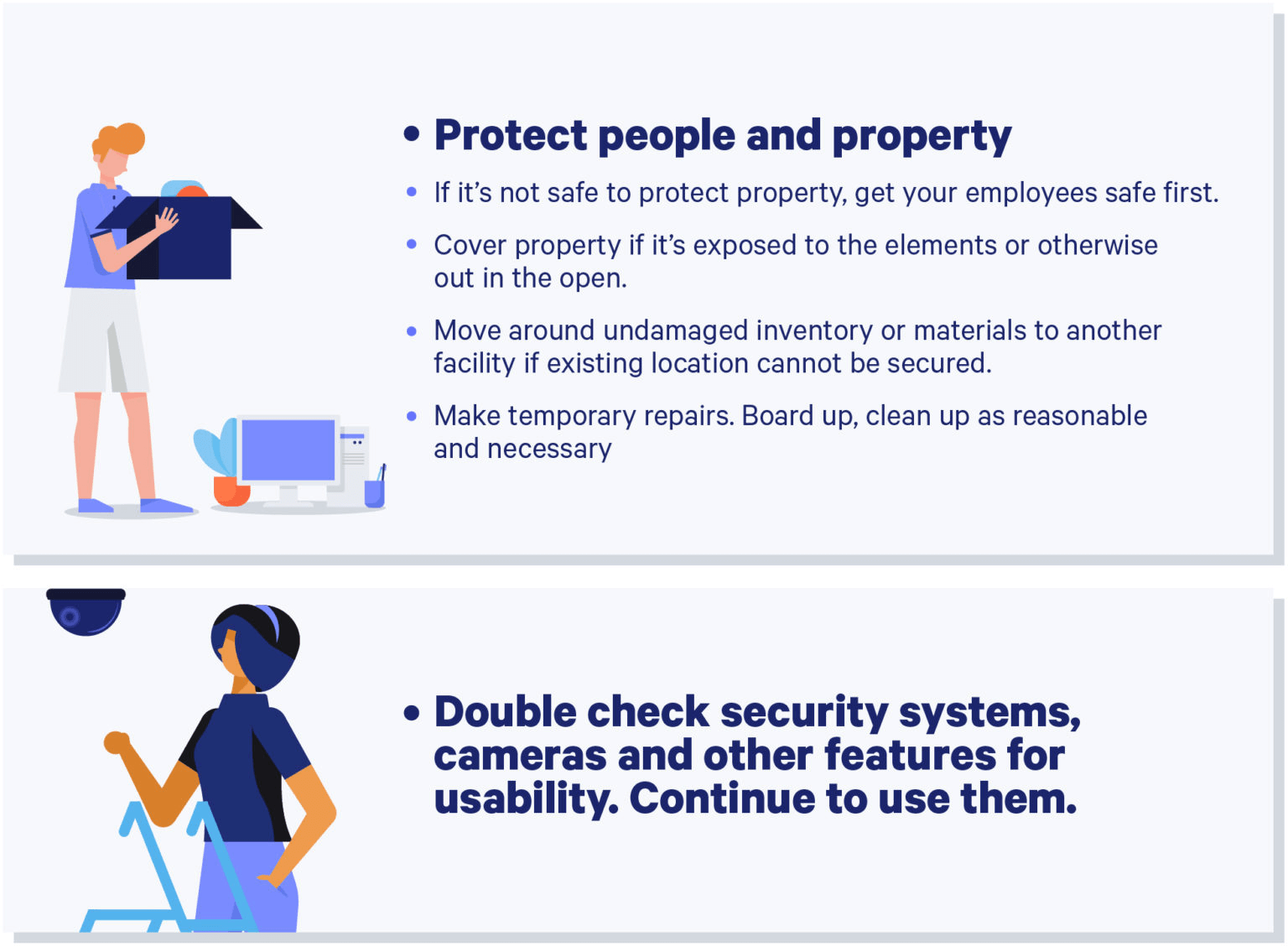 First Contacts and Reports
Now it's time to notify your insurer that your business property has incurred damages. Your insurer will know whether you need to obtain a police report, depending on your situation and the circumstances behind the property damage.
When reporting your losses, documentation is very important. Make certain that you take photos and videos of the damaged property. If you have security footage that shows how the property was damaged, back it up and make it available to your insurer.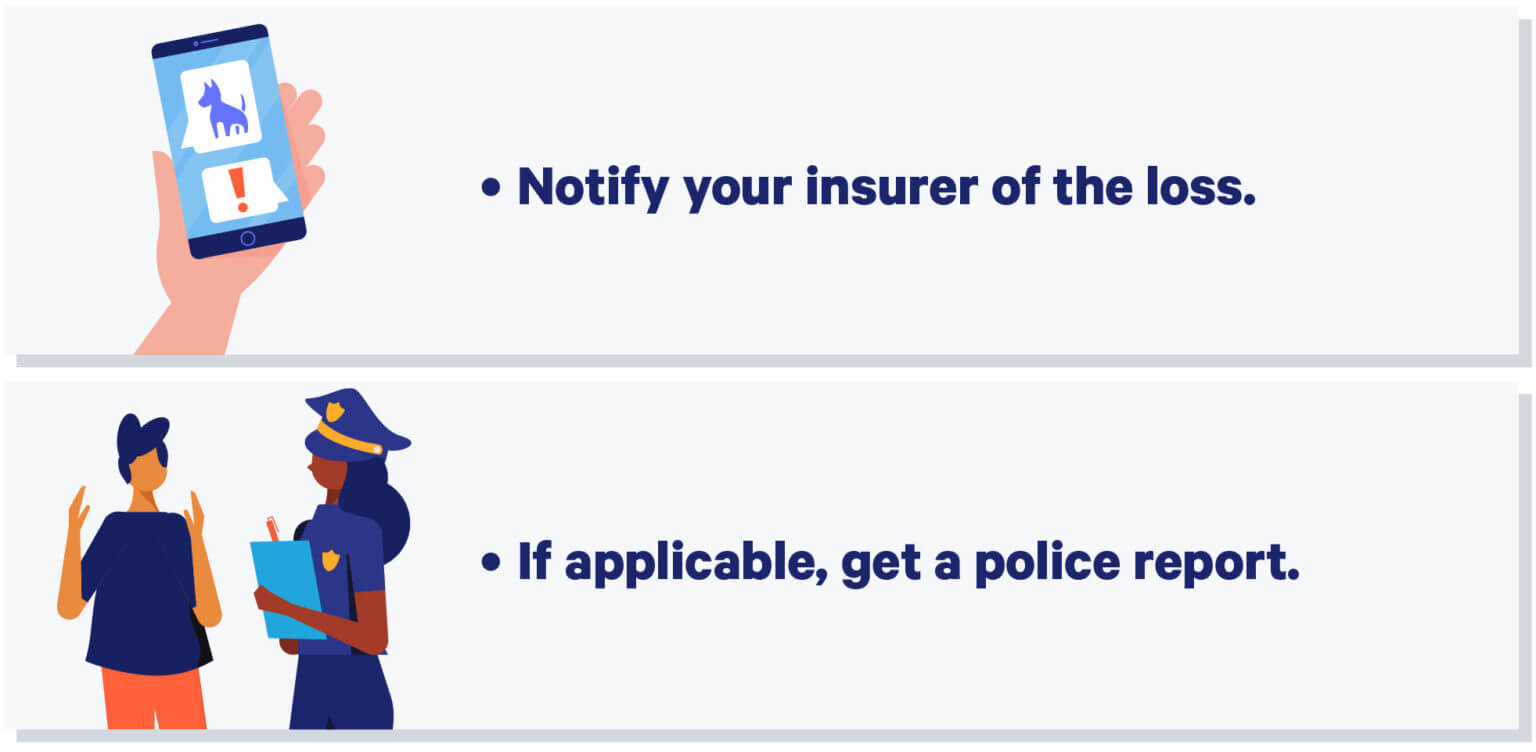 Steps should be taken to separate the damaged and undamaged property. In addition, it is important you are very detailed when reporting both your damaged property and your remaining inventory and equipment. Know quantities and the value of your property. It's always a good idea to keep backup records offsite of all bills, receipts, and other documents related to your commercial property in case of situations such as this.
Putting the Property Damage Claim Together
The first step would be to create your own personal "claim file," which you can do in a spreadsheet, notebook, or any type of accounting or bookkeeping software. So what are you logging? Everything you possibly can, because the more detailed your claim is, the faster and more complete the process will be.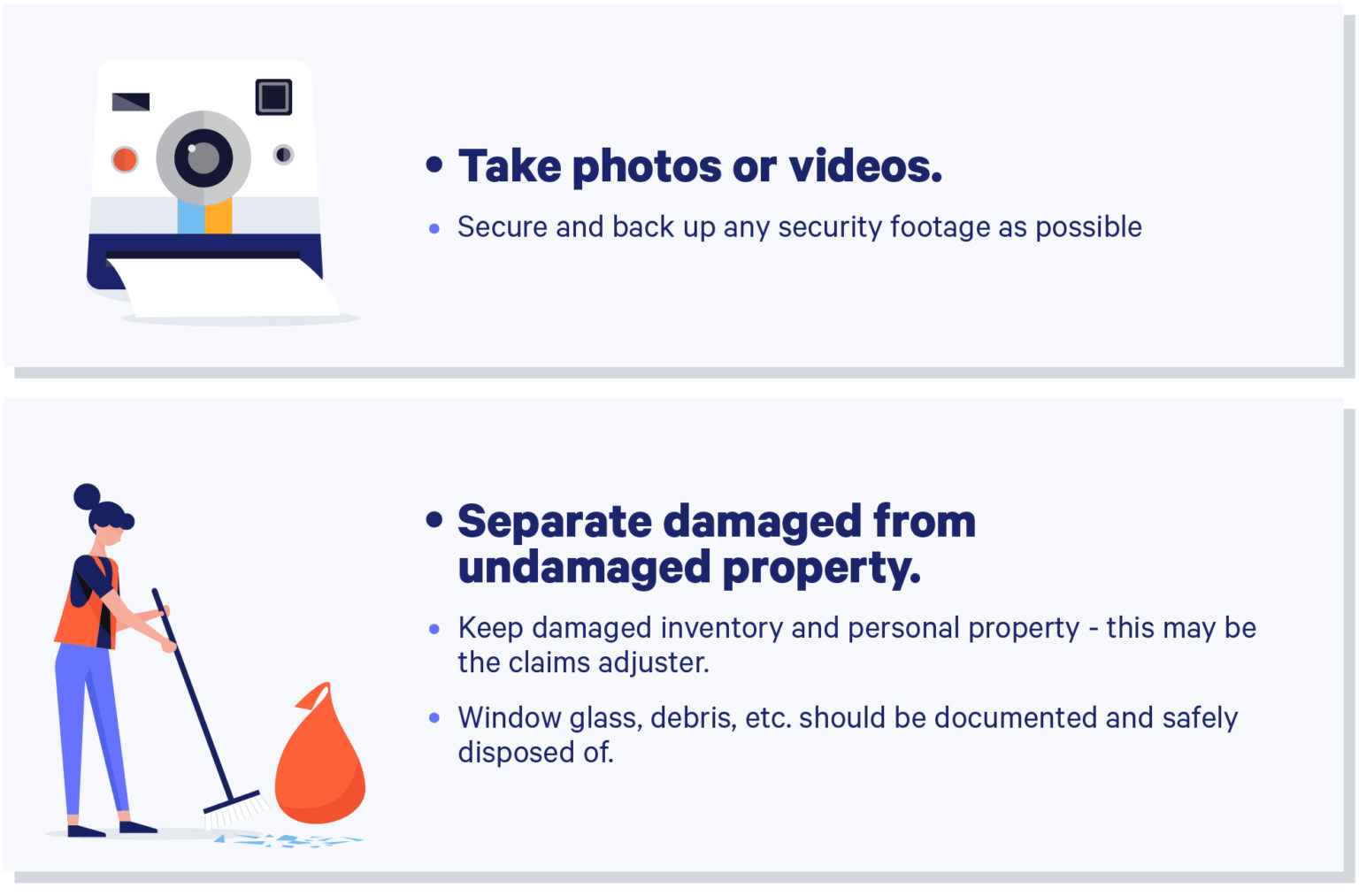 If you incurred expenses while cleaning up your property and securing it from further damage, note those costs and make sure you are also logging the hours and wages that went into the process of cleaning up and securing the property after the initial damage was done.
Any repairs or restoration work conducted by you does require you to keep all receipts, wages, and costs for that as well.
In the event you need to submit a claim for business interruption costs (lost income and additional expenses) under your Business Owners Policy (BOP), your financial statements should be as current and complete as possible. Don't hesitate to ask your accountant or other financial professionals for assistance with this.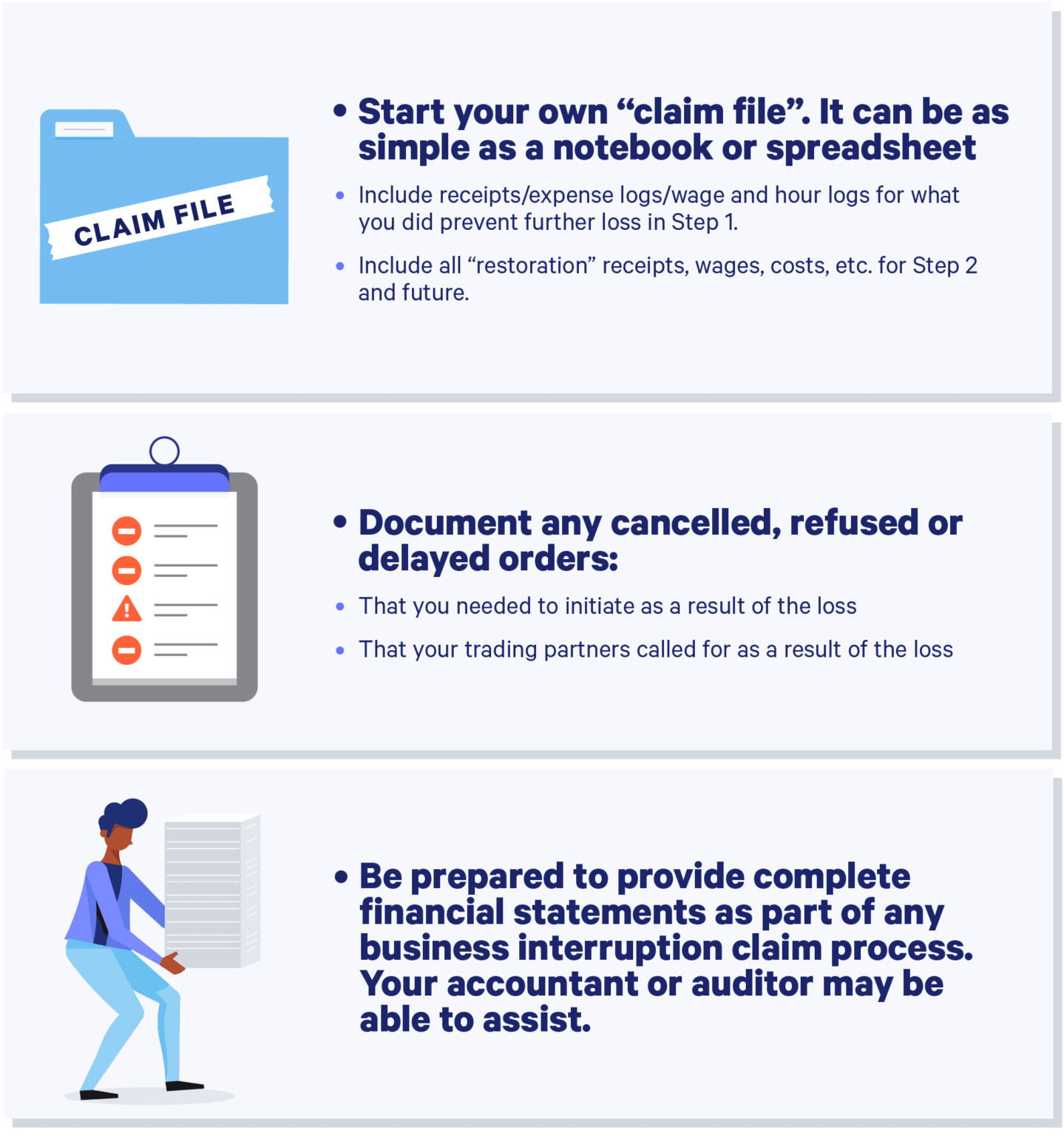 What Happens Next?
Even though you have reported a claim to your insurer, that doesn't mean that the insurer fully accepts the entire claim; it's only the first part of the process. However, let's presume that your commercial property policy is intended to respond to the damage.
When you first report the loss or damage, the person or system accumulating that information will ask a variety of questions. Still, that was just the beginning of the process. Expect to be contacted by the claims adjuster within a few working days of your initial claim report.
The follow-up call with the adjuster will go into more detail and give you the opportunity to offer as much information as possible. Details that you may want to review and provide to your insurance adjuster may include but not be limited to the following:
Photos and other documentation you've compiled
Details about your lease if a tenant, or tenants if a landlord
Information about any third parties who may have been on-premise or in the immediate vicinity
Notations about actions by authorities (e.g. Did they request that you close? Were you told to leave the premises?)
Whether there are any contracts material to your business that may impact your ability to recover or restore operations
The adjuster will take that information and consult your insurance policy to determine the applicable coverages, limits, sub-limits, and deductibles that may apply.
Subsequently, you will receive a written communication that confirms the scope of available coverage under the policy as well as any terms limiting or excluding coverage.
If the damage significantly affects your continuing operations, your broker can request that the insurance carrier expedite your claim. Sometimes, insurers will issue partial payments to allow for faster recovery and rebuild, but this is wholly based on policy language that applies to your claim and is not always guaranteed.
The adjuster should also be following up to understand how quickly or slowly you're going to be able to get operations underway once repairs have commenced. Be prepared to provide additional information as requested at this juncture in the process as well.
Final Thoughts
Recovering after property damage, whether minor or significant, is not necessarily a swift process. Anticipate the claims process to take time, especially if any business interruption calculations are involved. What's most important is that clear and consistent communication between you and your adjuster exists throughout the course of the process.
Of course, it's important to prepare for potential loss well ahead of experiencing it. Remember, you can check your policy, search for keywords, or contact one of our expert brokers to get a detailed review of your coverage, no strings attached.
To learn more about the right coverage for your business, check out Embroker's digital insurance platform.
Related Articles
8 min read
What aspects of your business do insurers pay special attention to when determining the cost of your commercial property coverage?
Read More
5 min read
Business owners must make a decision between "actual cash value" and "replacement cost" coverage when defining the type of coverage that works best for their business property's risk profile.
Read More