It's not hard to understand why it's so important for startups to have insurance, and a startup package calculator can help you determine what your startup should pay for risk management. Startups are vulnerable by nature — about 90% of them ultimately fail, with 10% doing so within the first year. However, knowing that you need insurance and knowing what insurance you need are two different things. Especially since startups grow so quickly, finding and budgeting for insurance can be a complicated task.
One way to figure out what insurance might cost is to identify a startup that's similar to yours in size and type and find out how much their insurance costs. To help you get a better understanding of what type of insurance your startup will need and what it might cost, we've leveraged our data on startup insurance to create a calculator you can use to find insurance costs for similar startups. Read through our guide or jump to the startup package calculator below.
How Much Will My Insurance Cost?
Budgeting for insurance is important but can be confusing if your company is going through a growth spurt. Your insurance costs will likely change frequently in your startup's early stages, but you can predict when these changes will occur and how much each change will cost.
The cost of your insurance depends on:
Which policies you need
How many people are covered
How much funding you have
Your estimated annual revenue
Using cost calculations for the many different types and sizes of startups we've insured in the past, we've created a startup package calculator that can help you estimate what your insurance might cost based on costs for similar startups.
While we've amassed a large amount of data to create this tool, keep in mind that this is just an estimate. If you need a more specific estimate, you can get a quote based on your particular startup's needs.
Startup Package Calculator
Estimate the price of business insurance for your startup by finding the average costs for similar companies.
What Type of Insurance Do I Need?
The first step in using the startup package calculator is to determine what insurance your startup will need at different stages of growth. There are three main types of insurance that you will likely need:
Errors & Omissions Insurance (E&O)
Companies that provide services based on professional expertise can be held liable if the information or services they provide include mistakes or experience technical errors that cause damage to the client. Technology Errors & Omissions Insurance protects against claims that arise from these mistakes. In Embroker's case, E&O Insurance also includes Cyber Insurance, which protects against claims caused by a security breach or mishandling of client data.
E&O and Cyber are policies that your startup should have right away, as early as the discovery stage.
Did You Know? According to the Bureau of Justice Statistics, the median compensatory and punitive damages in state contract cases is $99,000.
Directors & Officers Insurance (D&O)
Once it's time to start assembling your startup's Board of Directors, you should add a Directors & Officers Insurance policy to your package. As the name suggests, this policy protects directors and officers in the event that your startup is sued and any board members or company leaders are named in the lawsuit. This type of protection is essential to your startup since it will cover settlement costs as well as legal expenses. You'll also find that few people are willing to join your board unless you have a D&O policy in place. The startup package calculator can help you estimate pricing for D&O.
Did You Know? The average settlement amount in securities class action suits in 2022 was $36.2 million.
Employment Practices Liability Insurance
Finally, Employment Practices Liability Insurance will be necessary once your startup starts hiring employees. This policy covers claims that come from within the startup pertaining to workplace issues like discrimination, wrongful termination, failure to promote, sexual harassment, etc. Included in the startup package calculator is EPLI, to ensure your company is protected.
Did You Know? The average jury award for an EPLI case that goes to trial is about $250,000. If the business loses its case, it must also pay the claimant's legal fees in addition to its own.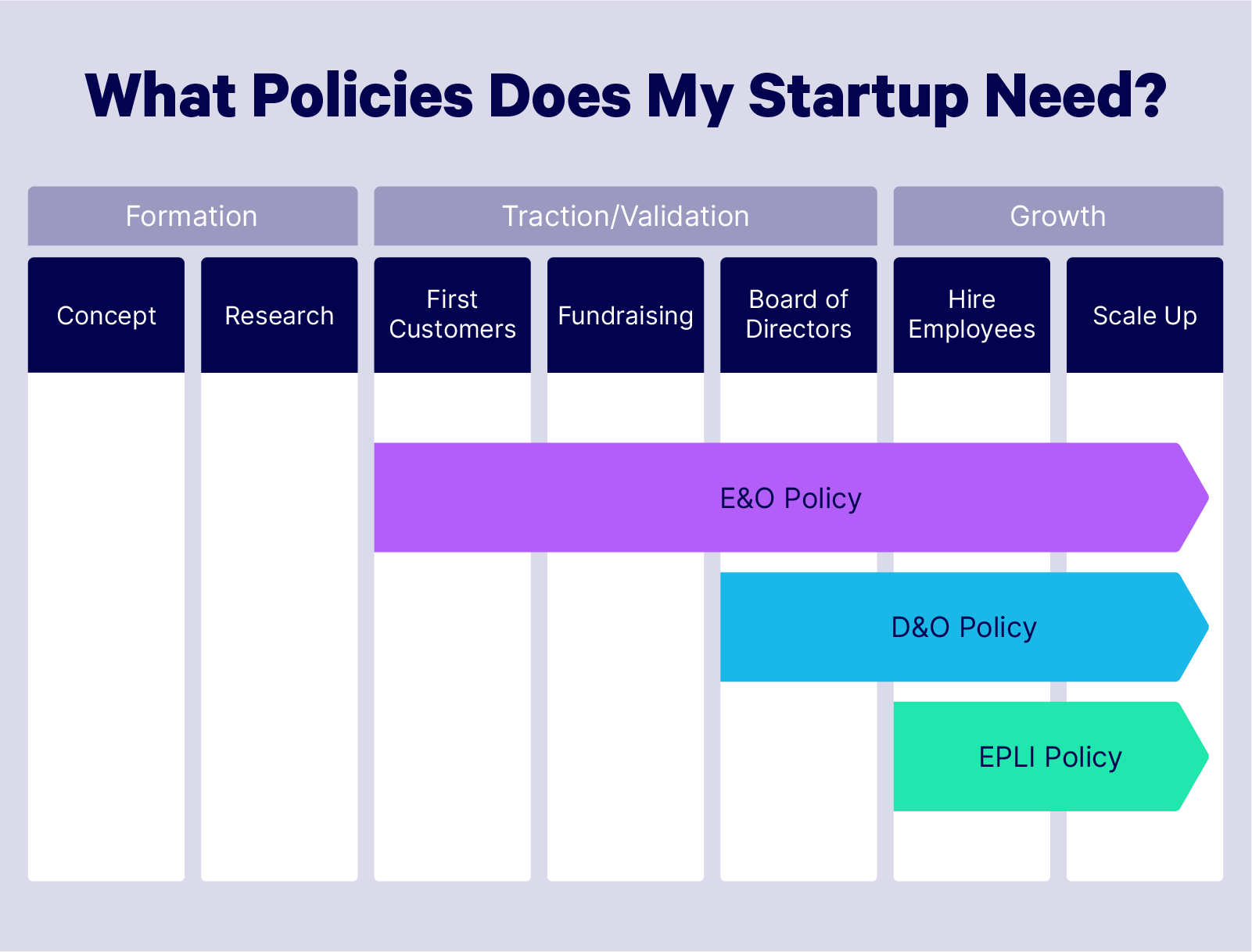 ---
Depending on your industry and company type, you may also want to consider additional policies like Workers Compensation Insurance, Commercial Crime Insurance, Fiduciary Liability Insurance, and more. However, E&O, D&O, and EPL are the three basic insurance policies that all startups will need. Calculate these with the startup package calculator to estimate costs.
Tips for Updating Insurance as Your Startup Grows
Insurance policies are typically reassessed and adjusted each year when it's time to renew. If your startup is growing quickly, however, you'll need to be proactive about updating your insurance as your company expands.
The three most useful benchmarkers for estimating insurance costs are fundraising, annual revenue, and the number of employees. You should look to consult with your provider about adjusting your coverage whenever you hit a new milestone in one or more of these areas. The startup package calculator can also help you determine any changes in pricing for these areas.
While your premiums will likely increase as you grow, keep in mind that policy renewals are also an opportunity to renegotiate your rates or shop around for a new provider. Switching carriers could possibly get you reduced premiums, improved coverage, or an opportunity to consolidate coverages and reduce associated fees.

---
With the startup package calculator in hand, your next step for finding insurance success is to find a policy provider you trust. Build a relationship with them so that you feel comfortable asking questions and updating your policy as often as necessary. The startup world moves quickly, so it's important to have a policy and a provider that can keep up. For more business calculators, check out our LLC tax calculator.
Related Articles
6 min read
If you're looking to build a startup or just interested in diving into the numbers, check out these informative statistics on success, failure, funding, and more before getting started.
Read More
24 min read
We've put together a list of cities with the lowest and highest startup costs to help you avoid dipping too much into your savings to fund your venture.
Read More