One of the most common complaints we hear from customers is tedious, paper-filled insurance renewals. Same paper, same questions, year after year… Embroker says goodbye to all that needless paperwork!
We've streamlined the entire insurance application process so you complete it digitally once, then only make minor revisions each year – saving you hours of time and frustration.
Throughout the year, our cloud-based platform securely stores all your insurance policies, certificates, claims, etc. into clean, easy-to-access digital documents.
Renewals are a simple 4-step process:
1. Click Buy or renew
2. Select all the lines of policies and coverage you want to buy or renew
3. Upload your previously completed applications for Embroker to digitize
4. Complete remaining questions, ensure values are up to date, and submit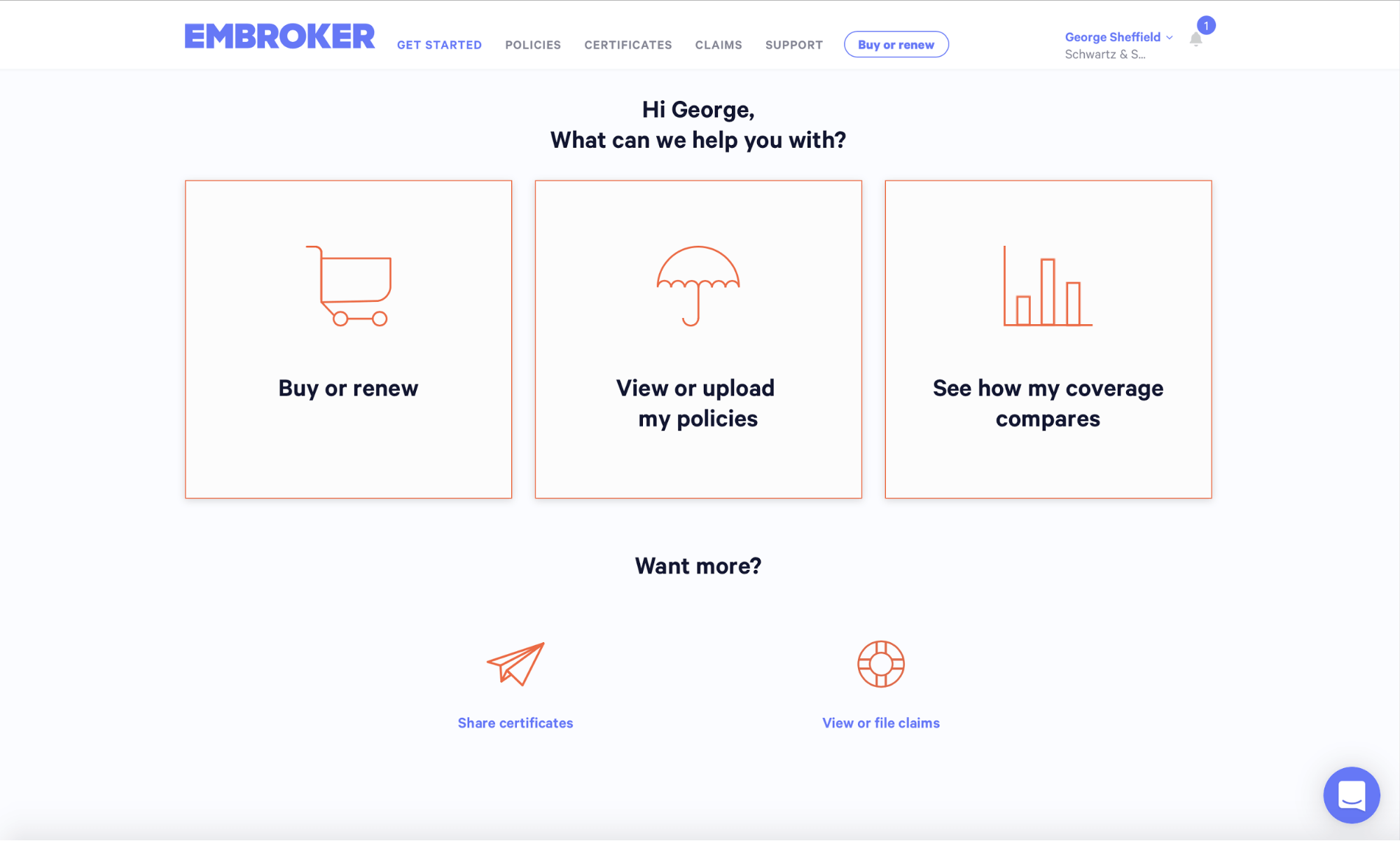 With that data, we'll work to secure a variety of options from the best carriers. At a minimum, customers find that their total cost of risk is competitive, but most find Embroker can lower their premium and/or improve coverage.
Bonus: Multi-user applications
Larger organizations often have multiple people coordinating insurance. Finance, Operations, and HR colleagues pass around papers and PDFs. It's a cumbersome and broken process that repeats, every year. No more.
On Embroker's Risk Management Platform, you can easily add your finance, operations, and HR colleagues to your Embroker account:
1. Hover over your company name and your name in the top right
2. Click on Team settings
3. Invite your colleagues by adding their emails and click Invite
Then, they'll get an email from support(at)embroker.com with the subject line "You've been invited to join 'YOUR COMPANY' on Embroker."
Once you're in, you can collaborate on the same applications in "draft" state, which can be edited. Once the last person has completed their relevant pieces, they can submit and be done with the insurance application. No more passing around half-complete papers and PDFs!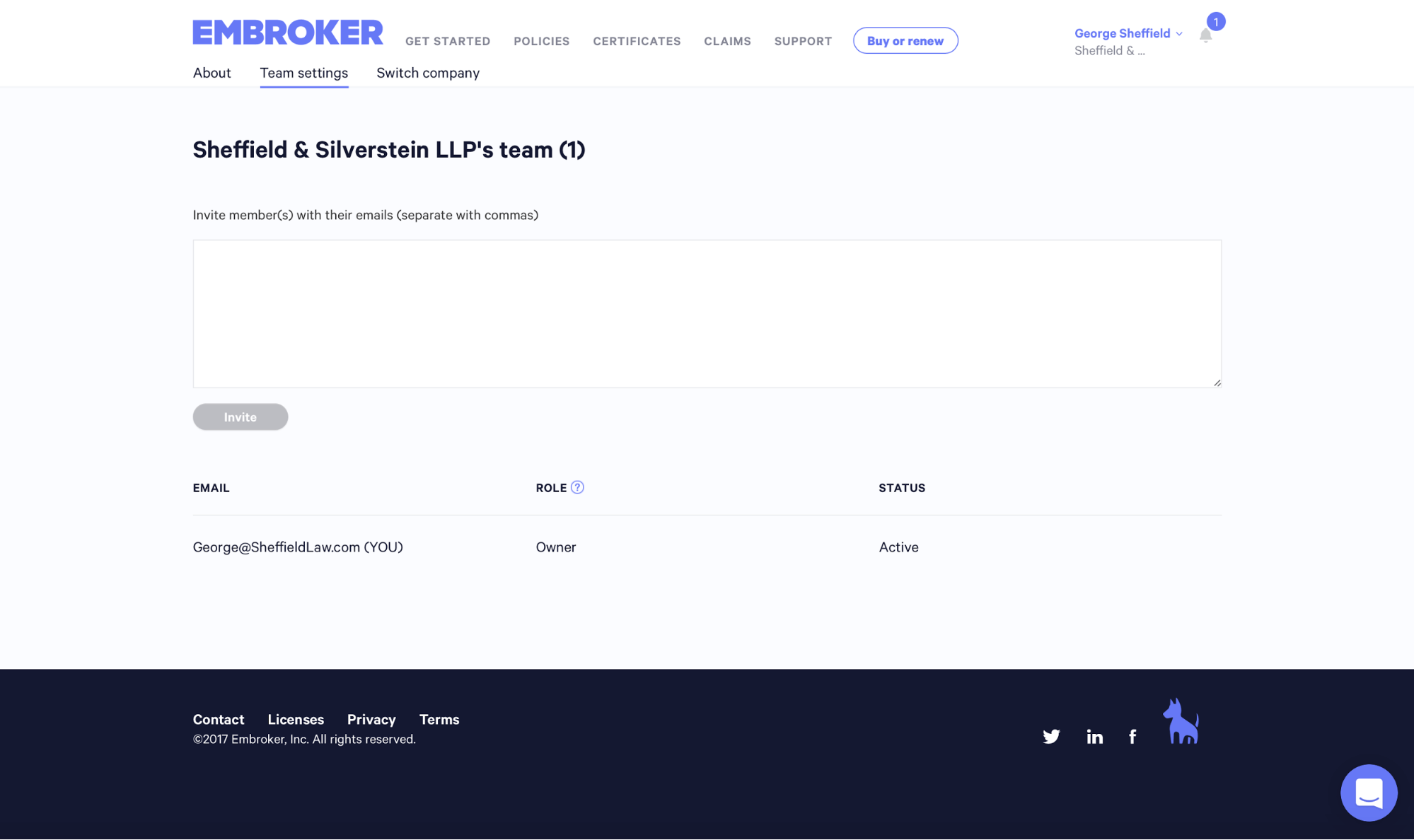 Our research has shown that most SMBs and Mid-Market companies spend hours completing applications and receive only one or two quote options at renewal. We believe that type of customer experience is subpar and unacceptable — Businesses pay their broker 15% and have very little to show for it.
The Embroker difference – where technology and expertise come together to help you reduce the cost of risk.
Our renewal process gives our customers peace of mind because we're advocating for you. Getting ready to renew your commercial insurance? Learn 3 power moves to get the best coverage with our new insurance renewals guide.
Now that you have a better understanding of our platform, you may be wondering how all of this affects your business and where to go from here. If you need more help or information, you can reach out to our team of expert brokers. Or, if you prefer to get started on intelligent quotes, create your Embroker account today.
Related Articles
8 min read
One of the common misconceptions related to this issue is that many believe that the carriers themselves are either admitted or non-admitted. In reality, the classification of admitted and non-admitted refers to the insurance product itself that is being sold by a carrier.
Read More
12 min read
Buying and renewing commercial insurance can be a loathsome process. This guide was created to make your insurance renewal process as smart, easy, and cost-effective as possible.
Read More