There's this idea that Silicon Valley and, similarly, other tech hubs are these modern utopias where anyone can change the world with an idea — that is, if you're a man. For women, it's an uphill battle. Female founders continue to face endemic barriers in accessing capital to start and grow their businesses.
The data is startling. Even with recent progress, companies founded solely by women garnered only 2.3 percent of the total capital invested in venture-backed startups in the US. Not to mention, female partners are still a minority — 9 percent to be exact — with most dollars going into male-founded or mixed-gender startups.
Customize a bundle of policies to fit your unique business needs.
Find out how much you can save by bundling your insurance with Embroker.
Numerous reasons can be attributed to why the funding gap for women continues to be extremely wide. Among them is the fact that venture capital partnerships have historically been built by men and, with that, the trend of male-dominated funds has reigned supreme. But we're not here to discuss what's wrong with the VC gender gap, how women must prove they deserve to be in an industry that's male-dominated, or the frustrations that come with being the only woman in the room. Instead, we're looking at where female founders are actually gaining ground.
This guide takes a look at gender data to analyze the state of female startups, which metropolitan areas are leading the way for female-funded startups, and tips for women to navigate an industry that largely feels like a brotopia.
Leading Metro Areas for Female-Founded Startups Based on Funding
Large metropolitan areas are naturally home to some of the most successful startups in the world. Big cities serve as incubators for creative ideas, wide customer bases, and, of course, close proximity to venture capitalists with deep pocketbooks. So, it goes without saying that these areas are favorable for startups regardless of their founder's gender.
That said, the gender gap is still significant across all 50 states and their major cities. Using Pitchbook data, we looked at which metropolitan statistical areas offer up the most capital invested and the greatest number of deals in solely female-founded startups. Here's a look at the top 25 metropolitan areas for female founders based on the current U.S. data.
Deal Stage of Top Metropolitan Areas
Of course, not all deals are created equal. Raising seed funding is significantly easier than raising Series A and beyond. In fact, it's thought that the "seed surge" — this easy access to early-stage funding — gives a lot of founders a false sense of confidence when going into their Series A and beyond.
Using the chart below, you can dive deeper into what the different deal stages look like for female-founded startups across each of the metropolitan areas highlighted in the map. The data is specifically divided into the following deal stages: angel/seed funding, early-stage VC (Series A) and later-stage VC (Series B and C).
How's the Data Trending?
We all know the VC gender gap is wide, but it's hard to understand exactly how wide until the data is laid out in front of you. For example, last year, companies with a mixed-gender founding team saw approximately 11.4 percent of VC capital invested compared to only 2.7 percent invested in solely female-lead teams.
The charts below look at 11 years of investment trends for female-founded startups compared to mixed-gender startups.
Female-founded vs Mixed-gender VC deal count %
Female-founded vs Mixed-gender VC capital %
As you can see from the data above, this tells a greater story than simply pointing out the gender gap. What's not mentioned in many other stories, though, is that funding for women-led startups is trending upwards. Of course, we still have a long way to go but there are some ways in which the status quo is already changing — female VCs, for example.
Women-Led VC Funds Crushing the Gender Gap
When it comes to venture capital, there's a financial incentive to close the gender gap: greater diversity yields higher returns. According to a BCG study, women-founded startups are the horse VCs should be betting on. They found that for every dollar of funding, these startups generated 78 cents, where as male-founded startups generated only 31 cents.
Yet, the data shows that VCs don't trend towards women, at least not at the rate of mixed-gender or male-founded startups. Not only is there a gender gap in which startups receive funding, but there's also a significant gap in women investors. Fewer than 10 percent of decision-makers at U.S. VC firms are women. This means that even though dozens of firms have made concerted efforts to diversify their ranks, only 105 investors out of roughly 1,088 were female.
A lack of female-led funds is one of many reasons why the funding gap for women continues to be wide. However, despite the significant gap, there are a number of female-led venture capital funds that are helping bridge the gender gap.
If you're a female founder, these 10 funds should be on your radar.
Advice for Female-Founders Looking to "Make It" in the Startup World
There's no doubt that data can give startup founders valuable insights, but there's nothing quite like tangible advice from those who've been there to guide entrepreneurs in the right direction. To give more women entrepreneurs insights on how they can succeed in the dog-eat-dog world of venture capital, we turned to female founders and seasoned experts in the startup world to gather venture capital insights and advice on how to succeed in an industry that's largely dominated by men.
Consider the words of wisdom from these nine female leaders.
Seek Funding from Female VCs
M. Kim Saxton, an angel investor and startup co-founder, is also a seasoned professor at the Indiana University Kelley School of Business who conducts research on startup success. Her advice spoke about the rise of female VCs and the value of pitching them as a female founder.
"Women tend to solve problems important to women. But men, who tend to be the funders, don't understand these problems or why they are important. One example — Rent the Runway founder Jenny Hyman tells that she had to frame the problem as being similar to men renting tuxedos before she could get funding. This has led to the creation of funders who only invest in women-founded startups, like Golden Seeds and SoGal Ventures among others. So, one tip is to seek funds from them."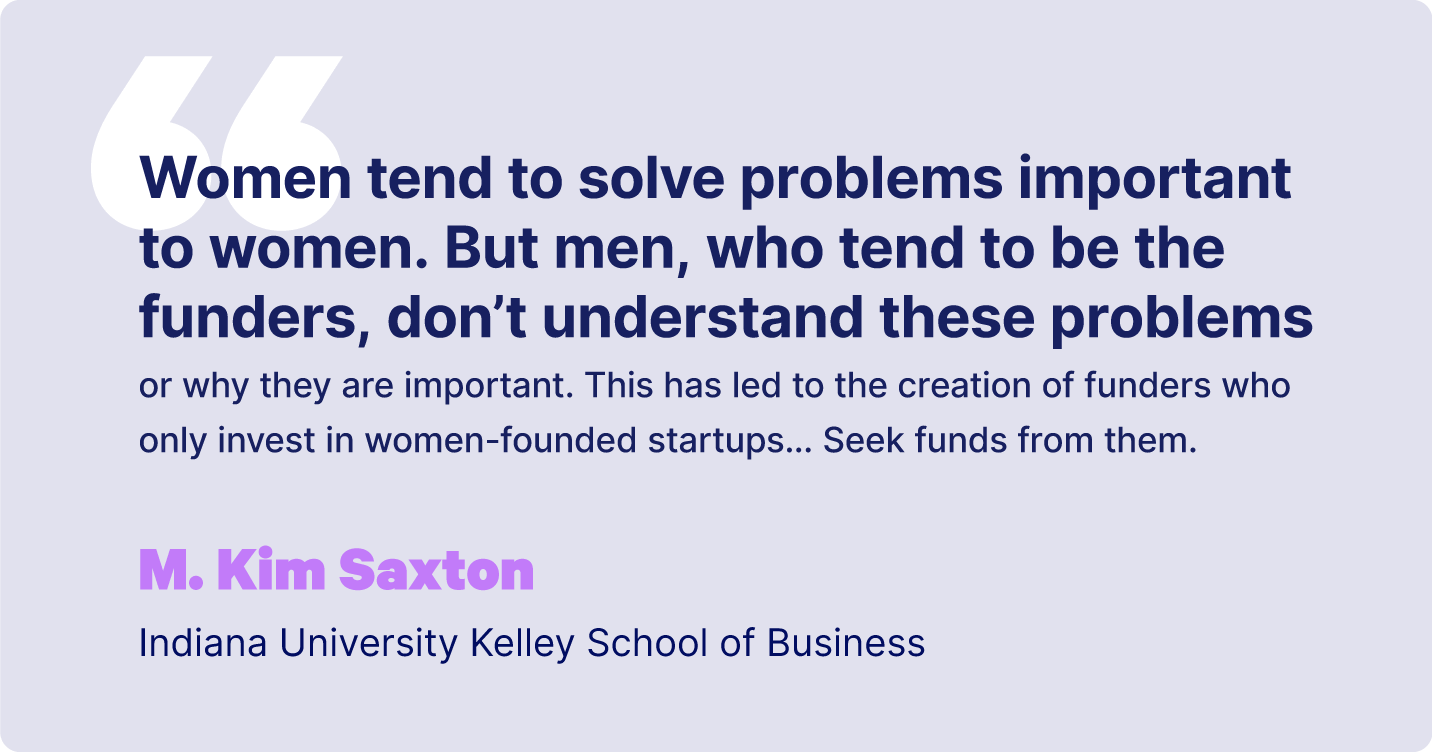 Present Your Product or Service from the Male Perspective.
Similar to Saxton's advice, Stacy Caprio, the founder of Growth Marketing, offered insights about the male-female divide in venture capital. Because female-founded startups often solve problems women have, her advice was to learn to present your product's benefits from a male perspective.
"My advice to female founders who want to raise venture capital is to either make sure you present your product's market and benefits from a male-perspective, or make sure you are pitching to a female group of VCs. The audience listening to your pitch is only going to want to back you if they have a personal connection or can easily see the product-market fit your company has. If you are able to turn your pitch so men can connect with it and clearly see the market, that's when you'll start to get more funding. Or simply find women you can pitch to if your product has no male audience product-market fit connection."
Understand Your Financials.
Bryanne Leeming is the founder and CEO of Unruly Studios, a female-founded edtech company. Her advice speaks to the importance of understanding your financials to set your startup apart.
"My advice for women founders is to build great companies and know your numbers. The numbers speak for themselves, especially sales. As you grow, knowing your numbers cold and understanding the fundamental financial metrics that run your business will set you apart for investors and allow you to lead your company's growth, too. If you don't understand your finances, find a mentor who can teach you and dive in."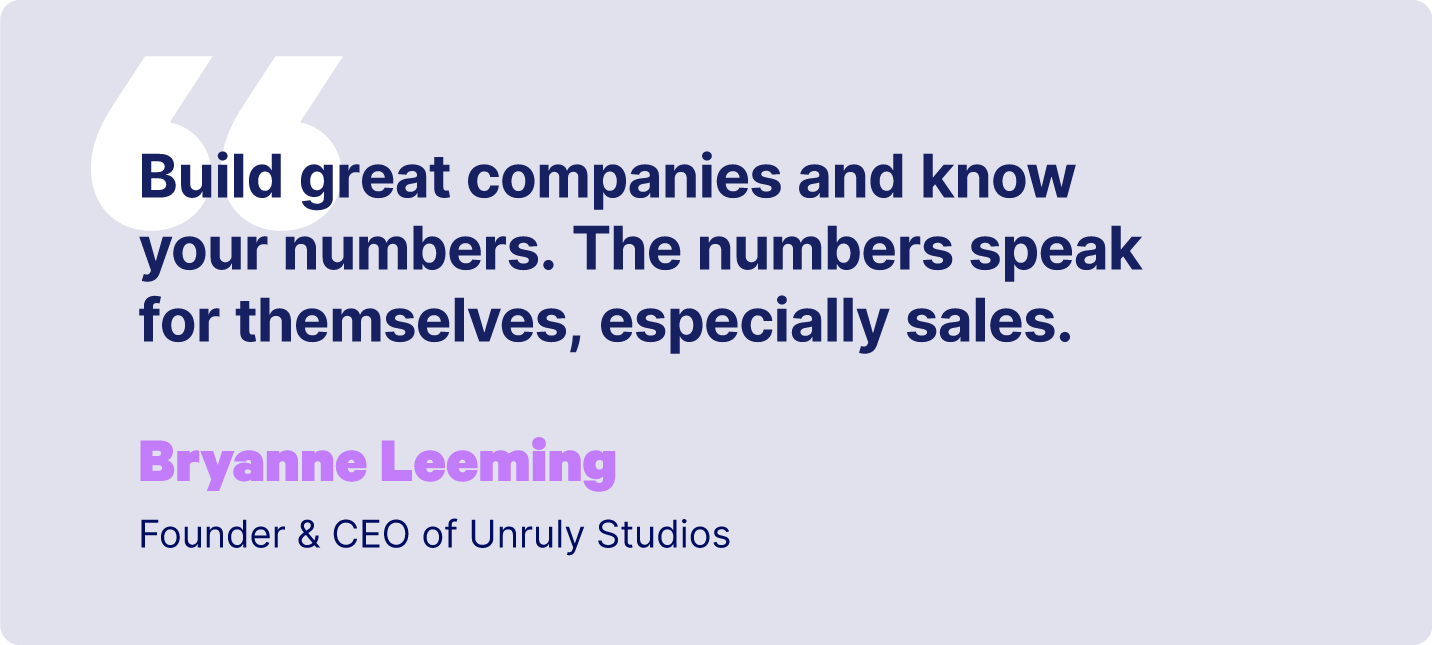 Surround Yourself With Mentors and Cohorts Who Can Help Your Business.
Chrissa McFarlane, the CEO and founder of Patientory is no stranger to the struggles of the Silicon Valley VC ecosystem. Chrissa made headlines for raising $7.2 million in three days through online blockchain token sales of her company, Patientory, and offers her advice:
"Make it a priority to build an ecosystem of mentors and cohorts who can offer support and resources to help your business grow. This ecosystem can provide you with opportunities to keep you on track such as access to invitations to events that will enable you to connect with people, or resources to help expand different aspects of your business, marketing know-how to help grow the company, financial expertise to help smooth out day-to-day operations, or just validation about your business plan with business coaching and support. These are all necessary and important resources to help your startup succeed."
Don't Let Modesty Guide You.
Michelle Murray is the founder and Managing Director of Segue, a business that provides contract CFO services for startups and venture capital funds. Personal experience has taught her how important it is to not hold back on talking about your accomplishments, especially when it comes to meeting investors.
"Toot your own horn! Be sure to not let your modesty guide you when it comes to sharing your accomplishments. All too often I see men "bragging" about their resume but the women sit back and don't want to come across "that way", so then their accomplishments are overlooked. When it comes to leading a company and meeting investor milestones what you have done in the past is key to investors having confidence in your potential for success this time around."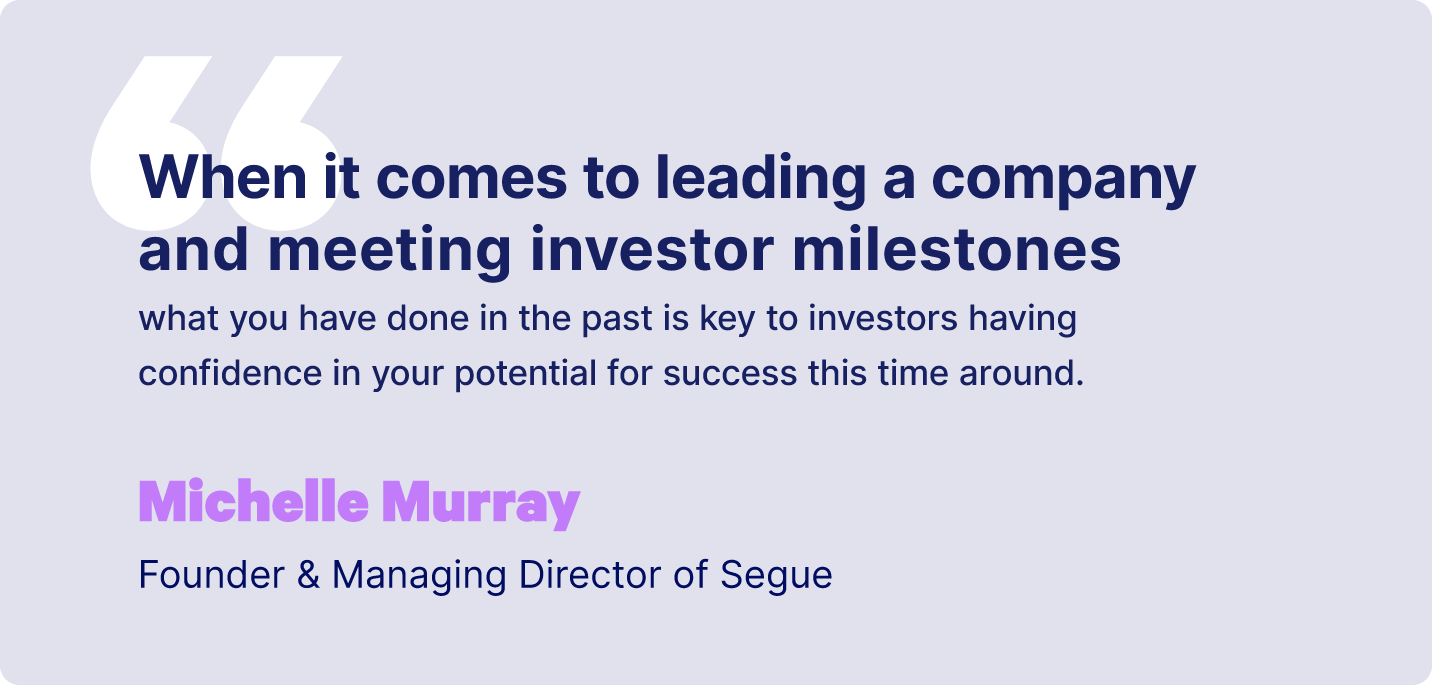 Know How to Negotiate.
As a counselor of numerous startups and a business leader at biotech startup Manna Molecular Science, Rachel Braun Scherl comes to the table with some valuable advice, specifically around the art of negotiation.
"Know how to negotiate. This concept covers so many different situations — fundraising, partnerships, your salary, someone else's salary, equity stakes. The answer is always no if you don't ask. So come armed with the facts, the data, the key points whenever you enter a negotiation. At least, when a negotiation works out — when both parties have come away with something of value, I literally feel a rush of endorphins (the same feeling you get after a strenuous workout). In my mind, negotiating is never about decimating the other side, but finding solutions that are mutually beneficial, the proverbial 'win-win.'"
Ask for More Money Than You Think You'll Need.
Julie Weldon and Stacey Pierce are entrepreneurs, podcasters, and co-founders of O.M.E. Gear, an outdoor gear company based in Charleston, South Carolina. These two are well-versed in the trials and tribulations that come with being not only women in the startup world, but also as an LGBT couple. Their words of wisdom speak to finances and using working capital to build your business.
"Another piece of advice we would give is to always ask for more than you think you are going to need. Do this by splitting up your ask into tranches. Do not count on sales to launch your business into the profitable zone immediately out of the gate. You will need the extra money to fund your efforts while building your business. Don't worry; investors realize this and any savvy investor will understand you need working capital so you can focus on what you need to be successful."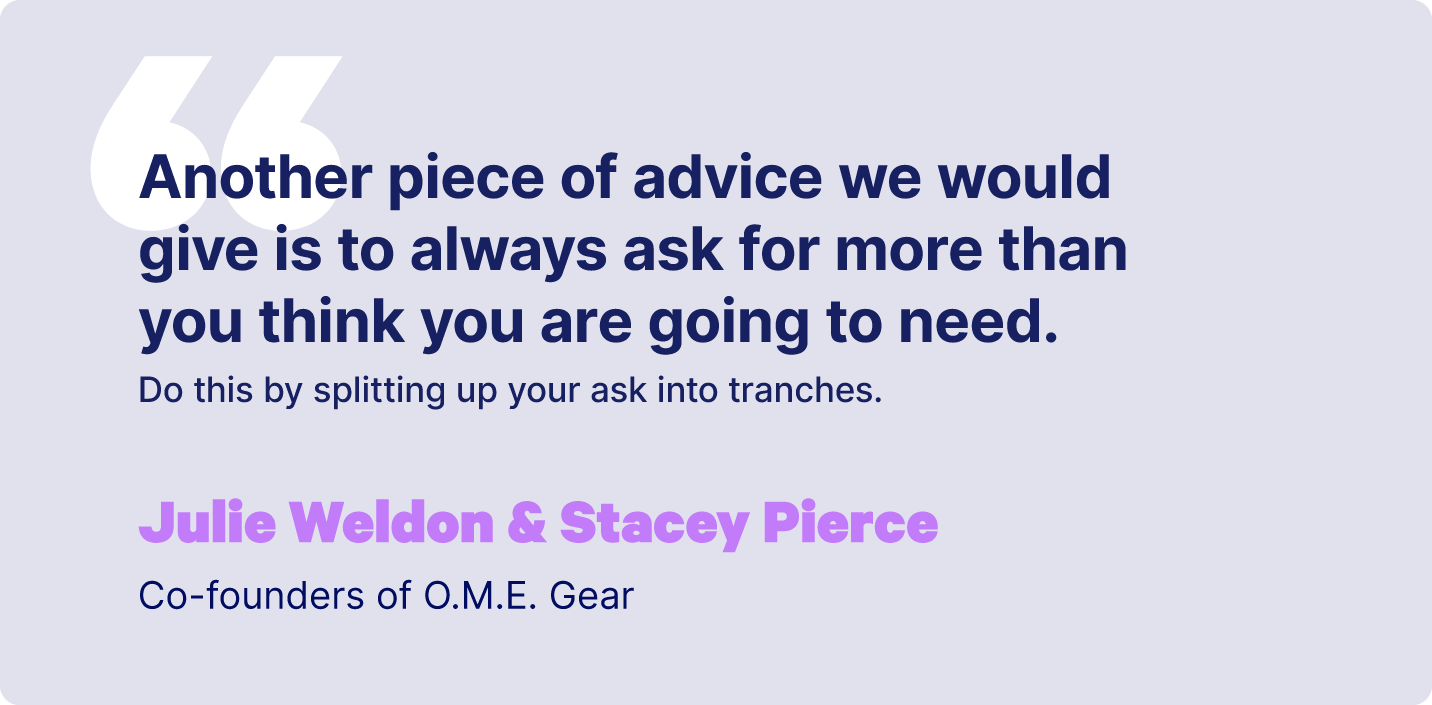 Network Within Your Industry.
The basic litmus test that VC funds run on founders is if they can get an introduction to the firm via networking. These days, VCs expect founders to use their networks and get an introduction. Networking shows three important things: (1) a founder's understanding of how VC works, (2) the ability to hustle to get the intro, and (3) a founder can build a trusted connection via someone who already knows them.
Jessica David, the Director of Marketing at SeventySix Capital and Forbes 30 Under 30 honoree know a thing or two about networking and building relationships with other leaders in your industry. After all, networking can be a crucial component of raising venture capital.
"My best advice for female founders is to participate in the ecosystem within your industry as much as possible. It's not just a matter of showing up; engage with others, follow up, and remain persistent. Speak with clarity and confidence! Use each meeting or event as an opportunity to strengthen your pitch."
Attract Like-Minded People By Being Yourself.
Our last piece of advice comes from Dr. Radhika Dirks, the CEO of XLabs — an innovation agency that reimagines the future via AI, unconventional computing and neurotech. She reminds women that being your true self is a surefire way to attract the right people to your startup, especially investors.
"Do and be YOU fully. If that includes being feminine, be that. Female leaders do not need to simulate or mimic men or worse, hide issues specific to them, to lead anymore — this still comes as a surprise to most of us. When we are ourselves, we attract people — men and women — to bolster each other. I remember the first team dinner at XLabs where we hosted a group of future employees. We had about 13 people around the table and we not only had 70% PhDs around the table — in different fields — but we had more women PhDs than men, without even trying to explicitly attract more women on the team. The tides are changing, slowly, but changing, so do not compromise who you are at any time."
The Value of Investing in Female Founders
Despite the data that trends upward, breaking new ground in terms of closing the gender gap between female and male founders on the quest for funding is an uphill climb. Venture capitalists, angel investors, and others writing the checks hold the greatest power to fuel change, and the research shows they should.
Female Founders Outperform Males.
Earlier we discussed a recent study from BCG that found for every dollar of investment raised, female-run startups generated 78 cents in revenue, whereas male-run startups generated a fraction of that.
This data is also consistent with other studies: take the data collected by First Round Capital, for example. They found that that the female-founded companies it had funded performed 63% better than the all-male founding teams it had funded. The Kauffman Fellows Report also found that that women-led teams generate a 35% higher return on investment than all-male teams.
Women Are More Likely to Prioritize Corporate Social Responsibility.
Now more than ever, how a business conducts itself, ethically speaking, can change the trajectory of success. So, in today's ecosystem where the vast majority of consumers are willing to buy a product or service based on a company's social and internal values, corporate social responsibility matters.
Research shows that female-led companies are more likely to prioritize socially responsible initiatives. For example, research by Kellie McElhaney, the founder of the Center for Gender Equity & Leadership at the University of California at Berkeley's Haas School of Business, found that the number of women on a corporate board directly correlates with a firm's sustainability performance.
Female Founders Are Less Motivated by Money.
Contrary to popular belief, entrepreneurship is not a get rich quick scheme, especially in the startup game. Sure, unicorns exist, but the most successful entrepreneurs see money as a byproduct of entrepreneurship.
Because of the wide gender gap that exists in the startup world, women-founders are constantly having to prove their personal and business worth. As a result, female founders are more intrinsically motivated than men and more likely to go the extra mile when faced with business challenges. When push comes to shove, they'll make the sacrifices necessary to maximize the longevity and long-term prospects of the business.
By investing in female founders, not only will you be able to fuel your level of impact, but it's likely that you'll get more bang for your buck.
Startup Insurance Calculator
Find out how much your startup can expect to pay for key insurance coverages.
If you're a female founder, it's important to stay up to date on trends within the complex VC ecosystem. Embroker is a great resource to do so while offering support with startup necessities like directors and officers insurance or finding the right insurance policy for your business.
Related Articles
10 min read
Gender discrimination in tech is a big topic these days and for good reason — the evidence of its existence is overwhelming.
Read More
15 min read
Take a look at our comprehensive overview of what you can expect (and look out for) when fundraising from Series A to Series C venture capital.
Read More