Uber. Ever heard of it? Of course you have — it's a verb these days. 
That doesn't mean it's easy to become a household name, since not every startup can grab growth by the horn. It takes a brave and talented team to establish a company these days, especially when the failure rate after five years is over 50% and over 70% after the ten-year mark. However, an elite group of startups has managed to successfully navigate the challenges of the venture world and billion-dollar organizations — or as we like to call them, unicorns. And this mystical herd only continues to grow year after year. 
In fact, the world of venture capital is already booming through 2020 with 66 new startups inducted into this notable group over the span of six months. Now, more than 600 unicorn startups exist around the world and are valued at just under $2 trillion.
Becoming a unicorn is the envy of all startups, so what can you do to make it there? This guide dives into some of the factors that make unicorns unique, including geographical placement, industry breakdown and lessons you can apply to your startup. That way, you can better understand unicorn land and how to model your startup. 
Get a comprehensive insurance policy in 15 minutes.
Get an instant quote to find out how little peace of mind can cost.
What Makes a Unicorn Startup?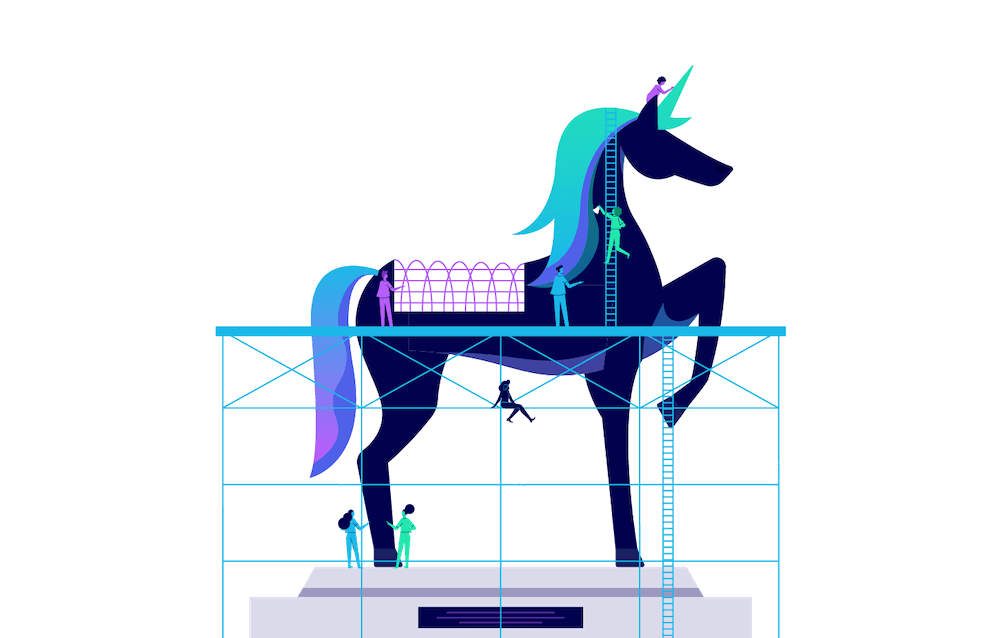 Coined in 2013 by venture capitalist Aileen Lee, the term "unicorn startup" refers to a private company valued at or over $1 billion — because just like the mythical creature, the statistical rarity of such a successful business venture is improbable, but not impossible.
When Lee did her first count, there were 39 unicorns. Fast forward seven years and there's a new unicorn born at the rate of every three days. So, why have unicorn startups gone from a rare breed to the new normal?
Initially, Lee's qualification for startups to earn their horns was a bit narrower: "U.S.-based software companies started since 2003 and valued at over $1 billion by public or private market investors." As the club opened up globally, there's been a synchronous expansion in the number of startup companies to achieve unicorn status. Roughly 25% of unicorns are now from China, another 48% from the U.S. and the rest come from other parts of the world.
Secondly, there's the popularized phenomena of mega rounds or venture capital deals of $100 million dollars or more. In 2013 when the term first became a buzzword, a nine-figure venture round was a rare occurrence, but as times change, venture capital (VC) evolves.
Although VC funding is down from previous years due to the turmoil of a global pandemic, it still reached $129 billion in the first half of 2020 alone.
Understanding that some of the drawbacks of public ownership can outweigh the excess of capital, many unicorn leaders choose to stay private for longer. The expansion of shareholders prompted by the JOBS Act of 2012 made it possible for companies to rack up massive amounts of funding in the private market and seek out investors that understand their reluctance to move to public markets.
In the age of the unicorns, mega-rounds, staying private for longer and the global composition of the unicorn club are the new normal.
Mapping Global Unicorn Startups
Unicornland has expanded from U.S.-based startups to a global club over the past decade. While unicorns can be born anywhere, the Class of 2020 (and those of years past) primarily pop up in the U.S. and China, countries rich with growth-stage funding.
These countries are also home to outliers within the unicorn club — companies that have become so successful in their early years that the term "unicorn" is simply insufficient. These variants include the decacorn (companies valued at over $10 billion) and the hectocorn (those valued at over $100 billion).
Let's take a look at the geography.
Decacorns
Valued at > $10B
Hectocorns
Valued at > $100B
They say birds of a feather flock together and this holds true in the case of unicorns. The majority of U.S.-based unicorn startups have headquarters in the San Francisco Bay Area, New York City and similar tech hubs including Boston, Seattle and Southern California. 
Of course, it makes sense that successful startups would situate themselves near California's hotbed for innovation or set up shop next to Wall Street bulls — after all, this is where most big checks are written, but that doesn't mean major cities are the only place startups can find success.
Meet the Unicorn Class of 2020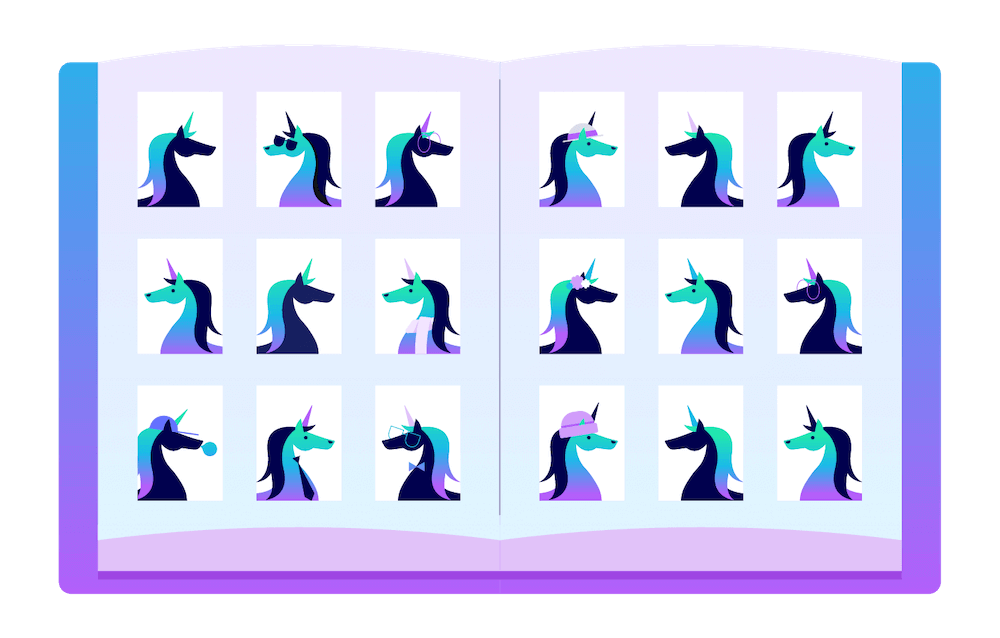 Last year was a record-setting year for unicorns — 96 graduates wooed investors and achieved highly covered ten-digit valuations, and this year may just outshine the last. At the time this article was written, 66 unicorns joined the ranks, all with different valuations and across various industries.
New unicorns represent a highly varied array of sectors, with no industry emerging as a clear leader. Everything including fintech, fashion, food, health, biotech, transportation and enterprise software make up the young herd.
Of course, most unicorns don't just cross the billion-dollar threshold overnight, although some do so quickly after conception. In the chart below, we look at how unicorns compare by founding year and the time it took for them to achieve unicorn status. These startups stand apart from their predecessors with 80% gaining their horns before the ten-year mark and another 39% landing the coveted status in five years or less.
Unicorns by Founding Year
| Company | Industry | HQ | Year Founded | Funding Raised | Valuation ($B) | Unicorn As Of |
| --- | --- | --- | --- | --- | --- | --- |

Leading Unicorns and Unicorns by Industry
Just by looking at the class of 2020, it can be difficult to distinguish industry patterns in the unicorn club. After all, it's a new group and there's nearly half the year left to get a full snapshot of how the unicorns stack up. To get a clearer picture, we've turned to the full list of unicorn startups to see who's leading the herd and how the industry distribution stacks up.
Most Valuable Companies
The world's most valuable private company is China's Bytedance, valued at $140 billion, followed by Didi Chuxing in the auto software category. The company reached a $62 billion valuation in late 2019.
Following the top two contenders are Elon Musk's SpaceX at $46 billion; online payment processing company, Stripe, at $36 billion; and Chinese video-sharing mobile app Kuaishou at $18 billion to round out the top five most valuable private companies. Entrepreneurs regularly wonder what sectors are likely to produce unicorn companies.

Entrepreneurs regularly wonder what sectors are likely to produce unicorn companies. There's certainly no black and white answer to this question, especially as technology changes this framework year over year, but we can still look at the herd as a whole to pick out patterns and see which industries have historically dominated the club and which industries might be up and coming. 
The bulk of unicorns exist within four different spaces: 
Fintech encompasses nearly all new technology that seeks to improve and automate the delivery and use of financial services — because who wants to conduct banking transactions like we did 10 years ago? It leads the herd with 15% of unicorns existing in this space.
At 13%, startups in the ecommerce and marketplace industries also dominate the spread of unicorns.
These are followed by artificial intelligence and robotics at 10% and another 8% from the health space — everything from genetics to imaging and new technology in the space.
Hover over the pie chart segments to discover how many startups belong to different industries.
Who's Next: Unicorns on the Horizon
The current herd of high-valued startups largely benefited from the spread of smartphones and cheap cloud computing. In fact, their global empires were built on services that already existed: food delivery, taxis and hotels. You name it, there's an app for that. Now there's a new generation behind them — one that's looking a bit different. 
For the past five years, Forbes has scoured the list of startups to see who's next in line to earn their horns and this year is no different. While there's a lot to be said for capitalizing on the demand for convenience, today's successful startup leaders understand that the opportunities to disrupt established industries are drying up. 
Many of the up and coming unicorns Forbes identified focus on software-specific industries for cybersecurity, banks and life science companies. Sure, they may not be as majestic as the past unicorns, but as Kristen Green, a venture capitalist for Forerunner Ventures, stated, "A lot of those industries are big giants that we need in our lives and in business, and they need to be modernized."
With that said, here's a look at ten startups that are on the path to achieving a $1 billion valuation.


Lessons from Unicorn Business Leaders 
Unicorns have either disrupted existing markets or created entirely new markets, thanks to technological innovation and clever market strategies. But unicorns weren't always part of the herd. After all, every unicorn started as an idea, maybe even in some visionary's garage — some teams had little experience, business development, and management skills. Regardless of the individual story, all unicorns faced the same challenges typical for any startup company, and studying the way they've dealt with these problems can teach us important lessons, especially in the early stages.
Below are eight lessons learned from eight startup companies that have a combined worth of approximately $144 billion. Read on to uncover valuable business lessons you can apply to your own venture and help you channel your inner unicorn.
Copy or tweet each quote by clicking the corresponding icons in the lower right corner.
"If we tried to think of a good idea, we wouldn't have been able to think of a good idea at all. You just need to have a solution for a problem in your own life."
— Brian Chesky, Airbnb
"Creating value isn't enough. You also need to capture some of the value you create"
— Peter Thiel, Palantir
"I don't want to disrupt anything. We never conceive of our products as disruptive. We don't look at something and say 'let's disrupt that.' It's always about how we can evolve this and make this better."
— Evan Spiegel, Snapchat
"I think it's very important to have a feedback loop, where you're constantly thinking about what you've done and how you could be doing it better."
— Elon Musk, SpaceX
"Bootstrapping was the best thing that ever happened to us. Entrepreneurs spend the first six months of a year chasing investors. They go out there, they create presentation and meet investors. Why not spend the first couple of months crafting a product that people use and love."
— Adi Tatarko, Houzz
"When I met my wife, I was focused on making money but failing miserably. She taught me that 'financial success can never be the goal, only a byproduct of living with purpose.' That was a game changer for me."
— Adam Neumann, WeWork
"If you're not absolutely determined to solve a problem or see something through, it might not make sense to keep going. You have to find a way to keep going."
— Logan Green, Lyft
"If you can take all the friction out of the experience, people will sign on. And that will make their lives better."
— Kenneth Lin, Credit Karma
Don't brainstorm startup ideas, solve a problem. 
Airbnb came to fruition in 2007 when the founders Brian Chesky and Joe Gebbia rented out their loft for a weekend. Chesky said he's learned the best ideas for companies often stem from attempting to solve a personal problem. His problem was to make ends meet by turning their loft into a lodging space. Craigslist felt too impersonal, so their entrepreneurial instinct drove them to build their own site — and they did. "If we tried to think of a good idea, we wouldn't have been able to think of a good idea at all," he says. "You just need to have a solution to a problem in your own life."
Establish a mission-driven company culture.
WeWork provides private and shared workspaces for small- to medium-sized companies. Valued at $20 billion, it's one of the largest privately held companies in the world with offices that span 20 cities in the U.S. and an additional 20 countries. 
In doing so, WeWork has perfected the art of articulating a clear mission that speaks to their target customer. If you walk into any WeWork space, you'll inevitably see a large sign with the phrase "Do what you love." The company has a mission that the entrepreneurial and small-business communities hold dear.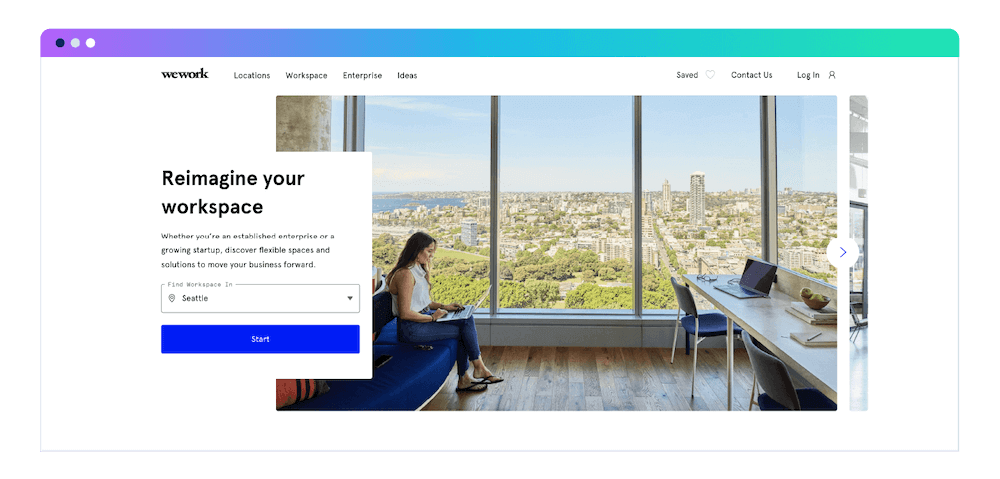 Know when it's time to pivot.
In 2017, Atlassian, a company known for making business software that helps teams work faster and better together, announced a $425 million acquisition of business software company Trello.
Why would a company known for creating similar business software spend the cash on this kind of acquisition? Trello essentially beat Atlassian at their own game of creating an exceptional project-management tool. The Atlassian leadership team recognized this and was bold enough to change course by acquiring a competitor before it was too late.
People love companies with "world-changing" ambitions.
Coming up with a truly innovative idea is a difficult feat, but coming up with a forward-thinking idea that can change the world is even rarer. Those who do try to make the world a better place (or in this case, the entire universe) tend to gain the support of the public. It's one of the reasons why SpaceX sits so high on the podium of unicorn startups. Valued at over $31 billion, SpaceX is among the top ten most valuable private companies. It's also one of the reasons Elon Musk's reusable rocket venture is now worth more than his electric car.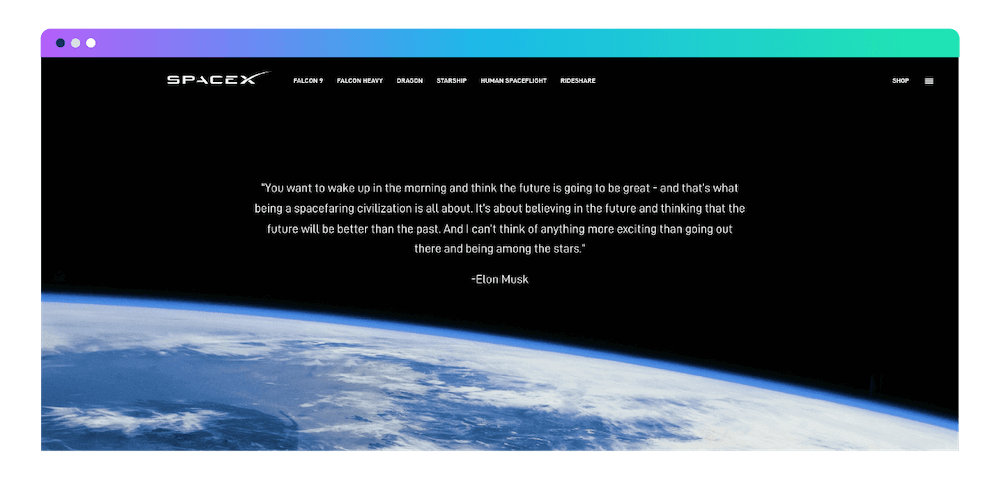 When it comes to expansion, understand the problems facing new markets.
Stop and consider how Singapore's Grab has beaten Uber at its own game. It's not just about having exceptional ideas but knowing how to execute them. Despite Uber's aggressive investment in Southeast Asia, it has struggled to best Grab. That's partially because Grab's founder has a cultural advantage. 
While Uber has spent close to a decade figuring out what Western users want out of a ride service, the company has struggled to adapt its findings to parts of the developing world, especially in places that are just now coming online. Grab's founder Anthony Tan has managed to figure out ways to make e-pay work in nations that lack the financial infrastructure. 
Markets can accommodate more than one disruptor.
Despite the fact that Lyft was founded three years after Uber, the company is still worth approximately $21 billion, and is growing at a faster rate than Uber. Fast enough that Lyft finally went public earlier this year.  
While Lyft is no longer a "unicorn," it still serves as an example that some markets are large enough to accommodate multiple disruptive startups. Simply because another company has first-mover advantage does not mean that you should scrap your startup idea. Competition means there's demand for what you're selling, but it also means that, for the most part, consumers have already chosen a solution for the problem you want to solve. Lyft shows that, with the right positioning, many consumers will welcome a challenger brand with open arms.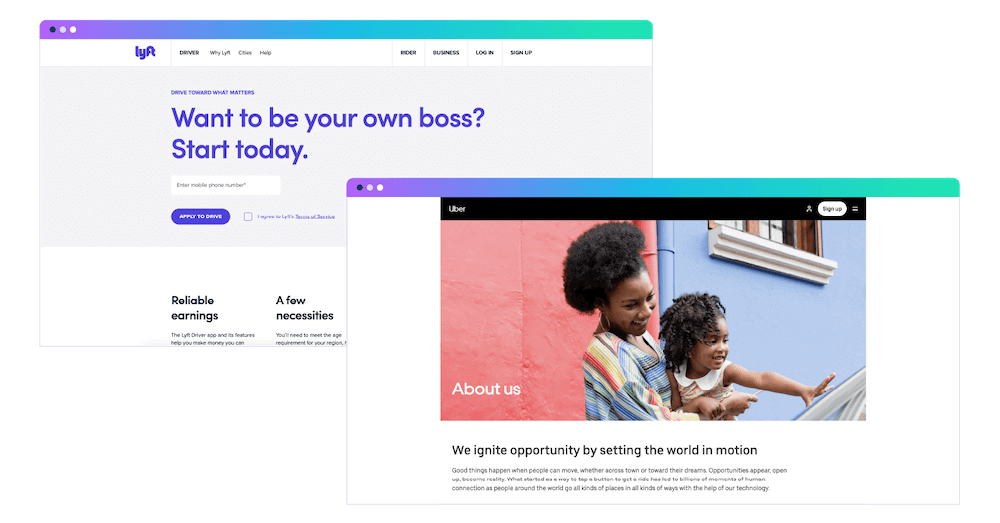 Niche markets can be just what you need.
A common mistake among many young entrepreneurs with ambitious goals is entering the consumer market simply because it's large. In many cases, the wiser thing would be to search for a niche with a reasonably small number of potential customers but low competition. Just because you enter a niche market doesn't mean unicorns don't exist there. 
In fact, there are plenty of niche unicorn startups. The American aerospace manufacturer and small satellite launcher Rocket Lab is valued at $1.1 billion, and Desktop Metal, a technology company that designs and markets metal 3D printing systems, is also among the herd at a valuation of $2 billion.  
Sell the tools you would want to use yourself.
When Adi Tatarko, the CEO and co-founder of Houzz, and her husband set out on a journey to build an online platform for home remodeling, the did so to create a tool they actually wanted to use and to solve their personal redesigning woes. In the early stages, Houzz didn't seem like a scalable project, but they moved forward with the labor of love. 
Tatarko stressed how doing so and bootstrapping the company gave them time to find the right mentors and investors to scale the site once it was in a good place. "Bootstrapping was the best thing that ever happened to us. Entrepreneurs spend the first six months of a year chasing investors. They go out there, they create presentations and meet investors. Why not spend the first couple of months creating a product that people use and love."
Analyzing Insurance Costs for Startups
Embroker Vertical Insurance Index
How much are you paying for your insurance? Are you purchasing the right policies? Find out what founders are doing, and the trends that you may not have seen.
The Future of Unicorns
Back in 2013, the "unicorn" was primarily a concept for U.S. companies. Today it spans the globe with new unicorns rising through the ranks each year. And while unicorns are frequently considered the new normal, there's a caveat here. Companies funded by venture capital also increased by more than 100,000 in the past five years. This means the unicorn is still a statistical oddity in the venture-backed community. 
At some point, these unicorns walked in your same shoes. They faced challenges typical for any startup company like learning how to raise venture capital or finding startup insurance and helping you stay up to date on trends in the VC ecosystem.
Related Articles
10 min read
In this unicorn startup checklist, we go over common characteristics and strategies of successful unicorns so that you can follow in their footsteps.
Read More
15 min read
Take a look at our comprehensive overview of what you can expect (and look out for) when fundraising from Series A to Series C venture capital.
Read More