Gig economy. Sharing economy. On-demand workforce. Contingent workers. Independent experts. They're all buzzwords that attest to the changing tide of the modern workforce. In an era where more value is being placed on workplace autonomy and flexibility, the gig economy is becoming the new normal. Spurred by technology, the gig economy has helped create a buyer's market for many job seekers while, at the same time, providing the agility businesses need to stay competitive.
You're most likely familiar with the gig economy as side hustles or part-time jobs available through apps like Uber, Lyft, Etsy, Amazon Flex, and others. After all, these platforms have become household names with on-demand services many of us use on a daily basis. But the reality is that the gig economy is far more complex than jobs created through the on-demand industry. In fact, it encompasses a wide range of services and people who provide them. 
So who are these workers and what exactly does the gig economy encompass? This guide dives into the basics of the gig economy, history, and evolution while providing entrepreneurial thinkers and startup businesses with resources to stay ahead of the game.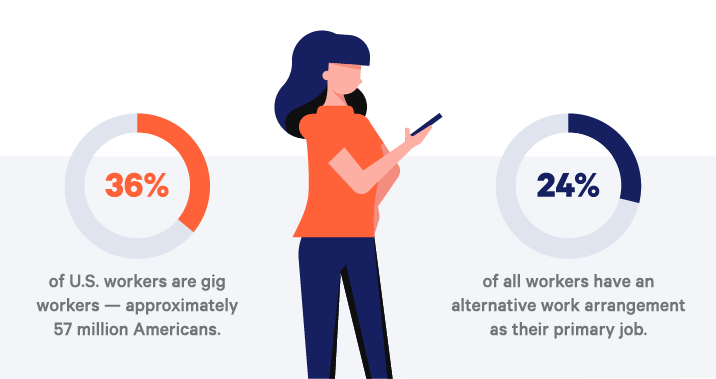 What is the Gig Economy?
The gig economy is a free market system in which temporary, flexible jobs are commonplace and companies bring on independent contractors and freelancers instead of full-time employees, and in many cases, for short-term engagements. 
Many people argue that the gig economy has severely disturbed the conventional workplace and redefined workplace expectations of employees. In fact, Gallup estimates that 36 percent of U.S. workers — or roughly 57 million Americans — are gig workers. They also estimate that 29 percent of all workers have an alternative work arrangement (or gig work) as their primary job. This includes a quarter of all full-time workers and half of all part-time workers. 
Traditionally, examples of gig employees in the workforce have included freelancers, independent contractors, project-based workers, and temporary or part-time hires. These days technology has been a driving force behind this mode of freelance work—with a smartphone and unlimited data plan (or a good indie café with fast wifi and a power outlet)—you can work from just about anywhere. 
On the other end of the spectrum, the gig economy encompasses a marketplace of workers who make an income from popular on-demand apps like Uber, Lyft, Amazon Flex, and others. And while the debate rages on about whether these workers make enough to provide a living wage — many do, but quite a few do not — this guide focuses on a deeper understanding of the evolution of the gig economy and offers up tips and ideas for those pursuing a side hustle. 

The Gig Economy Deconstructed
To really grasp the complexity of the gig economy, it's important to understand the different facets of gig work. Gig workers are typically broken down into two categories: "independent" and "contingent" workers. The former being people who are truly their own boss and the latter being the group that works for another company just like a regular employee might, sans job security and other traditional benefits and protections that come with being a full-fledged employee.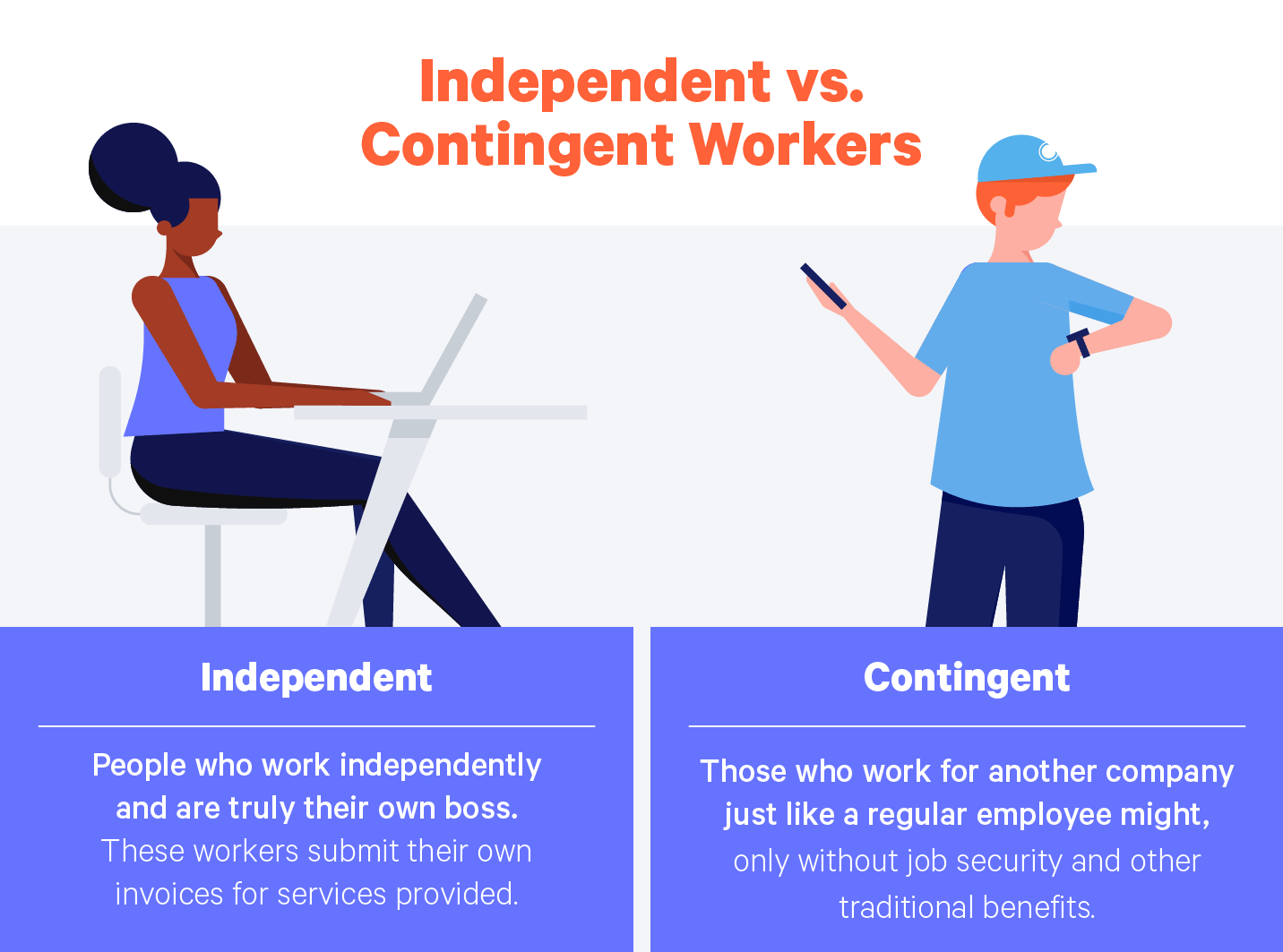 The gig economy has several faces and there are a variety of ways to get involved in non-traditional work. Although some purists might argue about definitions, these are the four primary areas that encompass the majority of gig workers:
Traditional freelancing—This includes creating a career around offering defined, contracted services for individuals and businesses. Freelancing is traditionally focused around creative professions like designers, writers, photographers, and developers, although this extends to non-creative professions like bookkeepers and SEO analysts.
Gig marketplaces—These jobs are what most people associate with the gig economy as they tend to get the most attention in the media. Gig marketplaces include companies like Uber, Airbnb, Lyft, Postmates, Amazon Flex, and more. Many provide on-demand services and offer up both seasonal and year-round jobs that make for popular supplementary incomes. 
Self-employed—This sector of the gig economy includes more traditional self-employed roles like tradesmen, small business owners, and other similar professions.
Other areas—This is a broad component of the gig economy that is basically a "catch-all" for other side hustles like blogging, selling on Amazon, Etsy, eBay, affiliate marketing, and similar income streams.

Quitting Your Job to Work in the Gig Economy
In a culture where entrepreneurship is king, Americans are incredibly attached to the idea of one day becoming their own boss. So, it's natural that many flock to the job possibilities that come along with the gig economy. While it's true that gigs provide less job security and fewer benefits than traditional, structured employment, the idea of "working for oneself" and having a higher level of job flexibility is highly sought after. It's also the leading reason why workers leave their traditional jobs for gig work.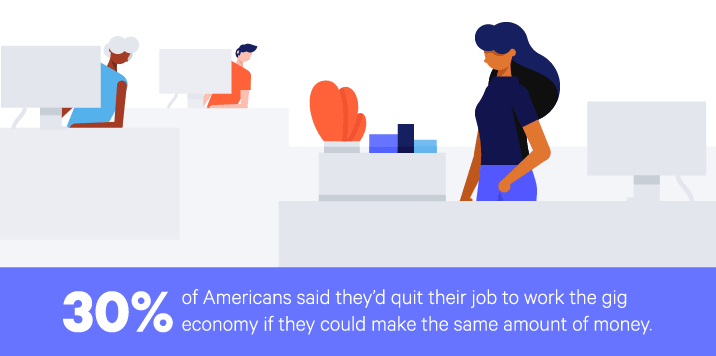 Workplace autonomy aside, it seems that a significant percentage of Americans are simply fed up with their current work situation. We surveyed 1,000 individuals in the traditional workspace to get a sense of how appealing the gig economy is and over 30 percent said they'd quit their job for gig work if it meant they could make as much as their current job.
Diving into those findings a bit further we asked what the driving factor would be in making the transition to a gig economy job. While the move towards workplace autonomy is no doubt the most appealing reason (33 percent want more job flexibility), there's a looming theme of career dissatisfaction that was present among most respondents. Pay grade, toxic workplace and the burnout from the 9-5 grind were all prominent reasons why traditional employees would transition to a gig job.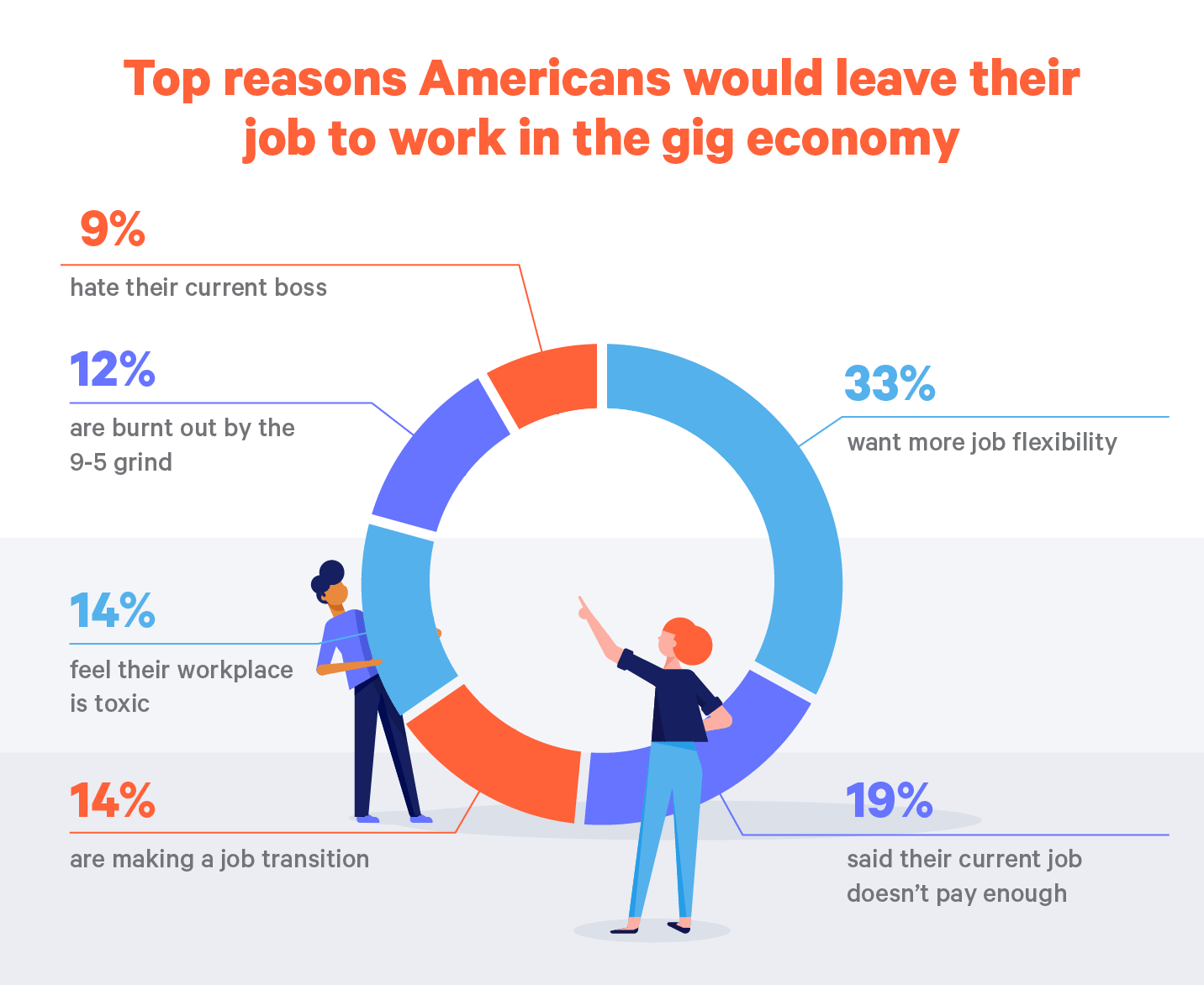 At first glance, it's a fair assumption that this data must be millennial-focused. After all, workplace publications over the past decade have covered just about every millennial stereotype imaginable, so it might come across as a bit of a surprise to learn that older demographics are some of the unhappiest traditional employees. Here are some demographic highlights from this data. 
45-54-year-olds are just as likely as millennials to leave their job for the gig economy because they're burnt out by the 9-5.
Those aged 35-44 are most likely to leave their job for the gig economy because of a toxic workplace. This is especially true for females.
Men are 3x more likely to work in the gig economy because they need money while making a career transition and because they hate their boss.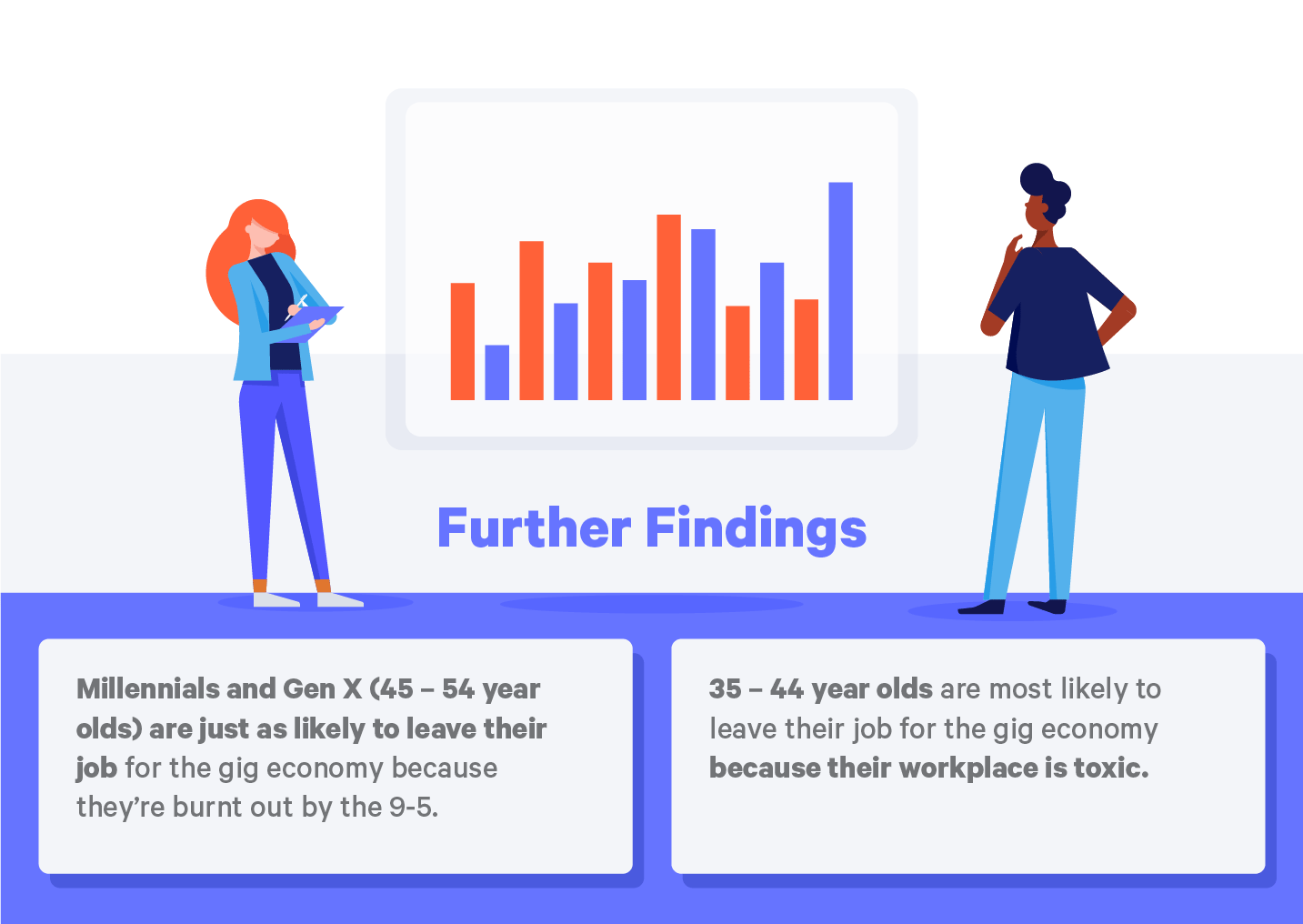 These findings all point toward a common theme of workplace dissatisfaction, which makes you wonder how the 9-5 became the traditional format for the workplace to begin with. In order to understand the reasoning behind the conventional workplace, we first have to take a look into the history of the gig economy and how it evolved into what we know today.

The Gig Economy: A Short History
The term "gig economy" was first coined by journalist Tina Brown in 2009. Brown wrote about the trend of workers pursuing "a bunch of free-floating projects, consultancies and part-time bits and pieces while they transacted in a digital marketplace." But despite the hype and misconception that the gig economy evolved from apps, it's not a novel concept. In fact, the term "gig" was frequently used by Jazz musicians as early as 1905 to refer to a live performance job.  
So where did it all begin? Prior to the industrial revolution and until the Victorian era, people worked multiple jobs to piece together a decent living. The "gig economy" of unpredictable employment patterns sprang up when industrial jobs were seasonal. Others had a trade by skill and title (i.e. a blacksmith or barber) and worked additional small jobs like renting out a store, selling goods, being a laborer or teacher. Like people earning money through the gig economy today, these individuals lived in a world of job uncertainty—they had independence but frequently worried about making ends meet or failing.
Then in the 1930s, there was the Great Depression. Coming out of that, Americans wanted security and stability above all else. In that decade, we saw significant clashes between labor and capital that resulted in workers organizing themselves in new ways through the CIO (Congress of Industrial Organizations). In doing so, workers demanded better lives, and the state guaranteed that, leading to the traditional workspace and labor laws we know today. 
Fast forward to 1995. Craigslist is introduced, providing a platform for San Francisco-based online classifieds devoted to jobs, items wanted and for sale, gigs, services, resumes, housing, and more. This re-introduction of gig work helped pave the way for other gig platforms like Elance (now known as Upwork) in 1999, followed by the launch of Airbnb in 2008 and eventually Uber, Taskrabbit, Postmates and others. Yet, despite today's app-enabled modernity, the gig economy resembles a workforce that existed prior to the industrial age.

Gig Economy Benefits
It's unlikely that you're here to simply learn the backstory of the gig economy. If you're one of the thousands of Americans who are contemplating the jump from the traditional workplace to the gig economy, then there's a handful of things you'll want to consider.
There are many reasons for the shift to gig and freelance work whether it's leaving a toxic workplace, career burnout or need for workplace autonomy. For many, low median incomes and increased living and housing costs necessitate a secondary income. Older workers can also use freelancing and gig earnings to supplement their savings and pension plans. Supplementary income aside, you might consider these reasons to take on a gig job:
Build your portfolio—Creating a portfolio of steady clients is arguably more reliable than a single employer and can be a great way to draw in future clients or work.
Flexible pay schedule and availability—Freelancing and gig work allows you to have unlimited possibilities pay scale configurations. It also means that you can take vacations and sabbaticals without being held to an expectation of availability.
Variety in work—The gig economy promises constant variety from the types of people you will meet to the kind of work you will do. Never having the same day twice can be a motivating factor for many people. 
It mimics entrepreneurship—Instead of shelling out time and resources to create a website hoping someone will seek out your services, gig economy platforms help you build an attractive and well-designed profile that makes it easy for potential clients to find and hire you. You can experience some of the benefits of entrepreneurship without the time and cost of building websites and customer acquisition funnels. 
Provides an outlet for personal growth—For those who hold a conventional job and are content there, the gig economy also offers opportunities to not only earn an additional income but also work on skill sets or passions that your workplace might not allow for.
While the gig economy can be used as a way to make ends meet in-between traditional jobs or supplement your current income, it has become far more than that. Workers are starting to morph the gig economy into full-time professions.

Gig Economy Best Practices: For Workers and Companies
Whether you're an individual looking to take advantage of the benefits the gig economy offers or a company that's outsourcing work, there are best practices to consider on both sides of the equation.
The Gig Economy For Businesses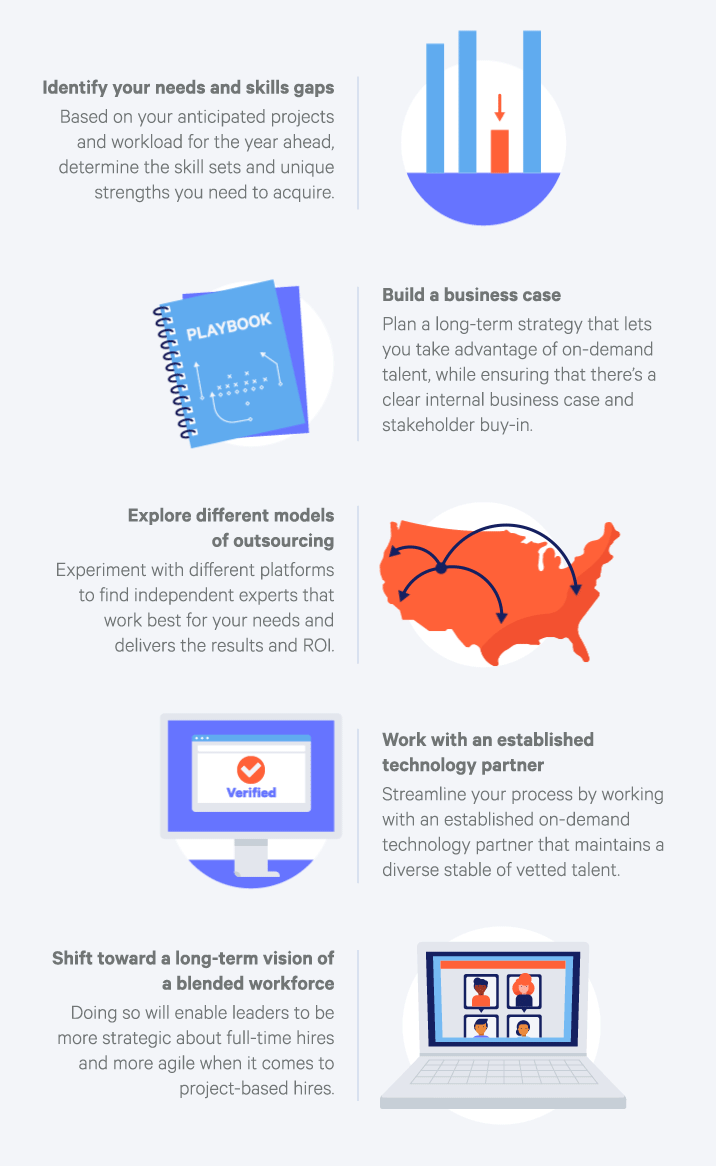 Identify needs and skills gaps.
Take the time to evaluate your upcoming projects and workload for the year ahead. Keep in mind what's changed as a result of the pandemic. Ask yourself if these skill sets and strengths exist within your team or if you need to look externally. What will you need in terms of market knowledge, technical capabilities, or strategic expertise?
If these can't be addressed with your current team, it might be time to consult a freelancing platform to patch your company's skills gaps and staff projects without adding unnecessary headcount.
Build a business case.
Everyone on your team might not be aligned when it comes to understanding the importance of outside talent. In this circumstance, building a case that supports why you should bring on outside talent is important. An Accenture survey found that 79 percent of executives agree that work is shifting from traditional roles to project-based work. Another 84 percent believe great talent, new ideas, and enhanced capabilities sit outside enterprise walls. In a nutshell, on-demand talent is the direction the workforce is headed. 
Work with an established platform.
Ad hoc contingent workforce management can quickly get overwhelming. Fortunately, many opportunities in the gig economy are enabled by well-run, venture-backed technology platforms that make it easier for both a company and a freelancer to work together with a bit of a safety net and a smaller cost.
Streamline your work by utilizing an established on-demand outsourcing platform that maintains stable, vetted talent. From there, it's easy to post ads, evaluate proposals and candidates, and manage the logistics of projects and payments from a single interface.
Shift toward a long-term vision of a blended workforce.
This goes back to our point about evaluating and planning for your workload in advance. As you plan your hiring strategy a year or more ahead of time, consider how on-demand experts factor into the equation. By planning out your needs and the availability of experienced, independent specialists you want to utilize on a project-by-project basis, your leadership team can be more strategic about full-time hires and more agile when it comes to project-based hires. 
Best Practices for Gig Workers
When it comes to making the leap to the gig economy, it's often workers that have the largest list of pros and cons to weigh. Just learning what it takes to be successful as an independent worker can take a lot of trial and error. So, if you're one of the thousands of Americans who's joining the gig economy as a side hustle or your primary source of income, learning how to thrive in the gig economy should be your first point of focus.  
In 2018, the Cornell SC Johnson College of Business conducted an in-depth study of 65 gig workers that uncovered remarkably similar sentiments across generations and occupation. Regardless of the type of gig, they felt a host of personal, social, and economic anxieties without the cover and support of a traditional employer. That said, they also claimed that their independence was a choice and that they would not give up the benefits that came with it. 
Throughout the study they also discovered that the most effective independent workers navigate this tension with common strategies, cultivating four types of connections to help them navigate the emotional ups and downs of non-traditional work and gain energy and inspiration to be successful as a gig worker: routines, purpose, people, and place.
Routines
These days, routines get a bad rap. They're often associated with safety or boring bureaucracy. However, there's a growing body of research that suggests otherwise. Routines enhance focus and performance and successful gig professionals treat them as such. 
Of course, there are work-specific routines — keeping a schedule; following a to-do list; starting the day with the most challenging work or with a client call — that improve productivity and focus. Others are more personal like incorporating self-care (sleep, nutrition, exercise) into one's life. Both enhance people's sense of order and control in uncertain circumstances.
Purpose
While striking out on your own is a driving factor for entering gig work, performing work that connects to a broader purpose is often important for success. Purpose creates a bridge between personal interests and a need in the world—it can be a big distinction between successful independents and the ones who aren't.
People
As humans, we're social creatures, which is why the "loneliness epidemic" can be devastating to the success of independent workers. Studies in corporate settings have long demonstrated how important other people are to our careers — as role models who show us who we might become and as peers who help us progress by sharing our path. 
Develop working relationships with supportive collaborators, contacts in similar fields or like-minded professional at a local co-working space who can push you through challenging times and embolden you to take risks necessary to developing your work. 
Place
Disconnection from a corporate office is one of the most appealing factors about gig work, but it can also be a downfall for many workers. Many people fail because they don't create a space and time to do whatever it is they need to do. The study found a common thread in that all the successful individuals studied found a place to work that protected them from distractions and pressures. Gig work is often portable, so creating a space for productive work helps prevent feelings of rootlessness. It's also a driving factor in the rise of coworking spaces around the globe. 

CoWorking and the Gig Economy 
If you live in a metropolitan area, chances are there's at least one coworking space in your area, if not several. In fact, there are more than 35,000 coworking spaces around the globe, with more popping up every day.  
For those who aren't familiar, coworking spaces are shared or flexible workspaces that offer a combination of subscriptions, day passes, and open houses to allow independent professionals and startups to use communal assets like offices, desks, collaborative areas, meeting rooms, and even amenities like kitchens or break rooms. It's a modern work environment fueled by the gig economy.
Coworking spaces started to flourish around the time that the gig economy started to develop and they've come a long way since the first modern coworking space opened its doors in 2005. As new technologies made it easier for people to start their own businesses, or rely on existing apps to connect their services to the clients, it also made the allure of independent work more attractive. Coworking spaces have since become the solution for many gig workers in need of a productive workspace. Hence bridging the gap between freedom and the "loneliness epidemic."
Consequently, in the past few years we've seen billions of dollars invested in the expansion of coworking spaces around the globe. In 2018 alone, flexible workspaces accounted for more than two-thirds of the U.S. office market occupancy gains, with no indication of slowing down.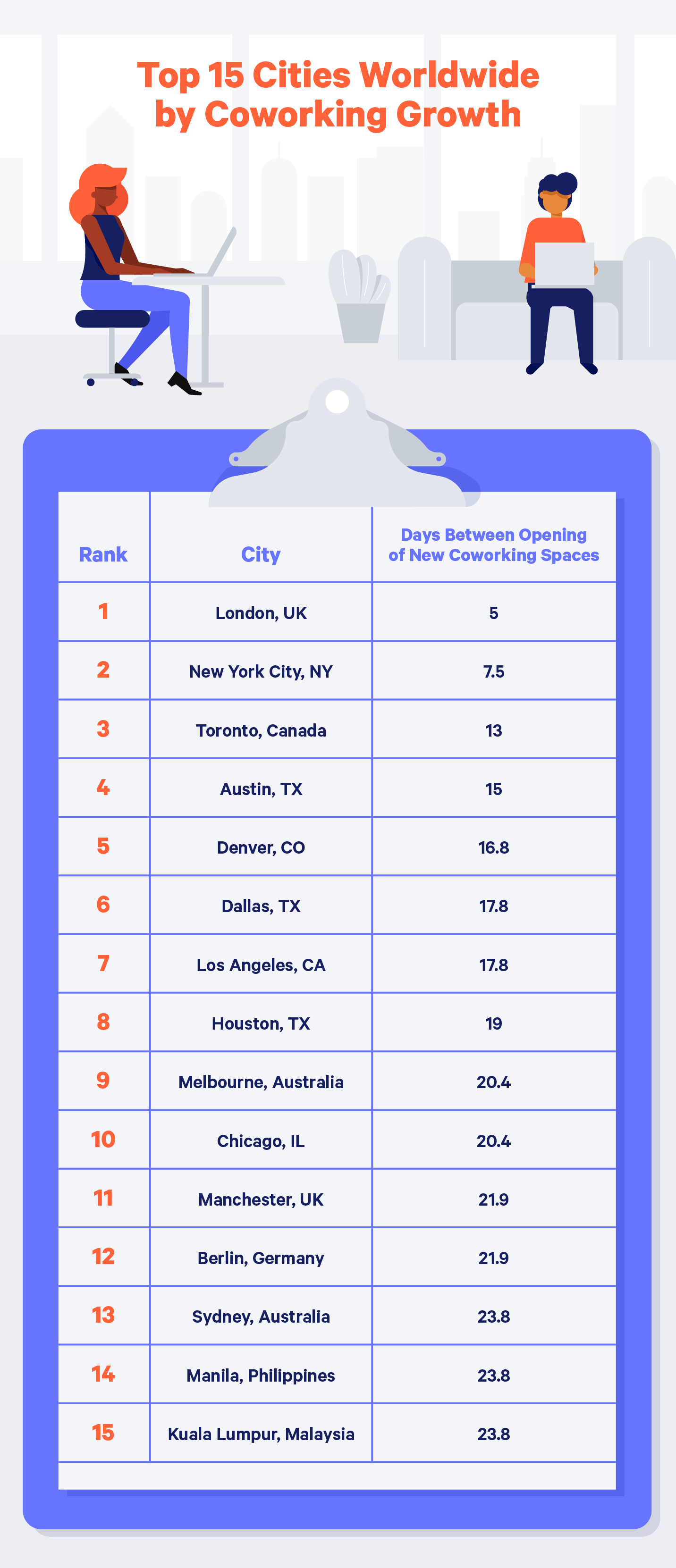 Getting Started as an Independent Worker
Getting started as a freelancer can be as easy as visiting a ubiquitous freelance site to find work or networking within your current sphere to find your first client. No matter how you choose to market your services, there are some key steps that every independent worker needs to consider.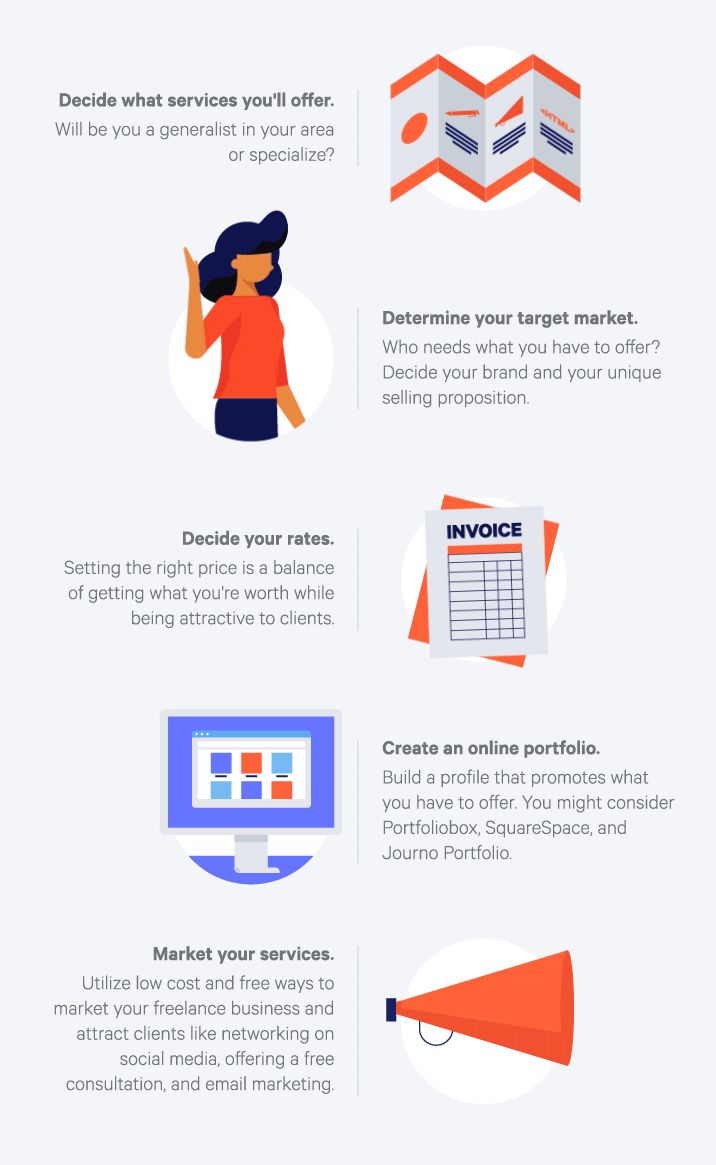 Decide what services you'll offer. Will be you a generalist or a specialist in your area? For example, will you offer social media management on most platforms or will you focus on one, such as Pinterest marketing management?
Determine your target market. Who needs your services and is there a broad enough market to support a consistent flow of work? After you've established a target market, you need to brand yourself and establish a unique selling proposition. 
Decide your rates. Setting the right price is a balance of getting what you're worthwhile remaining attractive to clients. While freelance and gig platforms provide a place to market your services, they're also competitive. Price too low, you may suggest your work doesn't have value and you might not earn enough. Price too high, and you may not have people willing to pay you. Even if you charge hourly, consider that many freelance projects may be one-offs in which case the client will want an estimate of the total job.
Create an online portfolio. Take your portfolio and work profile beyond gig platforms and social networking sites. Build a website that promotes what you have to offer and examples of past work. Doing so can offer you more customization and flexibility.
Market your services. There are many low cost and free ways to market your freelance business and attract clients. Test out social networking, offering a free consultation, word of mouth referrals, and email marketing.
Other Considerations: Taxes, Insurance, and Money Issues
In a conventional job, most of the "money stuff" (i.e. paycheck, tax deductions, health insurance and benefits) is taken care of through your employer. Things are different when you're on your own.
Taxes 
As an independent worker, you won't have your taxes deducted automatically, but they still need to be paid. In most cases, you'll need to fill out a W-9 tax form when you sign on with a new client. This way they can report what they paid you to the government. That said, you should also be keeping track of your earnings, determining roughly how much you owe in taxes as the year progresses.
While it's a lot of work keeping track of taxes on your end, being a contract or independent worker means that the expenses you incur as part of your business operations could be deducted from your taxable income. This includes things like your internet service, tools and resources you need to perform your work, gas and mileage. If you work from home, you might be eligible for a home office deduction that allows you to deduct some of your mortgage and utilities as part of doing business. Keep a running list of these items throughout the year, so when tax season comes, you'll be prepared. 
Getting paid
Getting paid might seem like a straightforward concept. You perform work and get paid for it upon completion. In some cases where payment and contracts are handled through a platform, this is the case. However, if you need to draw up a contract and send an invoice, getting paid can be a pain point and time-consuming task for many workers. 
When you start a new gig, you'll want to draft up a contract specifying the terms of the client relationship, scope of work, deliverables, and compensation, If your client doesn't have a standard contract for their vendors and service providers, you might need to draw one up yourself and negotiate payment for your services. Keep in mind that you'll often need to produce and send an invoice for all the work that you do, either on a monthly basis or every time you submit work to the client. 
Unfortunately, most independent workers are bound to experience a dud client or two over the course of their work experience. In this case, you'll want to have a system in place for getting payment from clients that are late or don't pay. We suggest the following: 
Clearly state late fees when you draft up your client contract. 
Examine your contract and resend your invoice, waiting a couple of weeks before moving on to the next step.
Email the business manager with a payment reminder and a polite note that lets them know you're re-sending the invoice.
Get in touch over the phone and ask if they've received your email(s). Doing so opens the door for them to discuss the situation. 
Send a certified letter as a formal and final notice to pay. This lets a client know you plan to take the next logical step in pursuit of payment.
Take the client to court in the event they refuse to pay.
End the client relationship. Don't continue to do business with unreliable clients. 
Insurance and benefits
Just like with taxes, you're on your own health care as an independent worker, so finding the right coverage is one of the main concerns gig workers have (like finding the right host insurance for home sharing platforms or on-demand car insurance). However, just because you don't have an employer providing you with options and offering to pay some of the premium doesn't mean that you should take the risk of being uninsured. While you'll have to pay out of pocket for insurance, there are some associations where you can get lower-cost options and, in some cases, health care deductions. 
Conclusion
Navigating the gig economy is not without its challenges. Yet, many individuals find fulfillment, freedom, and success as an independent worker that they didn't in a conventional job. On the employer side, the gig economy is shaking up the way traditional workplaces operate. Whether you're an established company or a venture-backed startup that's in need of outside talent, you're now freer to hire for one-off projects on a freelance basis rather than ever before. 
Sources: Gallup | HBR | The Conversation | Forbes
Related Articles
7 min read
Outsourcing key business processes can enable startups to save money while freeing up vital team members to focus strictly on the business processes they specialize in and are best suited to perform. 
Read More
6 min read
Just like any other small business owners or contractors, freelancers should be protecting themselves and their independent businesses by purchasing the right freelance insurance coverage.
Read More