Now that your business has a growing team coordinating your risk management, Embroker's multi-user feature is just for you.
Perfect for mid-size to larger companies who have risk managers and administrators, our new multi-user feature makes it easy to access insurance data, create certificates of insurance (COI), track claims, and renew policies among team members and executives. No more shared paper documents and applications. Now multiple users can access your company's insurance on one secure, all-digital platform.
Simplify your business insurance
Invite team members to any of the policies we service. Tap your account at the top right, and then select team settings.
In the pop-up box, invite members with their email addresses separated by commas. And then, they will be instantly invited to join the Embroker platform, which is makes renewals with multiple users a snap. Learn more about our digital renewal process on this article.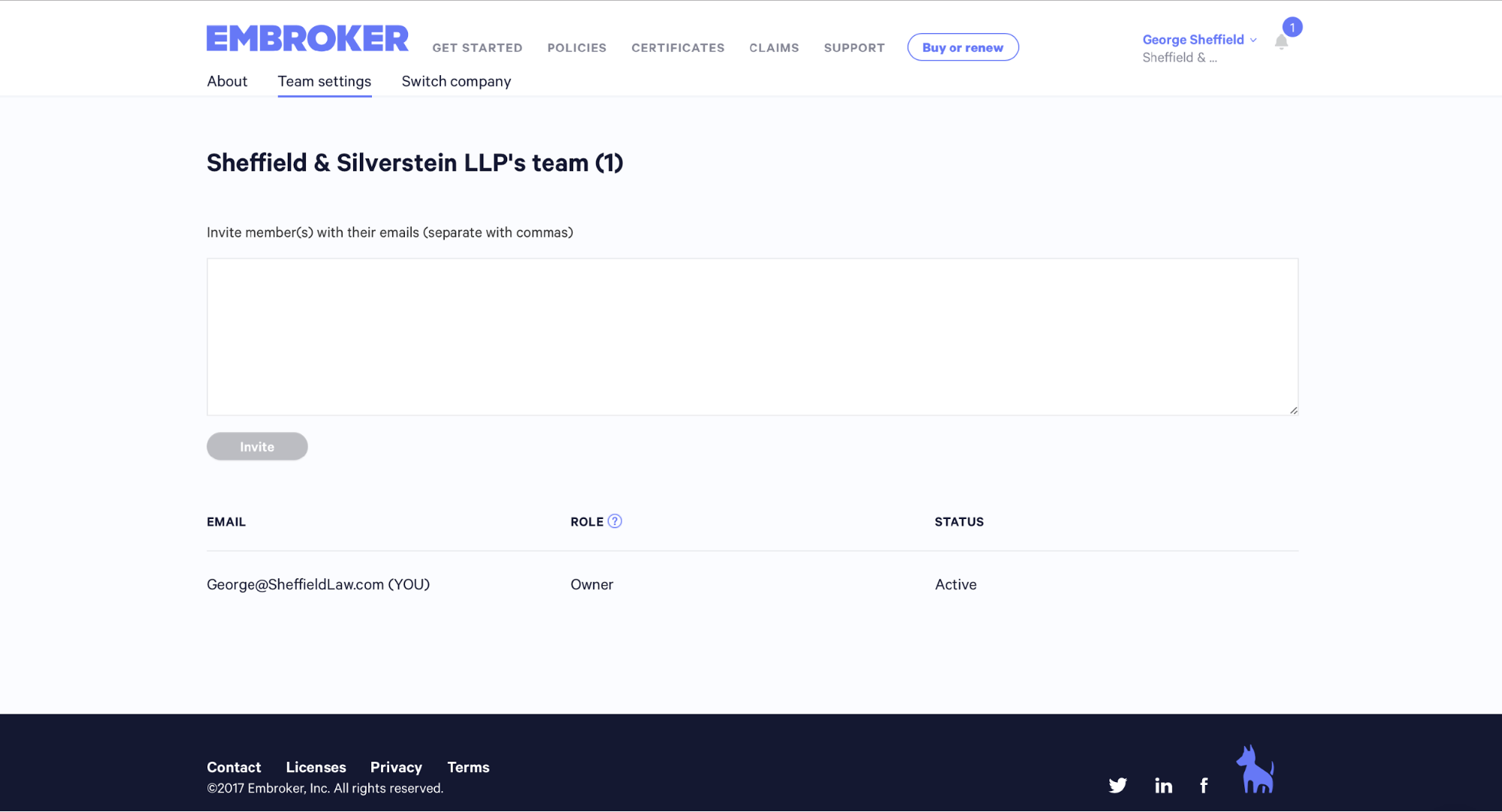 Welcome to a new world of insurance!
Embroker is the insurance brokerage built for the way you do business, and our mission is to help businesses make smart risks by modernizing and simplifying the entire insurance process.
If you're interested in learning how Embroker can help you mitigate risk and intelligently insure your business, you can reach out to our team of expert brokers. Or, if you prefer to get started on intelligent quotes, create your Embroker account today.
Related Articles
2 min read
On September 14, 2023, we announced Gene Linetsky as our new Chief Technology Officer (CTO). Gene has over 30 years of experience in the computer science industry — founding several technology and startup companies and serving in various executive and technology leadership positions. Most recently, he held the role of CTO of healthcare technology company […]
Read More
9 min read
Insurance for bookkeepers is much more important than you think. When it comes to the business world, bookkeepers provide a vital service. Whether handling a company's payroll, paying vendors, creating and maintaining financial records, or reviewing transitions, bookkeepers play a leading role in a business's success and growth.  But the essential services that bookkeepers provide […]
Read More