It's one thing to have a vision or create a prototype. It's an entirely different beast to take that idea and build it into a successful, scalable business. True, the first step can seem ridiculously daunting and complicated. Fortunately, we've rounded up a list of 21 of the best startup books for entrepreneurs. 
Whether you're an entrepreneur with a brilliant idea or a founder looking to take your startup to the next level, there's a wealth of written advice out there to lean on and learn from.
As they say, knowledge is power. And one of the best places to start gathering knowledge is books. Of course, there are many titles in this field that are worth reading, which is why we've narrowed our list down to books in three different categories: growth hacking and scaling, books to read before pitching VCs, and entrepreneurship and startup stories.
Insure your startup in minutes, not weeks.
Find out how to get your insurance package at the right time, and the right price.
Growth Hacking Books
Growth hacking is one of those skills you'll need to learn if you want to scale your startup. 
The term refers to the strategy of experimenting with marketing, product development, sales, and other areas to determine the most effective way to grow your particular business. Growth hacking doesn't necessarily mean you need to spend a fortune, rather there are many ways to scale that make sense for you, your industry, and the startup stage.
Explosive Growth: A Few Things I Learned While Growing To 100 Million Users — And Losing $78 Million
Cliff Lerner's personal narrative gives entrepreneurs a rare behind-the-scenes look inside a fast-growing startup that created the first online dating app and grew to 100 million users. 
He details the highs and the lows of what it's really like to run a startup while giving you a roadmap to significantly grow your business. Not to mention, the book is chock-full of tactical lessons made memorable through engaging stories.  
Whether you're a founder or a business student, Explosive Growth will draw you in with its raw storytelling style that will leave you with memorable advice about startup life and entrepreneurship.
Hacking Growth: How Today's Fastest-Growing Companies Drive Breakout Success
If you want to know how proven growth practitioners at fast-growing companies do what they do, pick up this book. 
Sean Ellis, CEO and co-founder of GrowthHackers.com, and Morgan Brown, COO of Inman News, put together this practical toolkit that companies of all sizes and in all industries can use to increase their customer base and market share. 
Hacking Growth walks readers through the process of creating and executing their own custom-made growth hacking strategy, based on the methodology of companies like Airbnb, Facebook, and Pinterest. It provides a compelling answer to an increasingly erratic business landscape where new competition can emerge overnight, customers' loyalties can shift unexpectedly, and markets are constantly being disrupted.
If You're in a Dogfight, Become a Cat! Strategies for Long-Term Growth
Columbia University professor, Leonard Sherman, discusses how businesses often find themselves trapped in a competitive dogfight, scratching and clawing for market share with products consumers view as largely undifferentiated. 
Instead of accepting the status quo that these metaphorical dog fights are to be expected as marketplaces mature, Sherman suggests that long-term profitable growth is created when companies choose to become "cats" — e.g., continuously renewing their distinctive strategies to compete on their own terms.
Sherman's advice comes from four decades of experience in management consulting, venture capital, and teaching business strategy at Columbia Business School. For entrepreneurs without MBAs, Dogfight offers a quick master class in recent business history in addition to advice on two troublesome issues facing business executives: (1) why is it so hard to achieve long-term profitable growth, and (2) what can companies do to break away from the pack?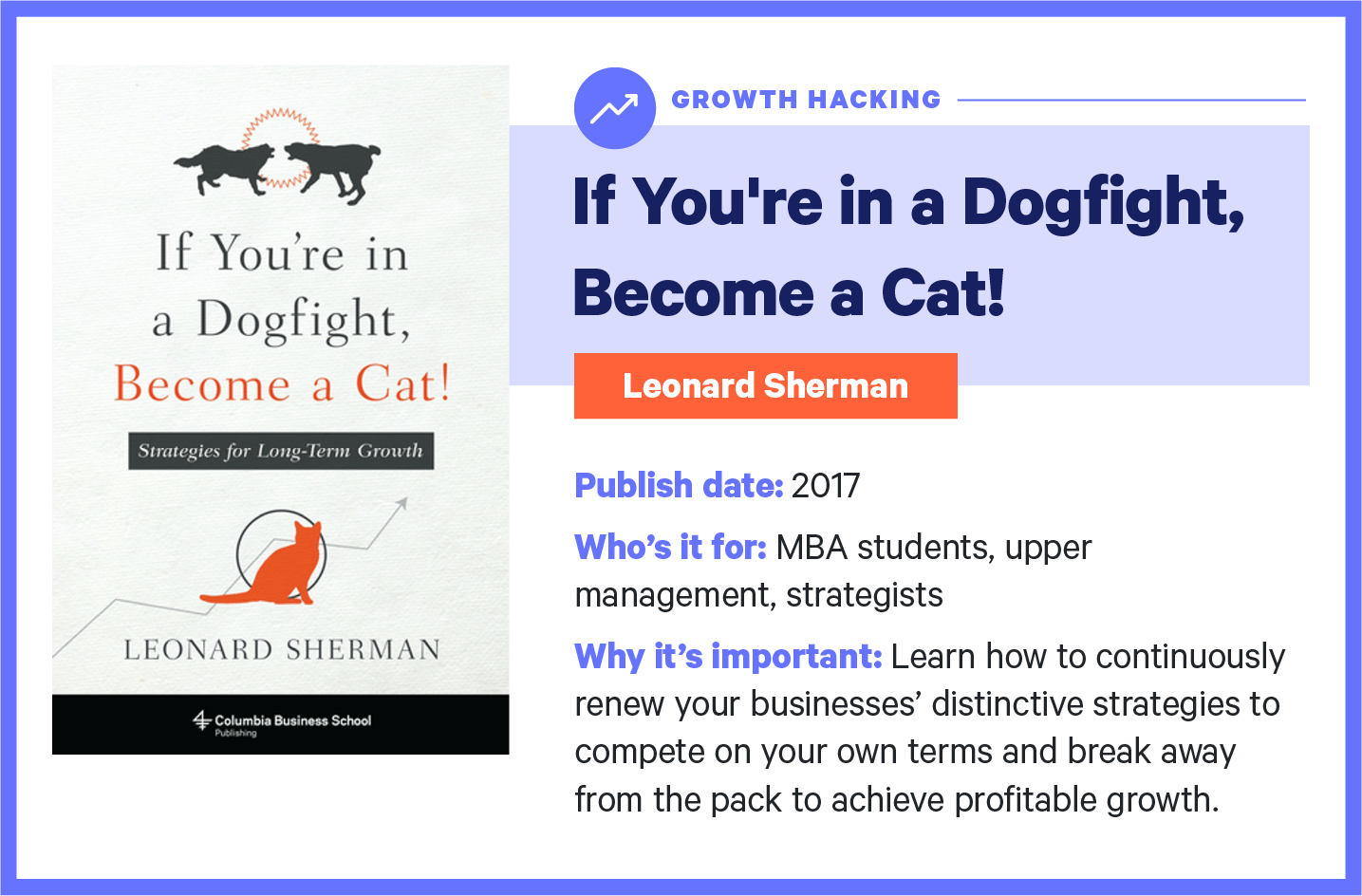 Scale: The Universal Laws of Growth, Innovation, Sustainability, and the Pace of Life in Organisms, Cities, Economies, and Companies
How do the dynamics and growth of biological and manmade organisms apply to business growth? You're about to find out. 
Geoffrey B. West, a theoretical physicist, raises intriguing questions about how much even the savviest CEO can control their company's trajectory. Regardless of their industry, size, or location, companies scale according to similar laws that also govern biological life. 
Based on these laws, West suggests that it may be possible to develop a "science of companies" that would help us better understand why companies grow and die and how to predict their lifespan. He also touches on innovation as an important factor in cheating natural growth constraints.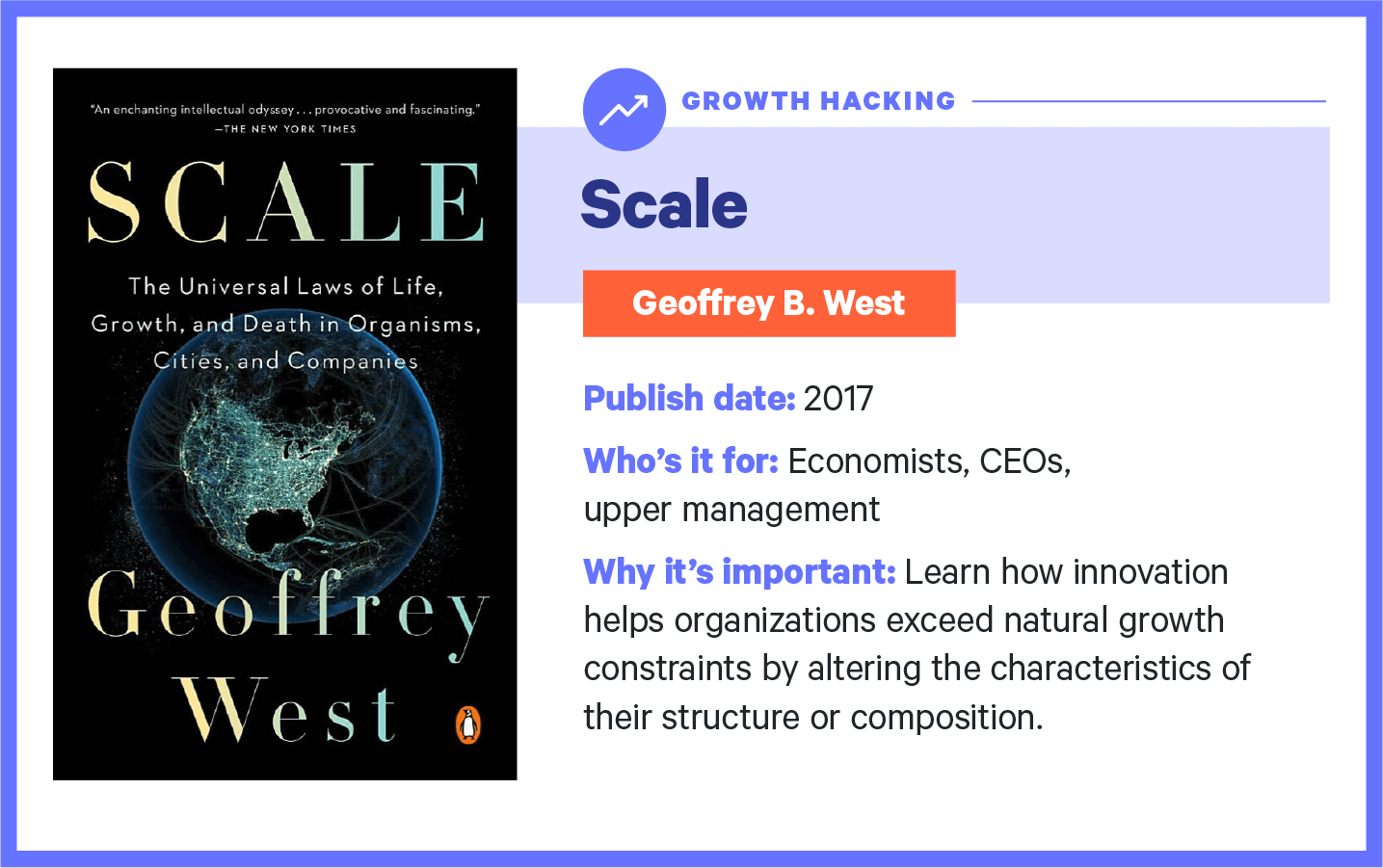 Smartcuts: How Hackers, Innovators, and Icons Accelerate Success
Ever wonder how some startups go from zero to billions in a matter of months?
Shane Snow, an entrepreneur, journalist, and founder of Contently, dives into this question by analyzing the lives of people and companies that do incredible things in an implausibly short amount of time. Essentially, this book breaks apart old myths about success and shows how innovators and icons make strides by working smarter, not harder.
Snow highlights topics like learning how to hack the ladder, why mentorship is the secret of many high-profile achievers, why masters at a trade typically prefer negative feedback to positive, and how to scale your thought process.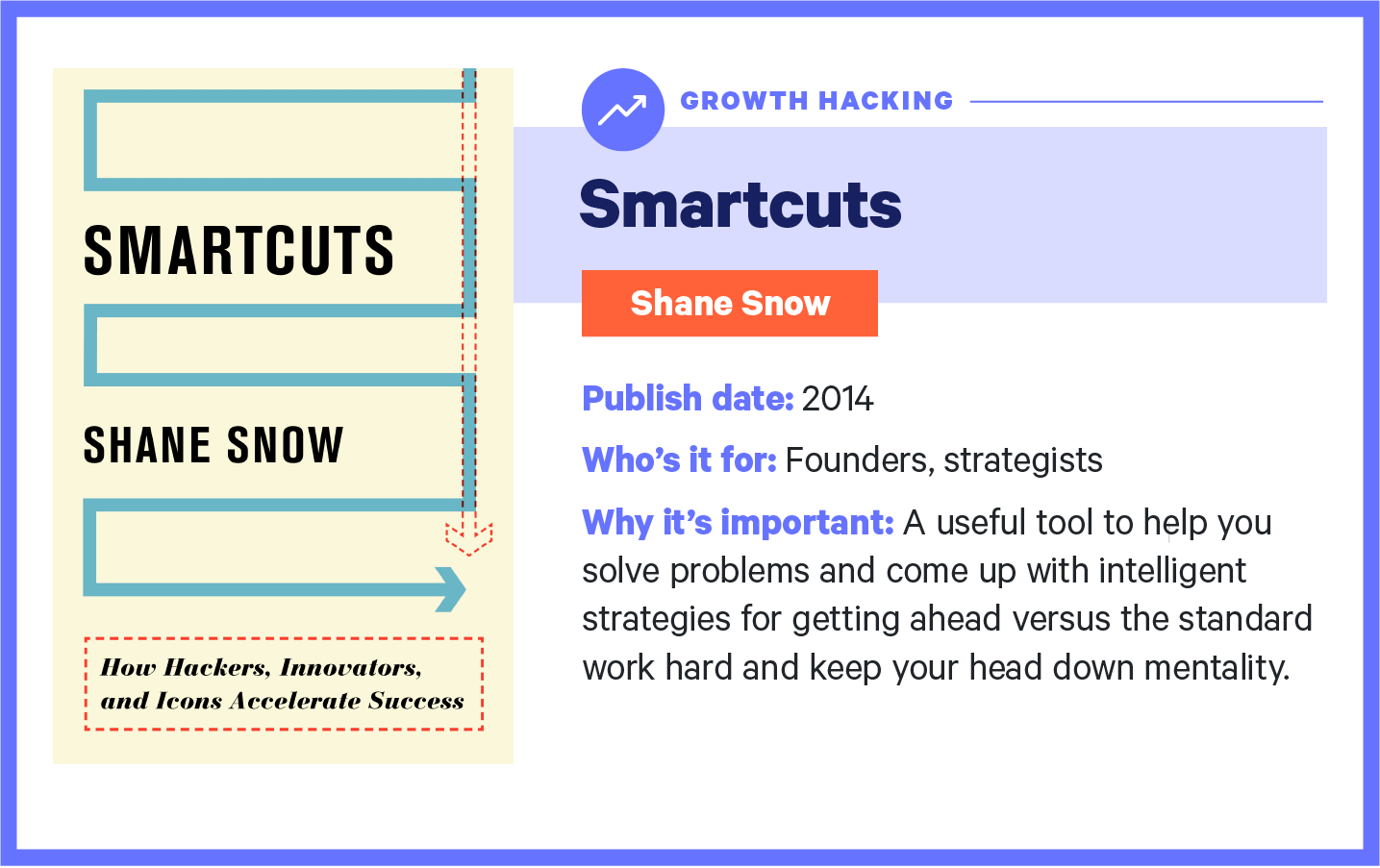 The Lean Startup: How Today's Entrepreneurs Use Continuous Innovation to Create Radically Successful Businesses
Eric Ries discusses a new, global approach that's changing the way companies are built and new products are launched — lean startups. He teaches you how to shorten product development cycles and measure actual progress without resorting to vanity metrics. He also looks at how to build a company that's more capitally efficient and ways to better leverage employee creativity to stay ahead of the competition. 
Ries also offers a scientific approach to creating and managing successful startups in an age where most companies face uncertainty and are constantly pressured to innovate.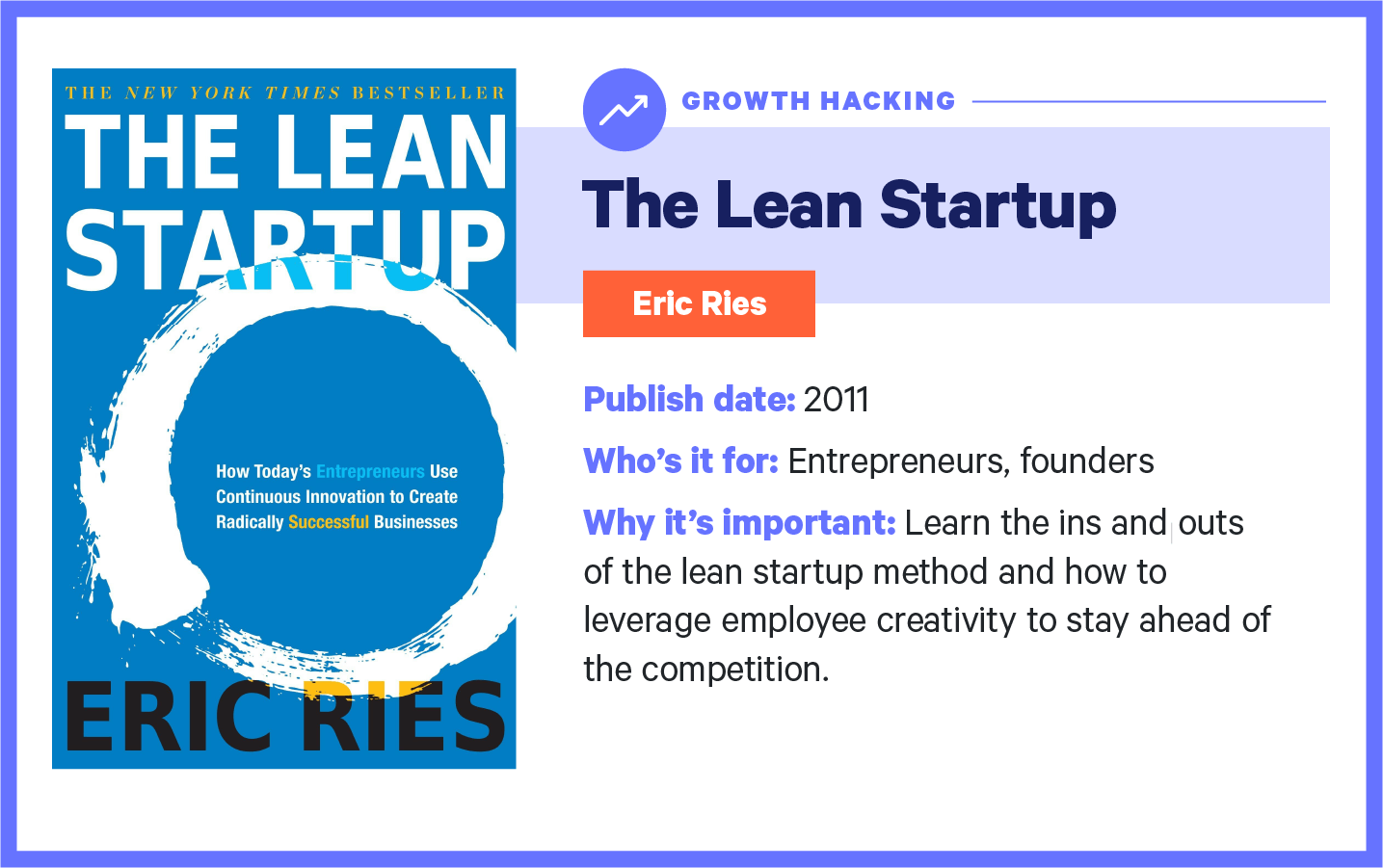 Traction: How Any Startup Can Achieve Explosive Customer Growth
Gabriel Weinberg and Justin Mares address a significant reason why most startups end in failure — the inability to gain traction. While many startup companies focus their efforts on creating original products and services, they often fail to spend time thinking about (and executing) traction in the same way they work on building an offering. 
This shortsighted approach leads to startups trying random marketing tactics in an unstructured way that's guaranteed to fail.
Traction helps bring a company in line with these goals by providing startup founders and employees with a successful framework to gain traction.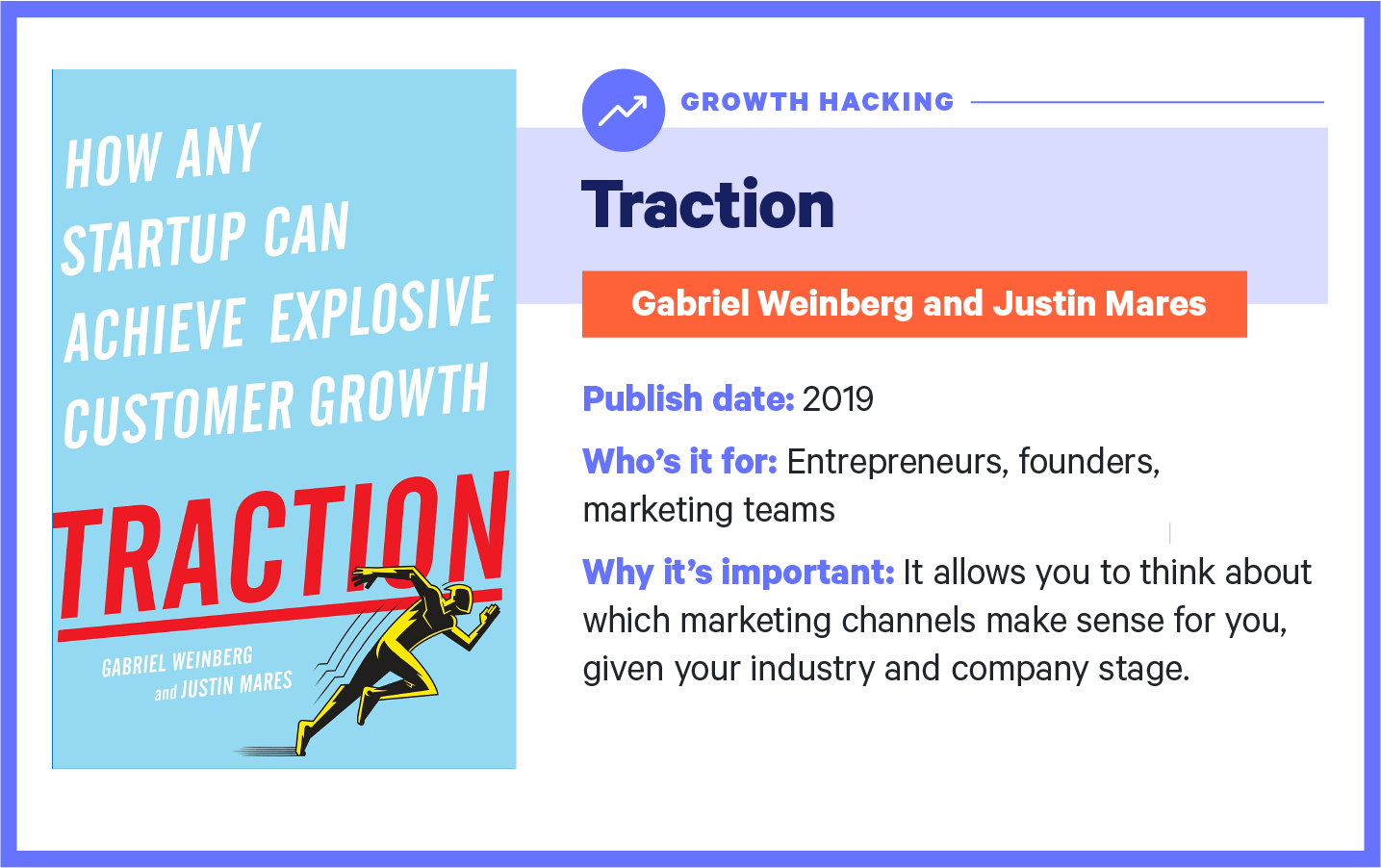 Books to Read Before Pitching VCs
Learning how to pitch VCs is a key component of moving the needle for your startup — e.g., no money = no growth. Of course, this takes practice. If you're ready to start seeking Series A venture funding, it's crucial to prepare. 
Below is a list of the best entrepreneur books that will help you hone your pitch, build your confidence, and better your salesmanship — all while giving you the tools to scale your startup.
Bargaining for Advantage: Negotiation Strategies for Reasonable People
Bargaining for Advantage is a road map for how to survive and thrive in the sometimes rough-and-tumble world of business negotiation. Author G. Richard Shell breaks down negotiation into an easy-to-understand process that any founder can effectively apply to a startup's negotiations. 
The book is broken into two parts. The first establishes six foundations (your bargaining style, goals and expectations, authoritative standards and norms, relationships, the other party's interests, and leverage) that, once combined, make up an effective negotiation. The second half puts these principles in action.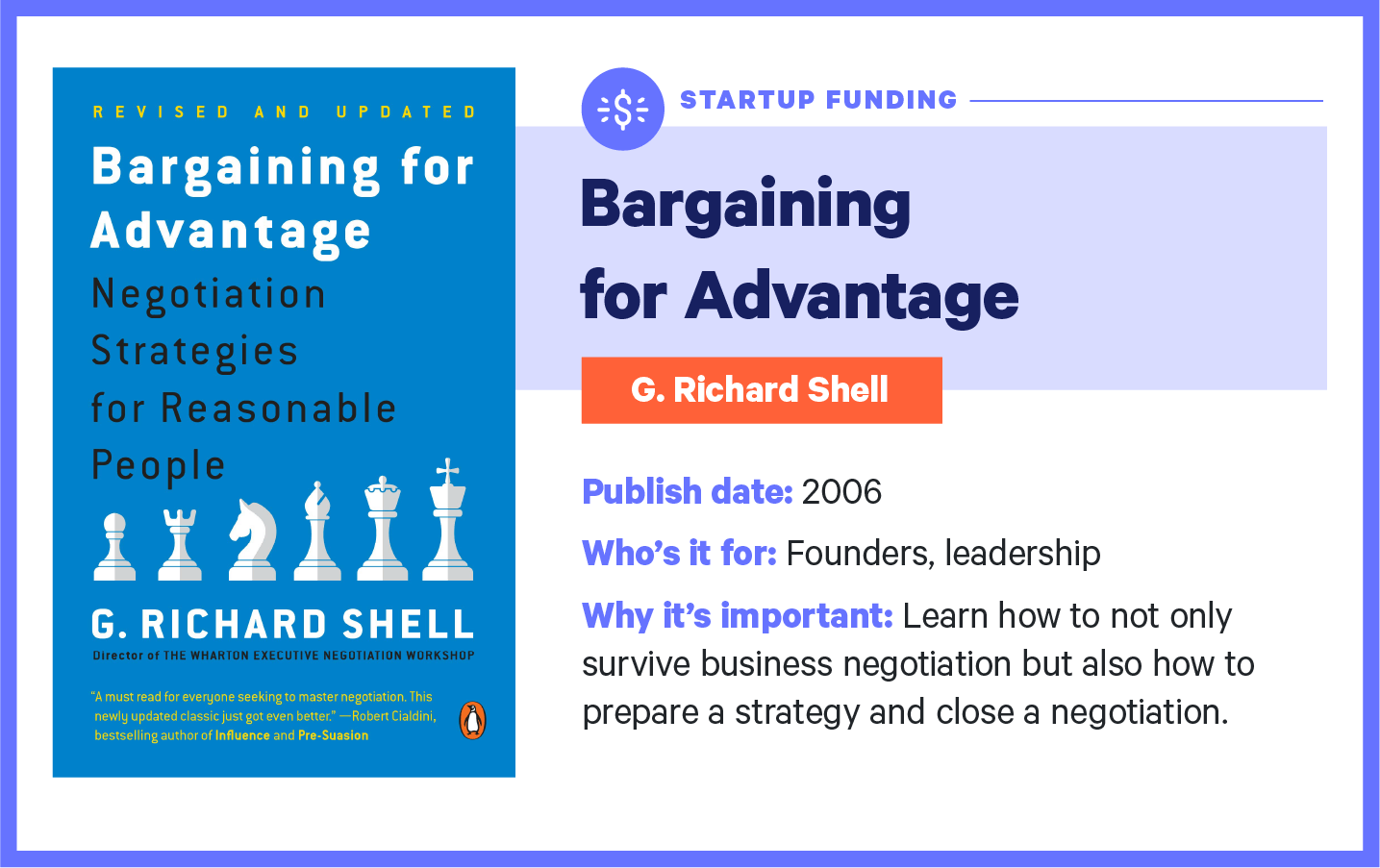 Mastering the VC Game: A Venture Capital Insider Reveals How to Get from Start-up to IPO on Your Terms
Venture capital is a high stakes game that's notoriously difficult to navigate. Author Jeffrey Bussgang shares his experience from both sides of the table. Not only do you need to learn to woo, impress, and persuade venture capitalists to back your endeavor, but it's important to choose the right investors. 
Bussgang teaches you how to find a VC partner that will work with your vision, not a dictator who will undermine you and take control of your life's work. In the process, he offers high-level insights, colorful stories, and practical advice gathered from his own experience as well as from interviews with dozens of the most successful players on both sides of the game.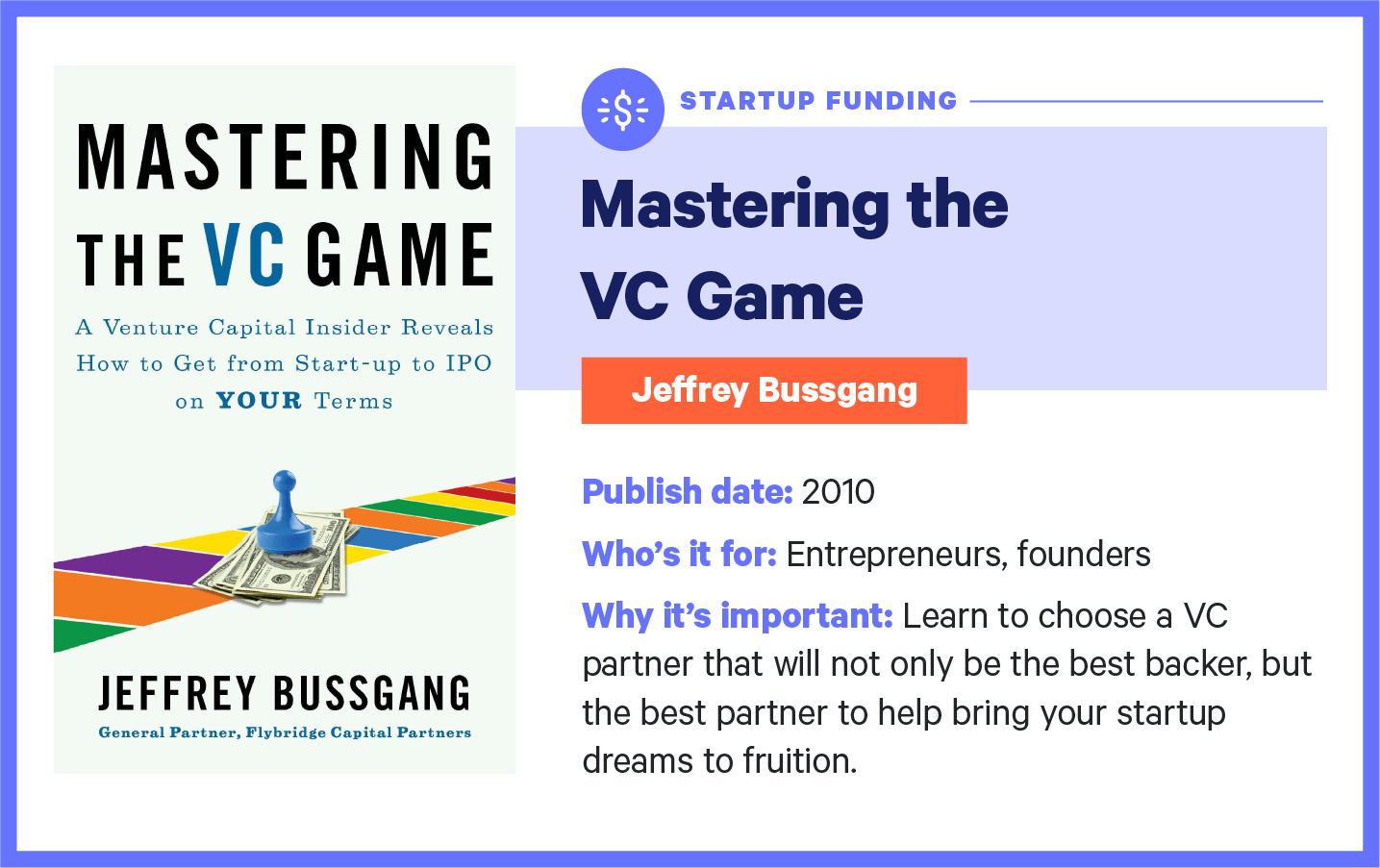 The Art of the Pitch
While great ideas can sell themselves, there's a reason why entrepreneurs need to learn the art of pitching investors — 99% of the time, entrepreneurs will need to persuade others that their idea is, in fact, great. Peter Coughter's book is a play by play on how to do just that.
Coughter takes a close look at the role of persuasion in the creation of a good pitch, presenting tools he designed to help advertising and marketing professionals develop persuasive presentations that deliver business. 
Entrepreneurs will learn how to hone their individual presentation style, how to organize a powerful presentation, how to truly connect with an audience, and, more importantly, how to woo investors.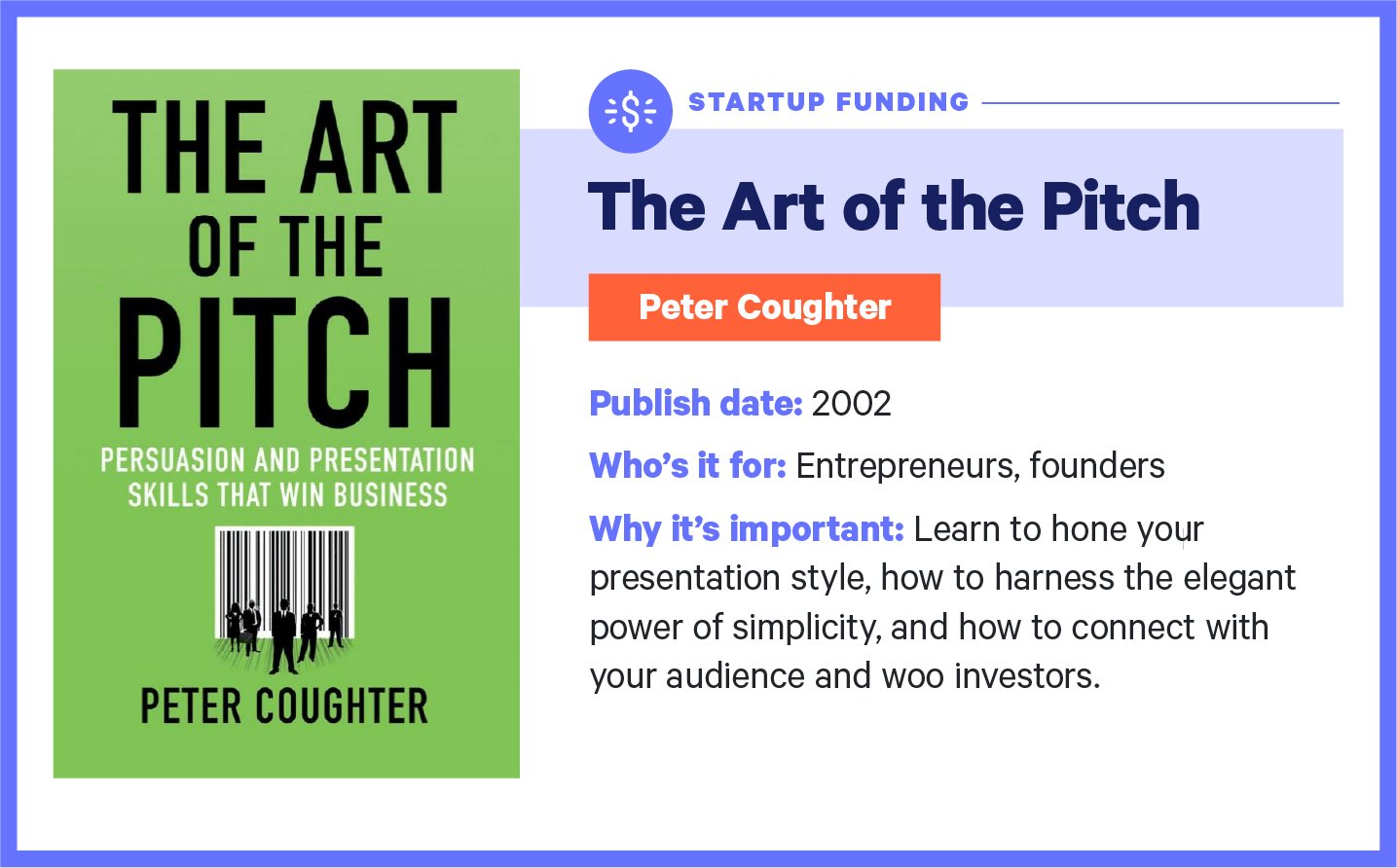 The Most Dangerous Game
This non-traditional pick isn't about startups at all (at least not directly). Richard Connell's short story tells the tale of when the sport of hunting became a sport for humans. So how does this apply to startups?
The Most Dangerous Game is an excellent read that can help shed some light on how venture capitalists may feel. After all, VCs are feverishly pursued by thousands of startups, and it's their job to cultivate the future startup scene. For founders who pitch VCs to scale their startups, this is a way to better understand their mindset.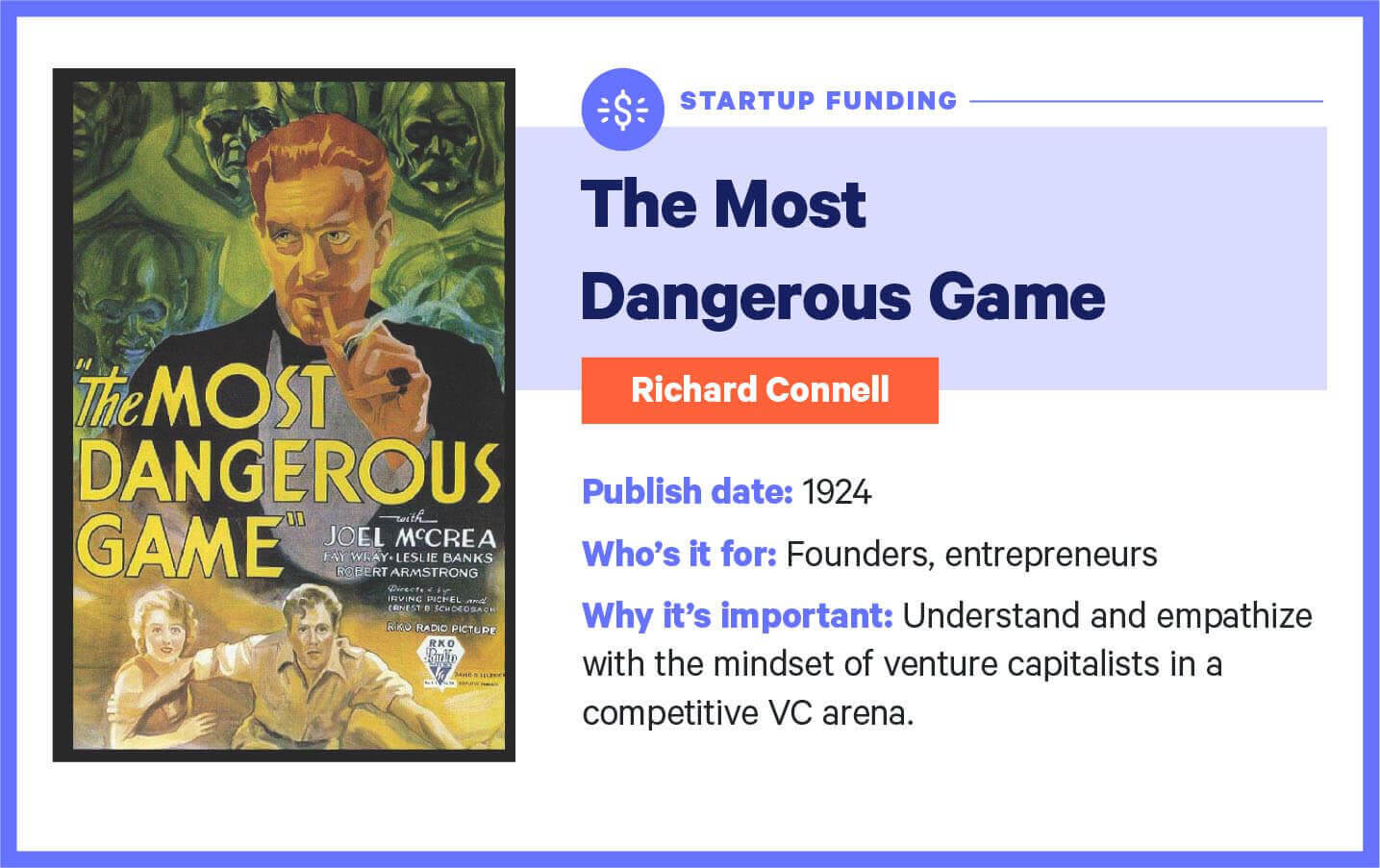 The Power of Broke
FUBU founder and star of ABC's Shark Tank, Daymond John, demonstrates how being broke can actually be your greatest competitive advantage as an entrepreneur — e.g., desperation breeds innovation. The book goes back to the days when he started selling home-sewn t-shirts on the streets of Queens. With no funding and a $40 budget, Daymond created out-of-the-box ways to promote his products, eventually launching the brand FUBU, which grew into a $6 billion dollar global phenomenon.
In addition to Daymond's story, the book peeks behind the scenes from the set of Shark Tank and includes dozens of stories about entrepreneurs like Steve Aoki and Gigi Butler who've hustled their way to wealth.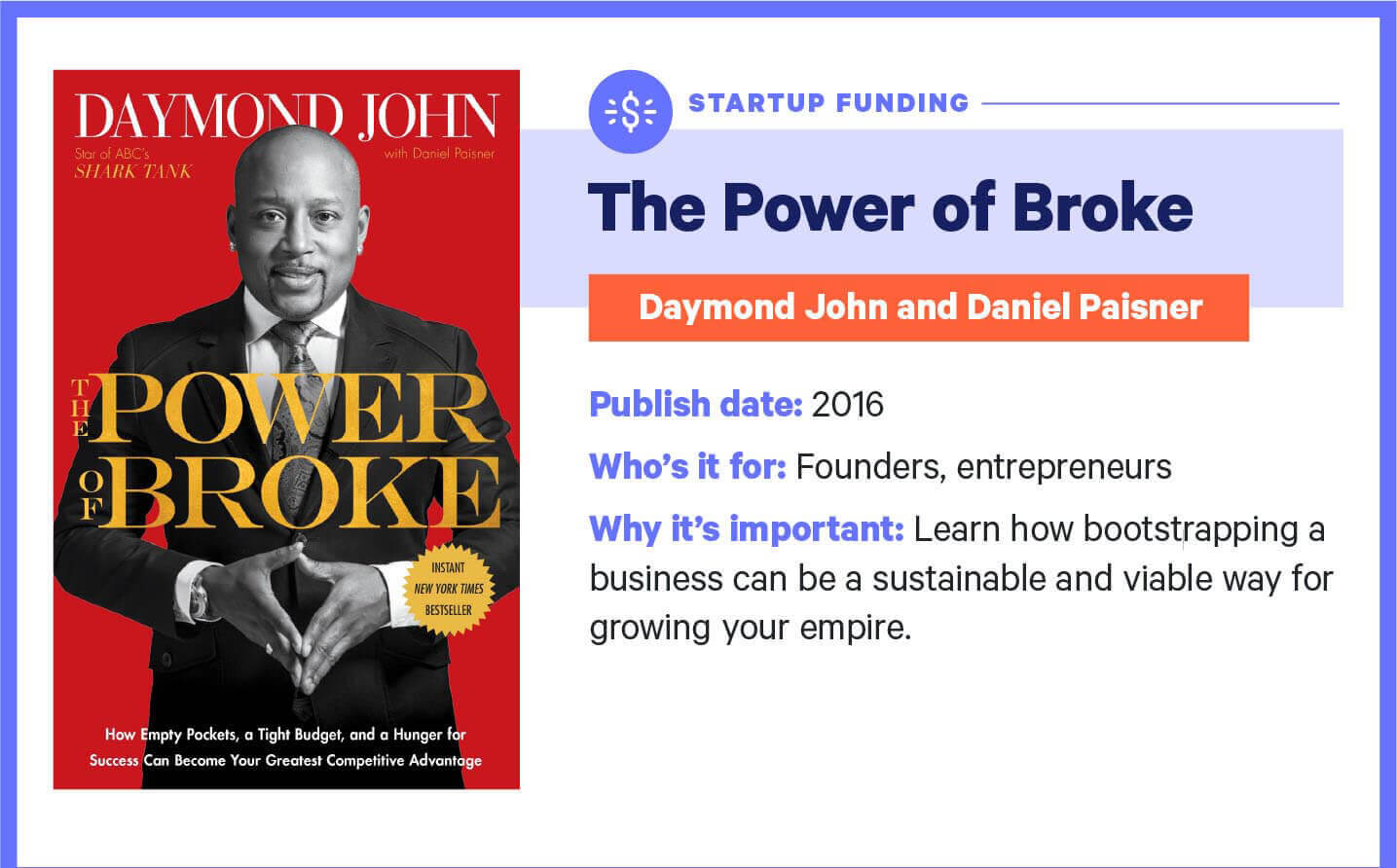 Venture Deals: Be Smarter Than Your Lawyer and Venture Capitalist
If you want to understand venture capital deal structures and strategies, start here. This book is an exhaustive and definitive guide that covers everything entrepreneurs need to know about achieving successful funding. 
Page by page, Brad Feld and Jason Mendelson demystify the complex and competitive place that is the venture capital arena, discussing all facets of the VC fundraising process. In doing so, they touch on everything from how valuations are set to what external factors venture capitalists face that impact entrepreneurs' businesses. 
They also break down the mechanics of a Term Sheet, negotiation tactics, and other standard tricks and documents that are needed in this kind of negotiation.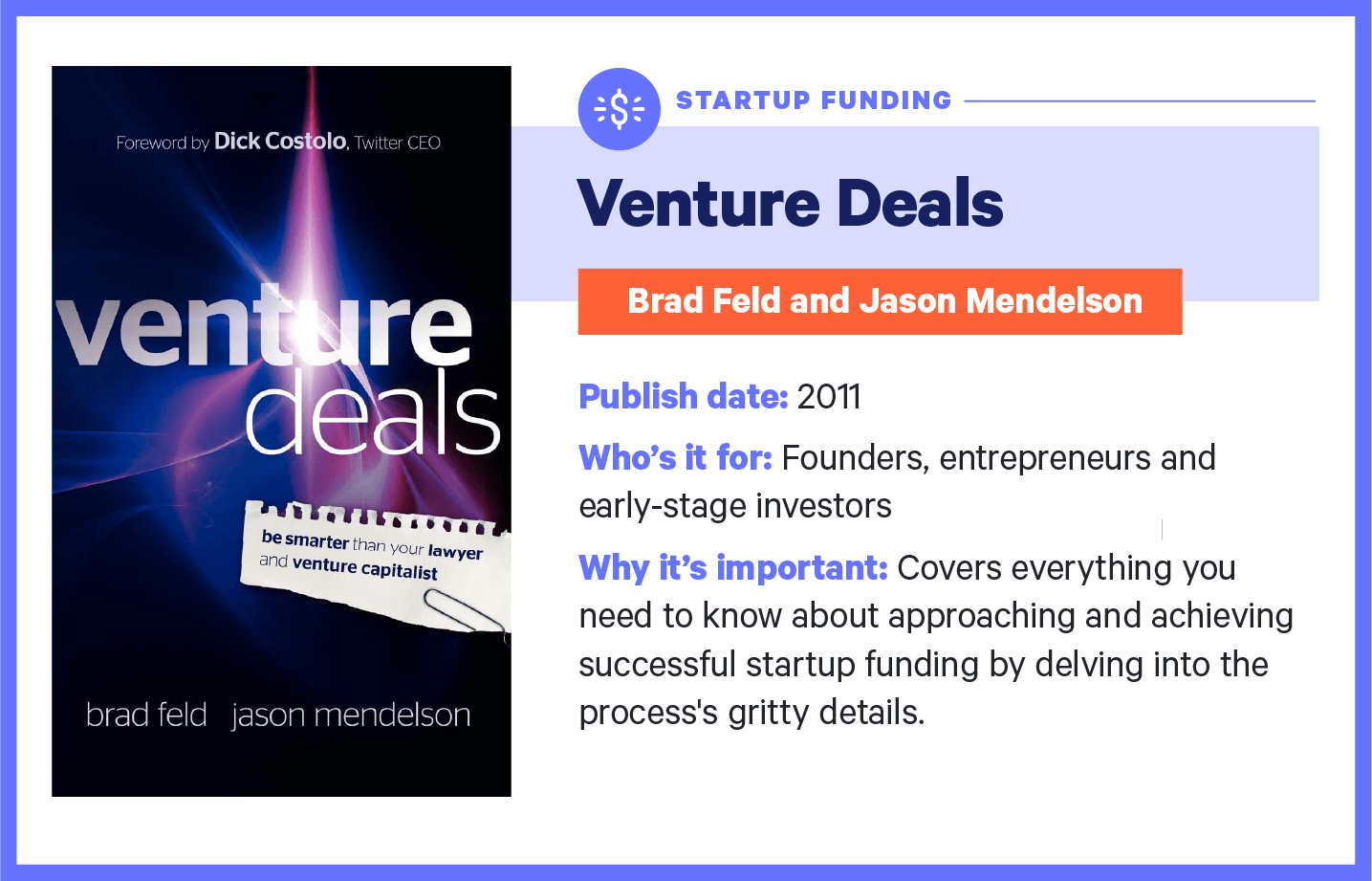 Will It Fly? How to Know if Your New Business Idea Has Wings…Before You Take the Leap
Don't know how to proceed with your business idea? Have a groundbreaking thought but not sure whether it will take off or not? Afraid to take risks with your products/services?
These common questions often plague founders. In "Will It Fly? Thomas McKnight helps entrepreneurs address these questions before they start pouring money into an idea and before they take their idea to investors. This book is essentially a checklist created by McKnight's real-life experiences and is a must take the first step for evaluating your business ideas.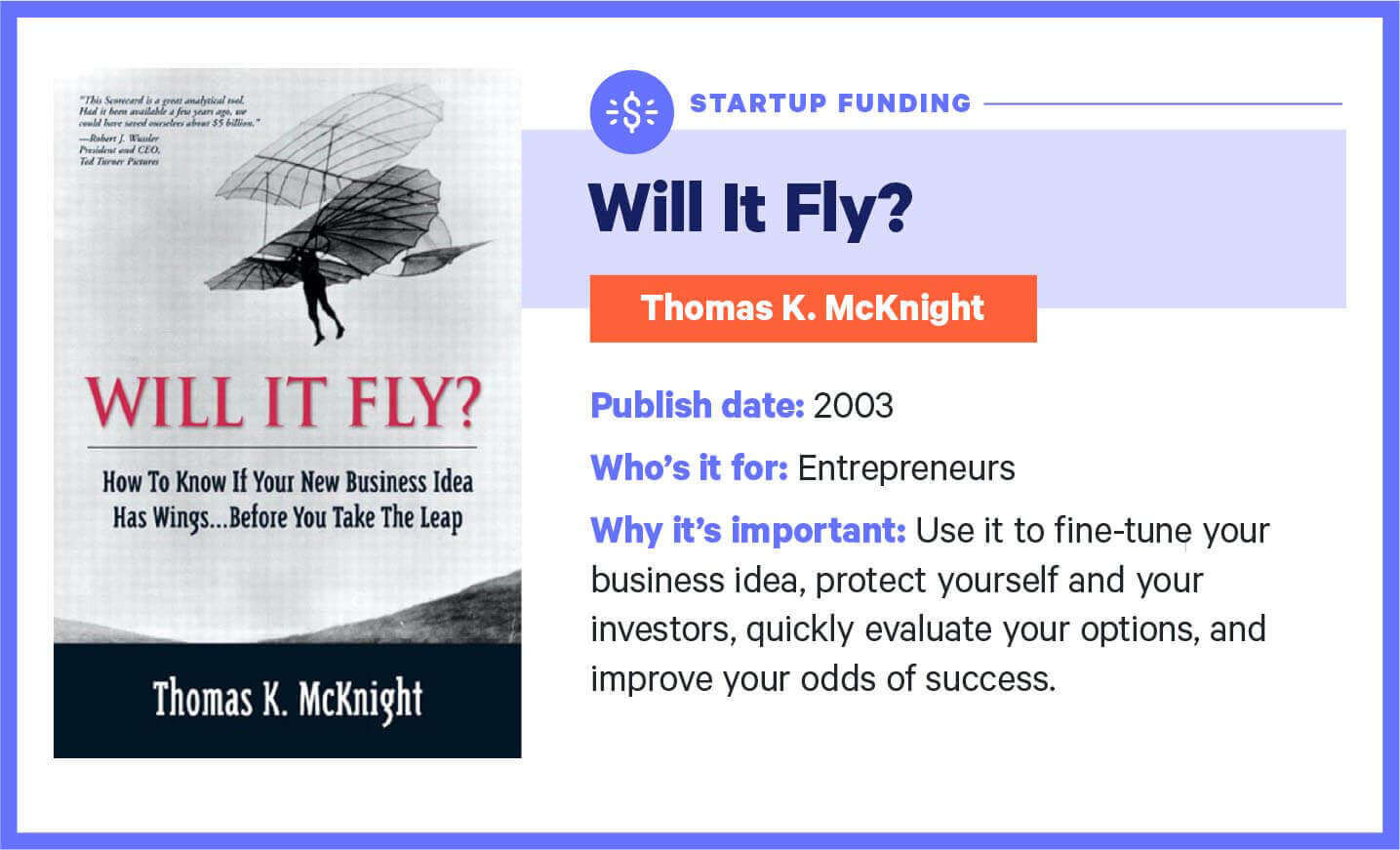 Entrepreneurship and Startup Stories
If you look at leading entrepreneurs, you'll find they didn't make their fortunes out of thin air. That said, there's no magical formula for achieving success in the startup world — the success stories of entrepreneurs and startups all look different. Perhaps where they are today can be attributed to taking the road less traveled, following smart approaches, or even working through the hard knocks of entrepreneurship.
These books cover entrepreneurship and startup stories that will help you scale your startup and learn some lessons along the way. 
Business Model Generation: A Handbook for Visionaries, Game Changers, and Challengers
Business Model Generation is geared towards helping companies devise great strategic plans for a successful future — highlighting all the factors that determine the success and failure of businesses today. Whether you're an entrepreneur launching a startup or a business owner who has hit a stagnant point in a competitive environment, this is an excellent read to identify problems and how to turn your boat in a different direction.
Authors Alexander Osterwalder and Yves Pigneur take a research-backed stance on their recommendations by referencing compiled data from businesses around the world.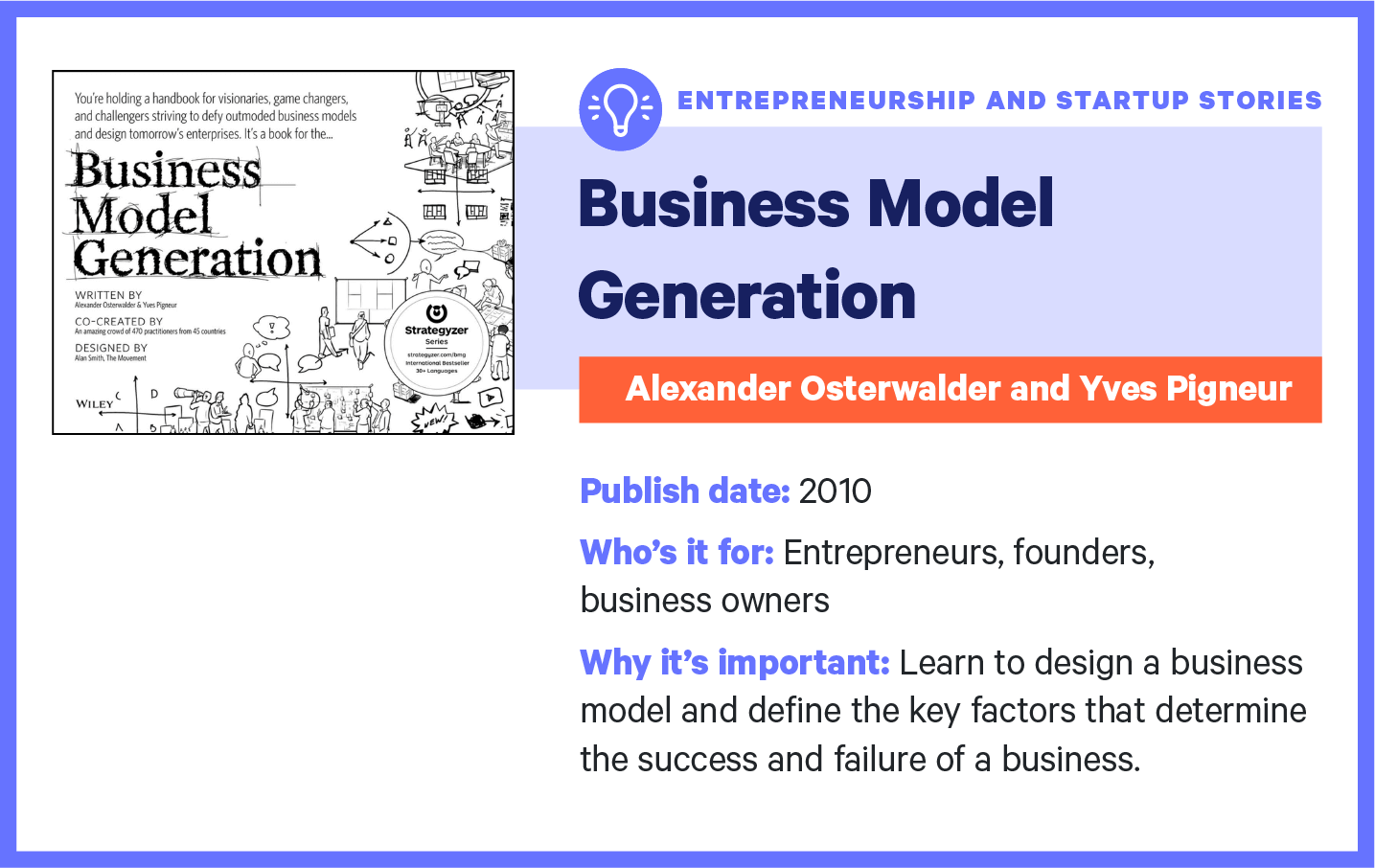 Radical Candor
Radical Candor finds the sweet spot between bosses and managers who are obnoxiously aggressive and overly empathetic in their feedback delivery. In a nutshell, this book is a tool for great bosses to have great relationships with their employees. 
Author, Kim Scott takes years of personal experience from Google and Apple and distills them into actionable lessons for the reader. It shows managers how to be successful while retaining their humanity, finding meaning in their jobs, and creating an environment where people both love their work and their colleagues.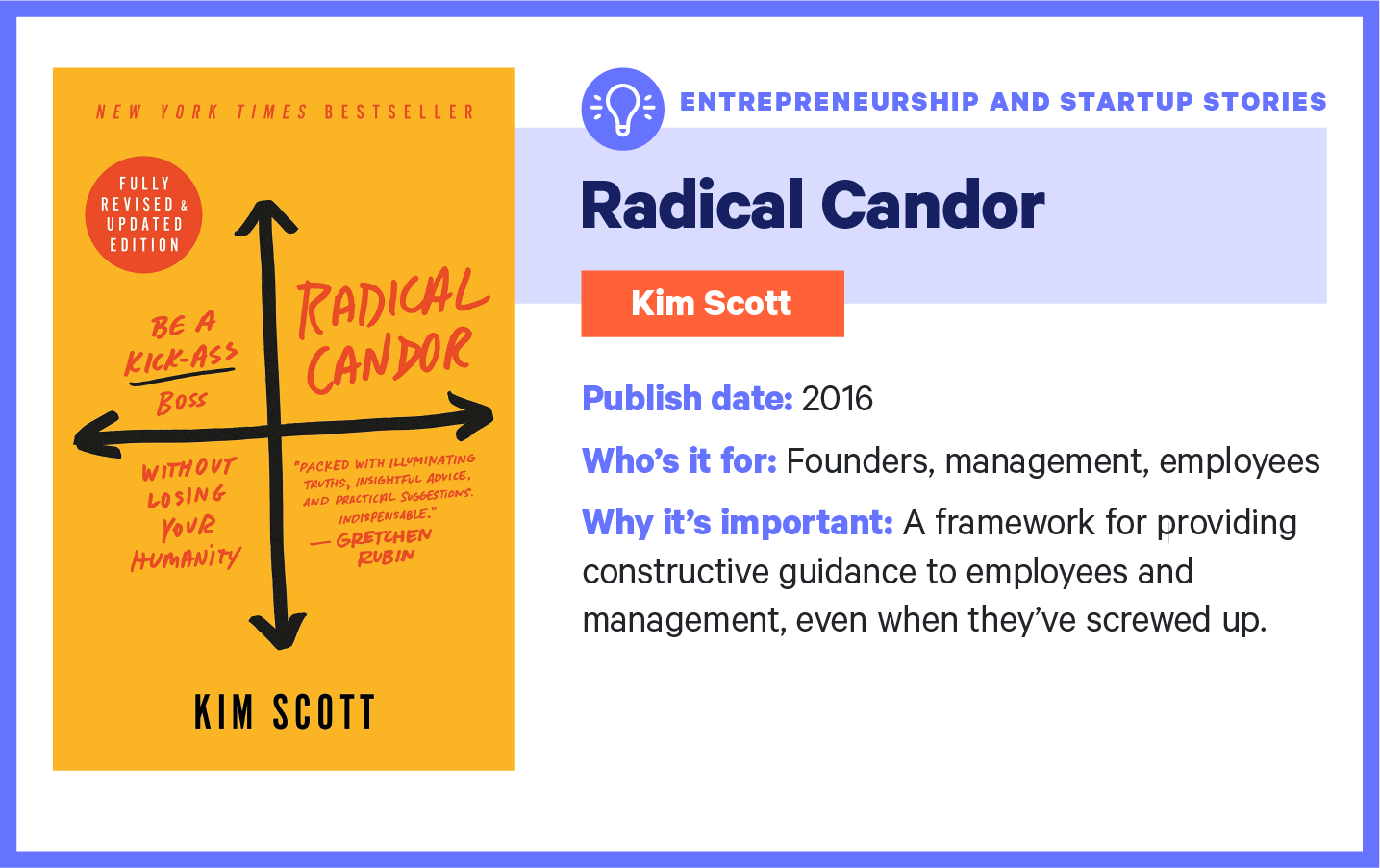 Rework
Rework challenges business standards that we read about and repeat just because someone else applied them. Instead of highlighting traditional advice like writing a business plan, studying the competition, seeking investors, etc., Jason Fried and David Heinemeier Hansson outline why these cookie-cutter plans can actually harm your startup. 
Essentially, it's the perfect playbook to learn how to be more productive and how to get exposure without breaking the bank. Not to mention, it includes a wealth of counterintuitive ideas that will inspire and provoke you — with the premise that business is not a one-size-fits-all approach.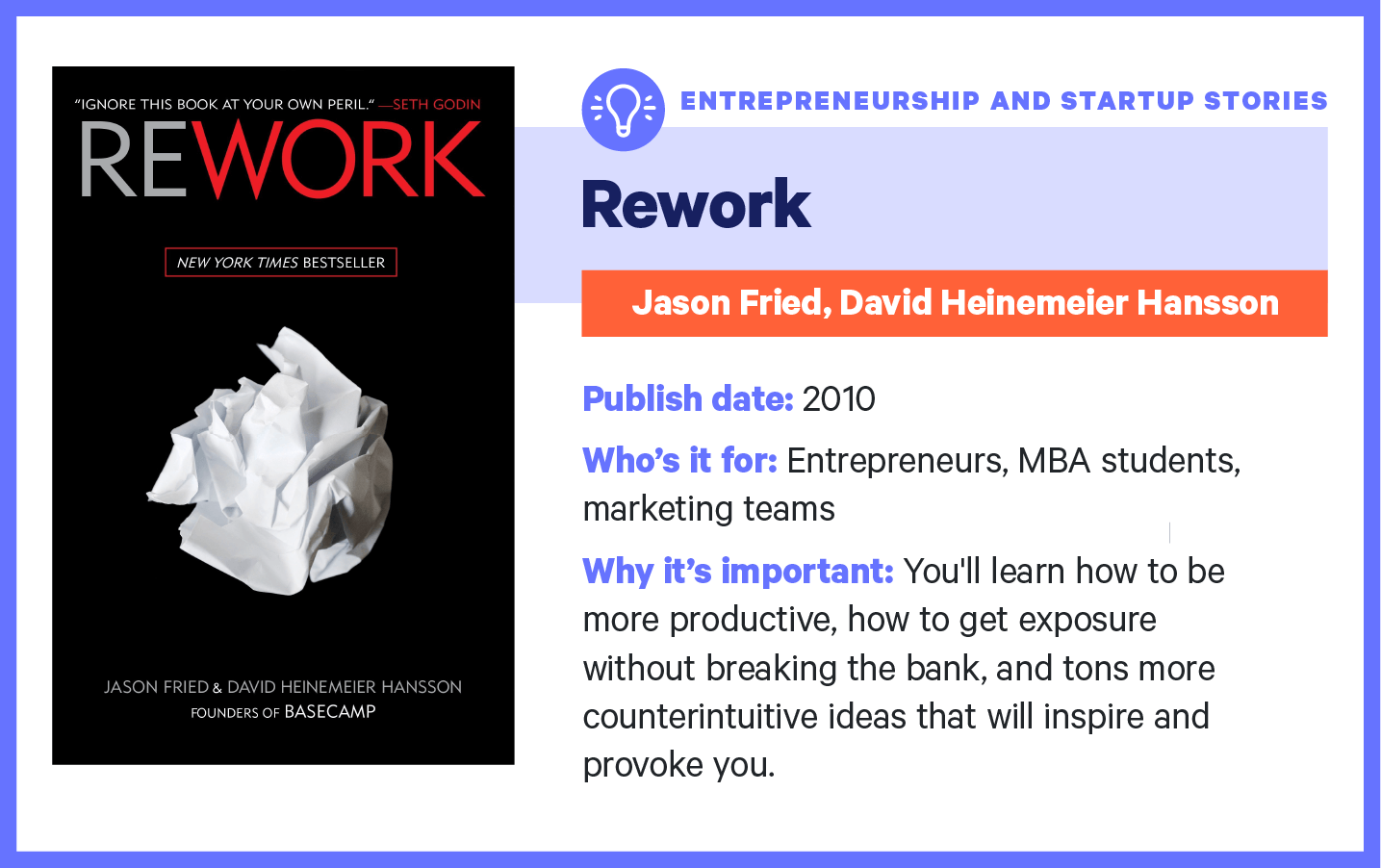 Startupland
Startupland is Mikkel Svane and Carlye Adler's unconventional story of founding Zendesk in a Copenhagen loft, how they left secure jobs to start something of their own, and the company's journey to launching on the NYSE. It's a relatable story of risking it all and going for broke. 
While Startupland skips over some of the later-stage in-the-trenches details that would be helpful for founders, it removes a lot of the myths around startups. Most importantly, Svane shares why a seemingly boring product or idea can be the most exciting, why giving back to the community is as important as the bottom line, and how to hire the right team.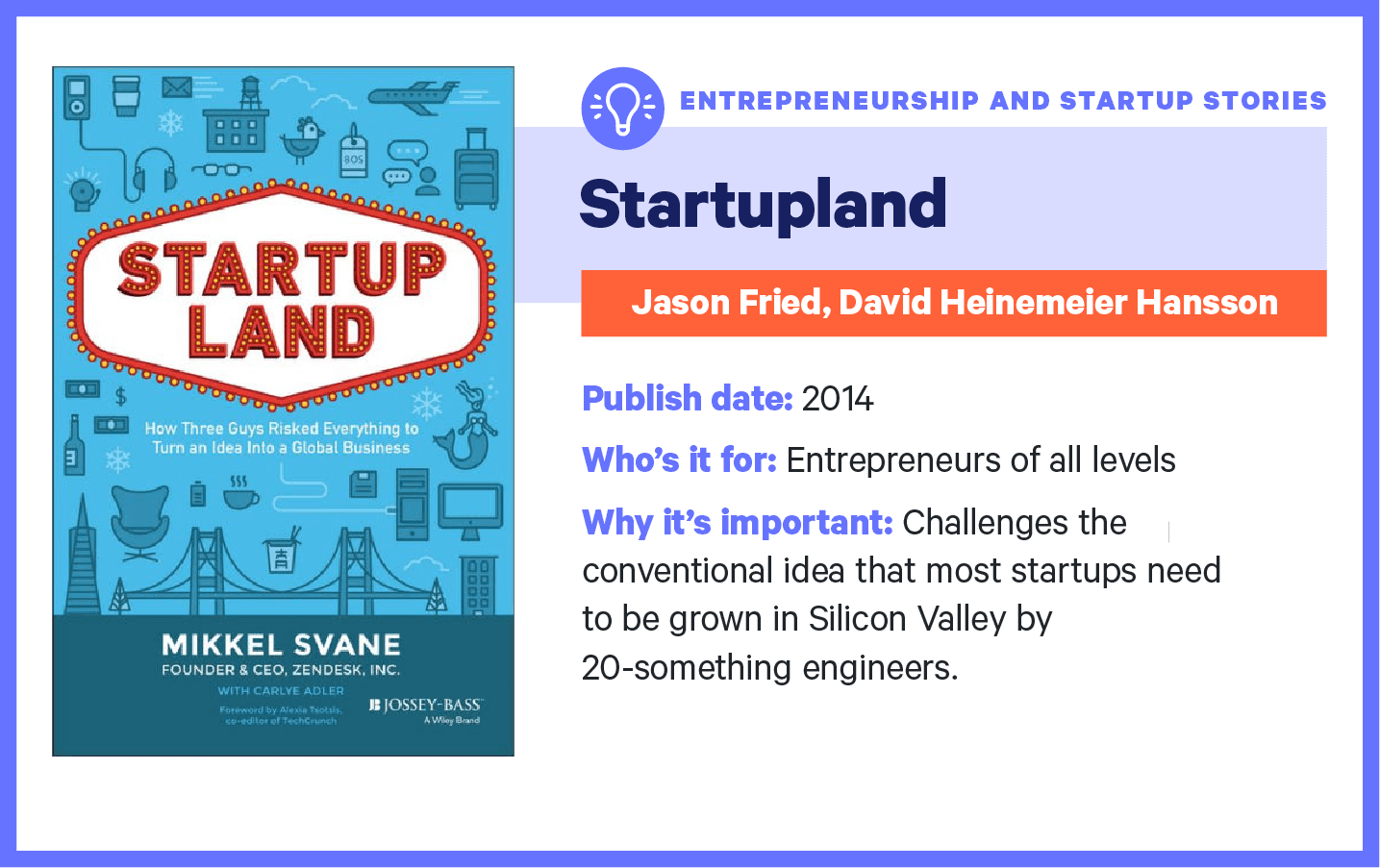 The Checklist Manifesto: How to Get Things Right
In a world of great and increasing complexity, even the most expert entrepreneurs struggle to master the tasks they face, no matter how much they strive to be better. Atul Gawande makes a compelling argument stating that we can do better using the simplest methods and skillsets.
He does so through analogies, inspirational stories, and thought-provoking incidences in his book, ultimately creating a checklist that can help entrepreneurs and business owners improve. At its core, The Checklist Manifesto is an impactful way to change your mindset, life, and field of work.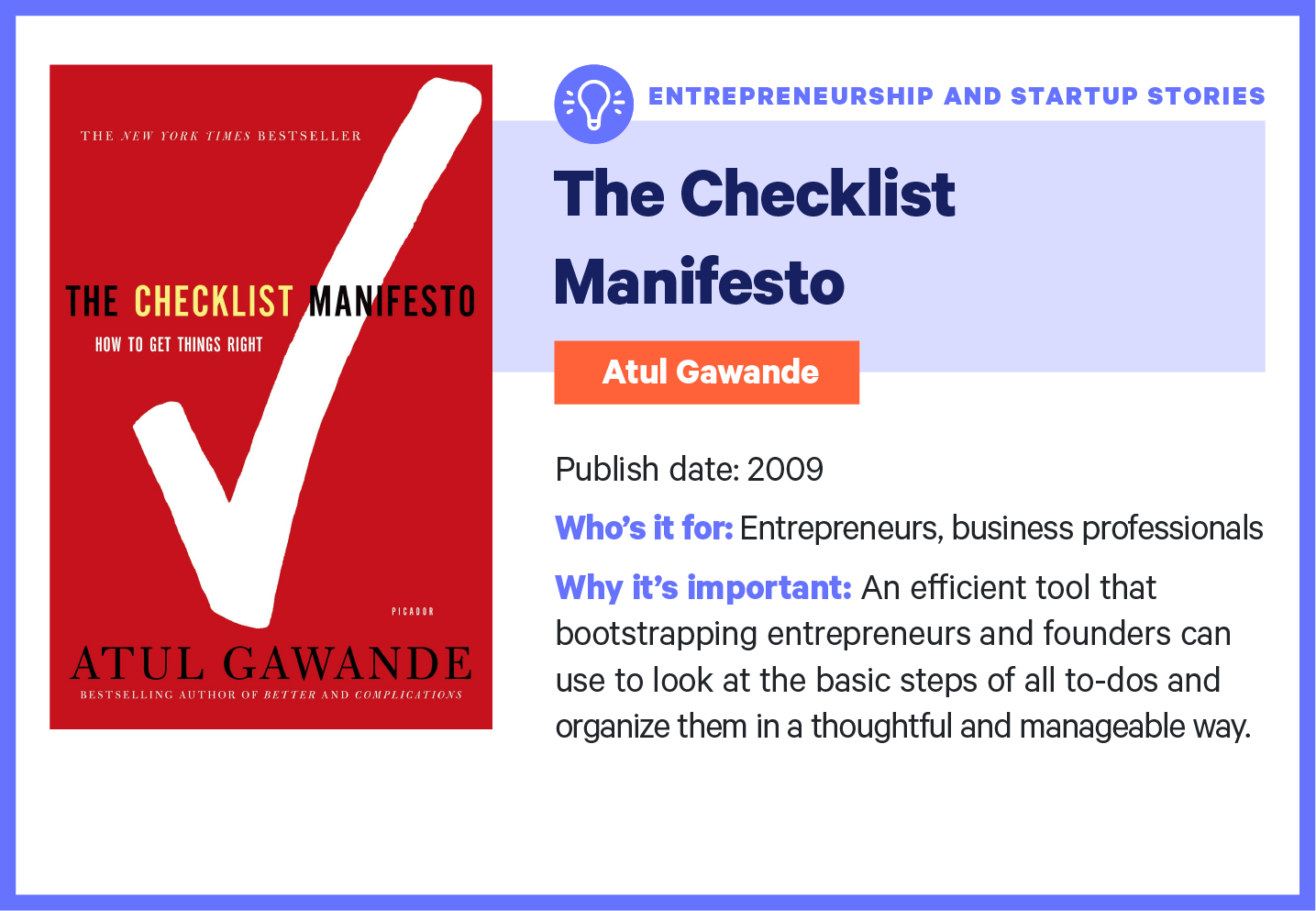 The Hard Thing About Hard Things
The Hard Thing About Hard Things goes beyond the excitement of launching a startup. In fact, it addresses the brutal truth about how hard it is to actually run one. Author Ben Horowitz tackles the real problems and challenges entrepreneurs face, from startup and personal hardships to moral dilemmas. 
For example, Horowitz spends an entire chapter discussing how to lay off employees; another chapter addresses when it's okay to poach from a friend's company. He also dives into the how-tos of minimizing office politics, how to establish titles and measure performance, and how to train employees and tell a good product manager from a bad product manager.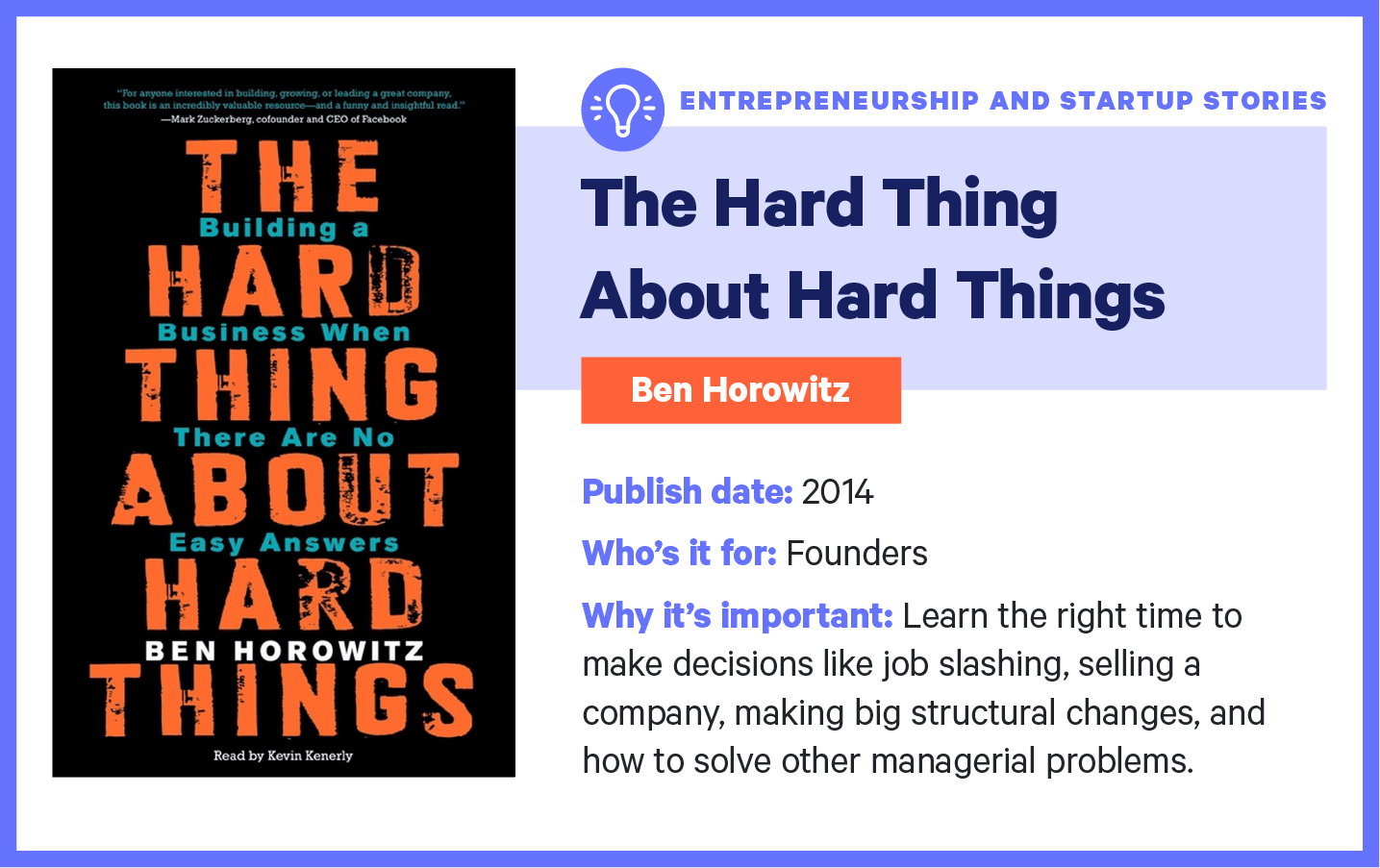 The Third Wave
Written by AOL co-founder Steve Case, The Third Wave is essentially a road map for how anyone can succeed in a world of rapidly changing technology.
In this part memoir, part manifesto, part playbook for the future, Case goes behind the scenes of some of the most consequential and riveting business decisions of our time while offering illuminating insights from decades of working as an entrepreneur, investor, philanthropist, and advocate for sensible bipartisan policies. 
In doing so, he predicts that we're at the dawn of the next technological revolution — the Third Wave of the internet — that will transform the business economy and the way we live our lives.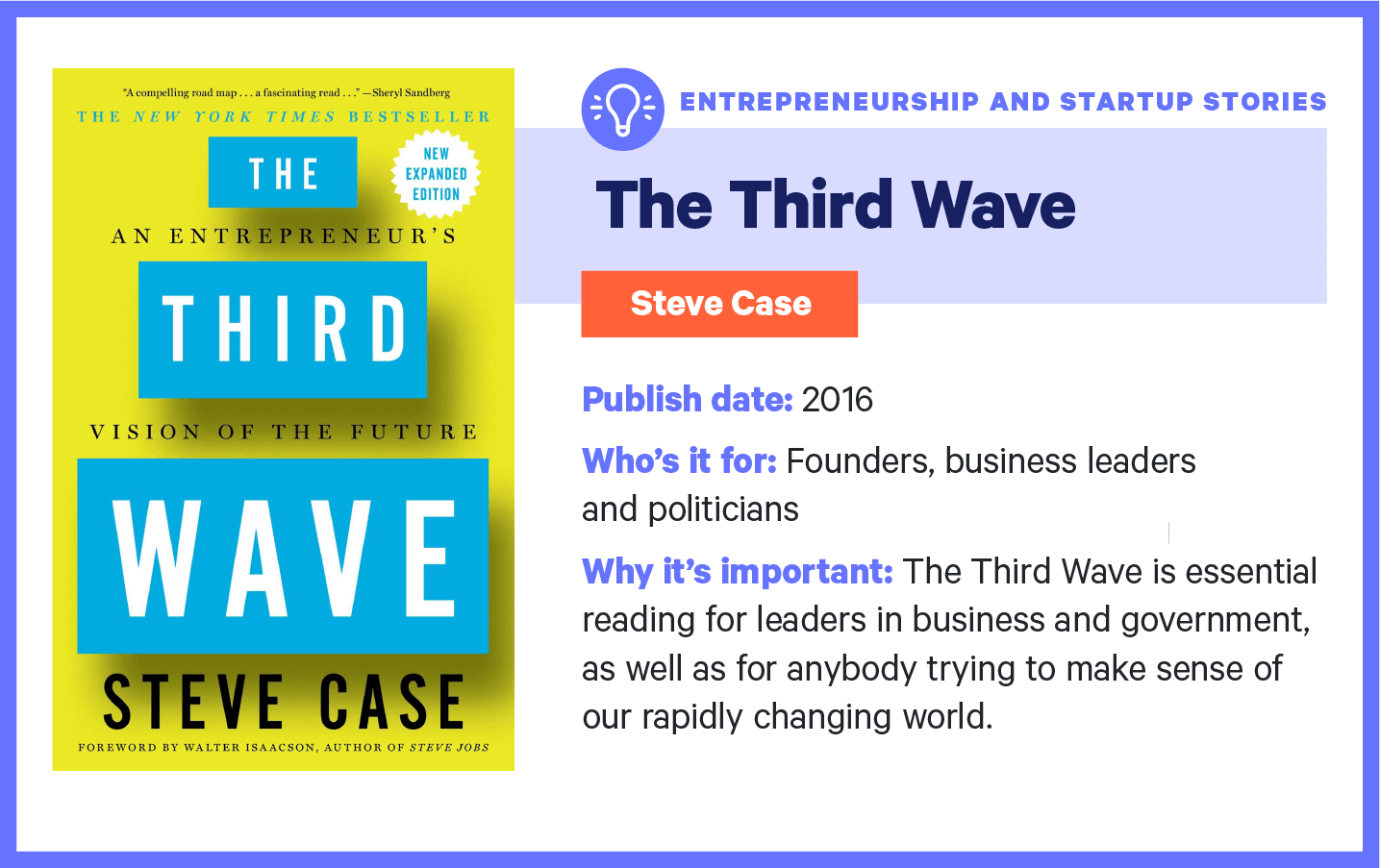 As you're aware, there are many things to consider when it comes to scaling your startup. 
While these books are great resources to utilize along the way, they're by no means comprehensive.
As you grow, you'll need to consider things like directors and officers insurance to make sure the assets of your board of directors are protected. For more information on the right insurance policy for your startup and ways to stay up to date on trends in the VC ecosystem, check out Embroker's insurance for startups program.
Startup Insurance Calculator
Find out how much your startup can expect to pay for key insurance coverages.
Related Articles
8 min read
If you're a startup founder that's looking for advice and inspiration on how to build your team and product, here are 13 lessons from iconic startup leaders to point you in the right direction.
Read More
6 min read
If you're looking to build a startup or just interested in diving into the numbers, check out these informative statistics on success, failure, funding, and more before getting started.
Read More