Are you dealing with startup meetings, meetings, and more meetings? From sales and investor updates to product development and planning, while some meetings can be valuable, how many distract your team, waste time, and cost money? In 2019, the cost of poorly planned or unproductive meetings was $399 billion in the U.S.
Plus, with the shift to virtual meetings, more than half of employees report doing something other than work during a meeting. This includes texting, snacking, surfing the web, or even household chores.
Below, we break down helpful steps to take control of your meeting schedule and shift the core elements to make every meeting matter. Because every minute you sit on a Zoom call is another minute wasted that could've been used thinking up your next big project.
How Meetings Can Waste Your Time
MIT Sloan Management research suggests that meetings have increased in length and frequency, to the point where executives spend an average of nearly 23 hours a week in meetings, up from less than 10 hours in the 1960s. It also reports the average employee spends about six hours per week in scheduled meetings.
HBR surveyed over 180 people in senior management positions across several industries and found more than 70% think meetings are simply "unproductive and inefficient," 64% say they fail to have time for "deep thinking," and over 60% say there are missed opportunities to bring the team together.
What about the typical employee? We perused the Internet for the most common annoyances that employees report. Below are some typical scenarios we can all relate to that ultimately waste everyone's time.
Frequent interruptions: One team member tends to interject every chance that they get or ask redundant questions.
Meeting runs over time: As the meeting is about to end, someone asks a long-winded question.
Technical difficulties: When an attendee doesn't know how to use the platform or there's sound feedback, delayed video, or background noise.
Meeting that should have been an email: There is a lack of direction or focus for the meeting discussion.
Lack of preparation: The presenter or meeting owner isn't fully prepared and stumbles through their points.
No ownership on action items: A solution is brought up in the meeting but no one takes ownership to follow through on executing that idea.
Beyond common annoyances, let's review the typical startup meetings that may not just waste your time, but cost your bottom line.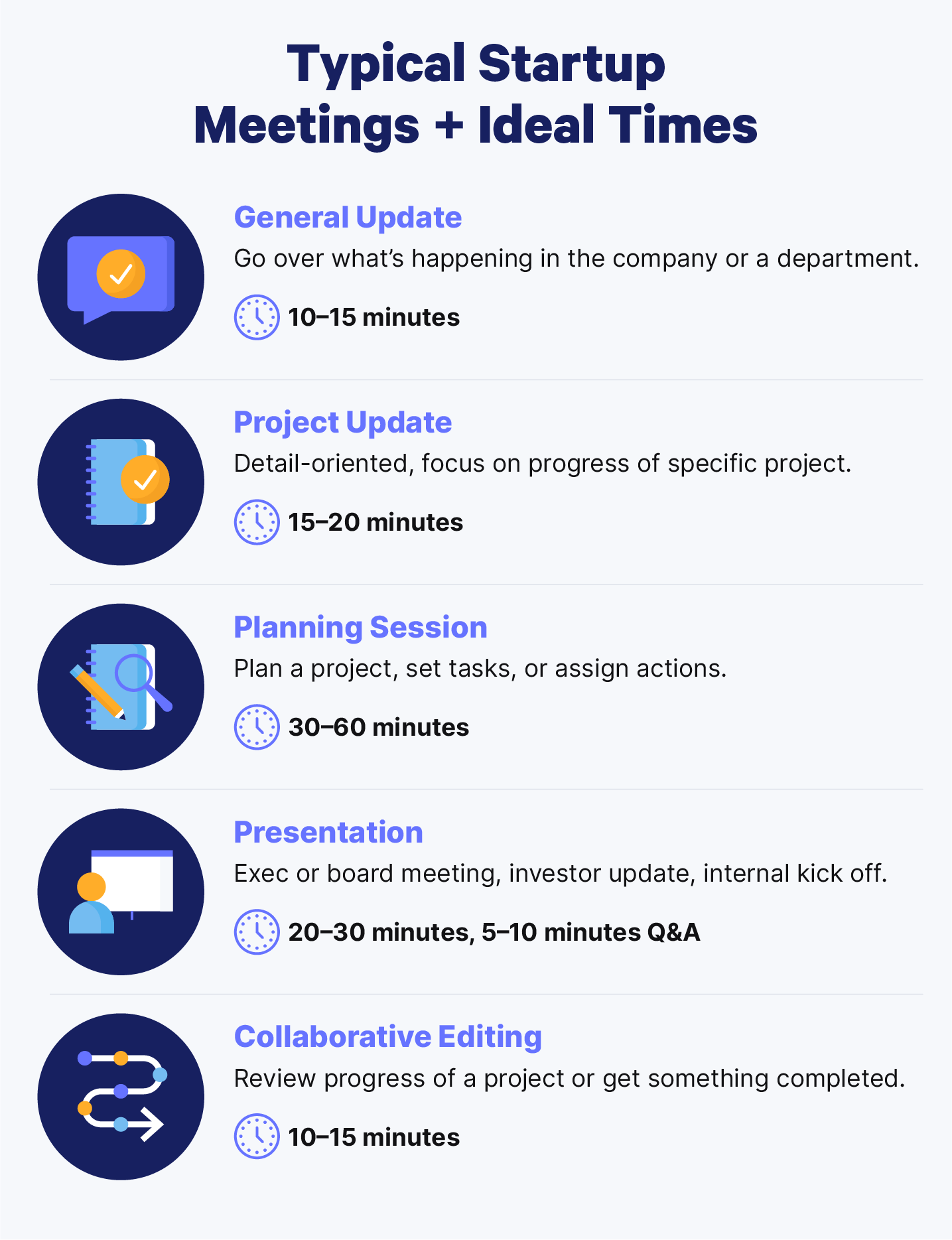 How to Make Your Meetings Matter
Everyone gets annoyed with inefficient meetings, especially if you're in the meeting and don't need to be. The opportunity cost of taking people away for better uses of their time involves a few simple steps. With the shift to virtual — and new pressures on finances, resources, and bandwidth — making meetings matter is not only beneficial but non-negotiable for startup growth.
1. Assess Your Current Meeting Schedule
To improve upon your current meetings, you should first understand what meetings are on the schedule and how they are currently run. From there, you can find or evaluate gaps and what's missing. Why aren't your current meetings productive, and how can you get there?
Make a chart that includes the name of the meeting, when it happens (daily, weekly, monthly, quarterly, or yearly), the duration, and who attends (product team, sales team, senior management, all team members). The chart will act as a starting point to ask further questions and focus or cut back meetings where they aren't needed.
2. Clarify Core Elements of Each Meeting
Typically, there are meeting elements that you can break down to confirm if that meeting is really necessary. These include the number of meetings, frequency, duration, and who's involved.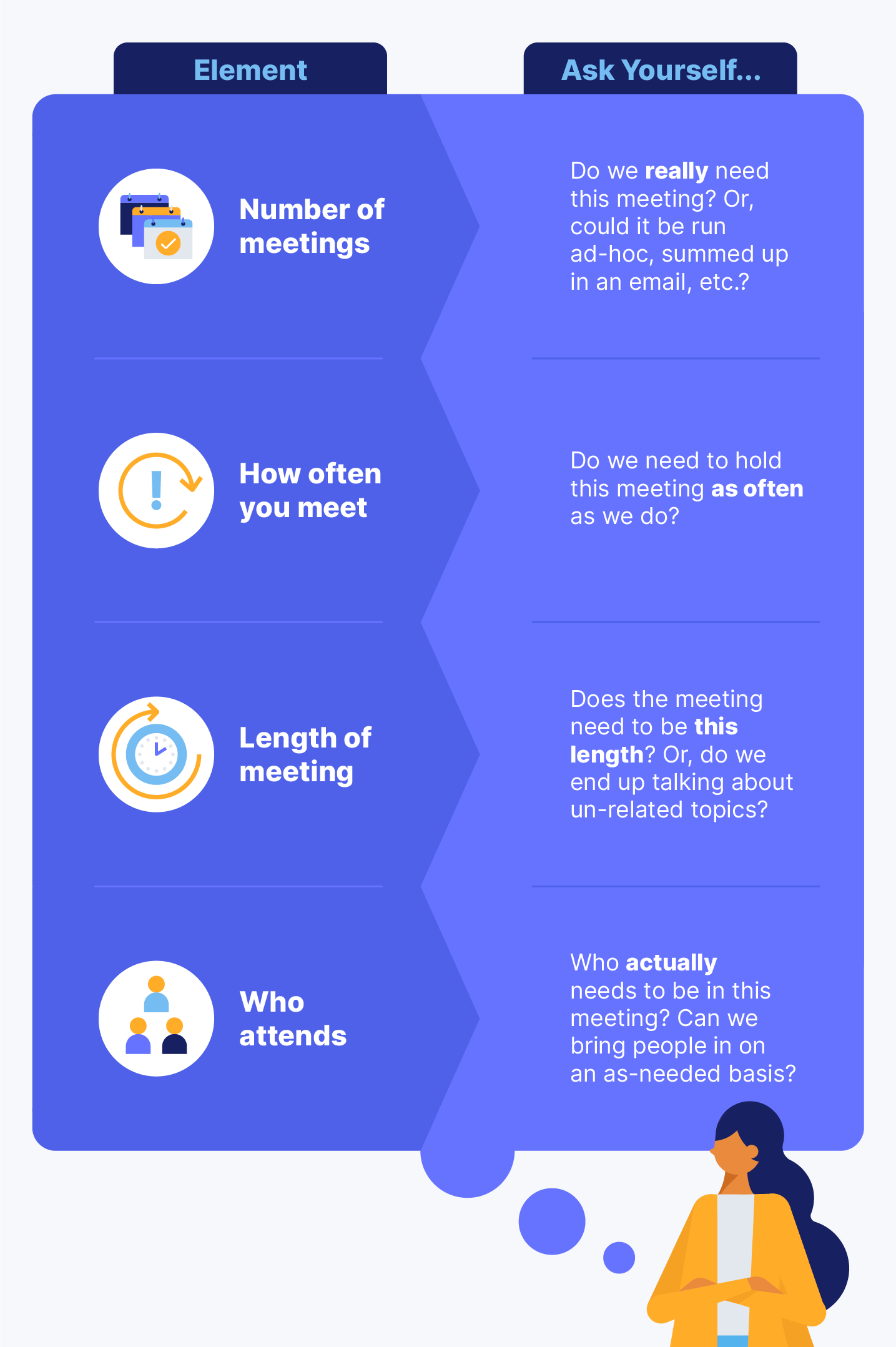 3. Set a Meeting Owner
Every meeting should have an owner or leader, someone who is responsible for sending out the meeting agenda, keeping the meeting on track, and ensuring that people attend.
4. Set Pre-Meeting Requirements
Having a meeting owner is not just key for ensuring things run smoothly, but for preparing the team or attendees. The owner is responsible for sending out preparatory materials or pre-reading documents ahead of time. This way, the team doesn't have to waste valuable meeting time getting people up to speed. The materials should go hand in hand with the agenda items. This could be anything from financial numbers, data, contracts, or new process documents. Questions should be saved and addressed at the end.
5. Document the What, Why, Who, and How
For regular and recurring meetings, analyze their purpose. Who should participate? How should the meeting look? By assessing these three aspects, you can work towards creating more effective and efficient meetings. Put together a document that outlines each of these elements for all regular meetings.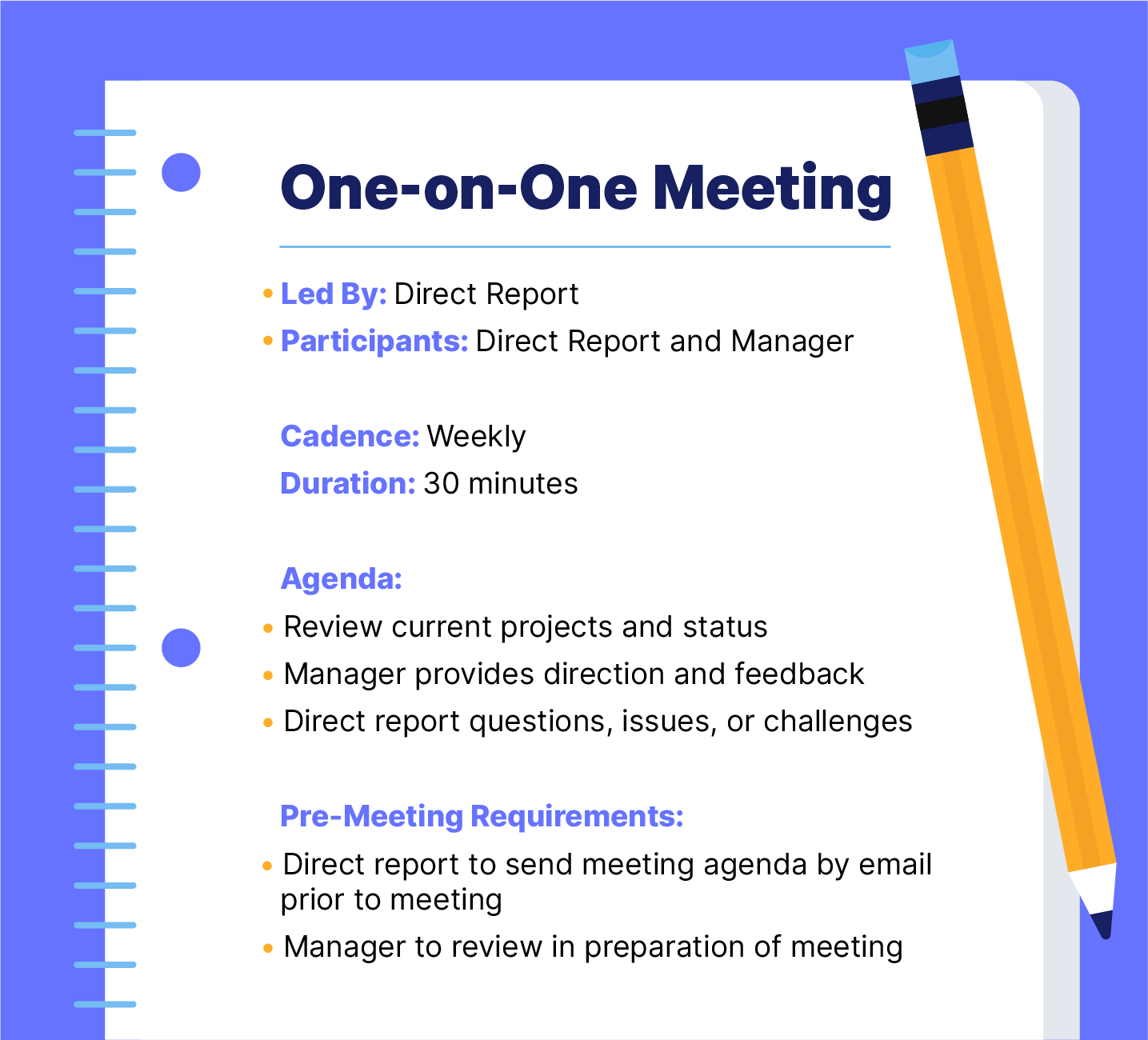 6. Run the Meeting to an Agenda
While a natural conversation is great, a pre-set agenda will help ensure your meeting stays on track. This is key for an effective and efficient meeting. It should include topics of discussion and help increase participation since everyone will know what to expect ahead of time.
7. Keep Meetings Short and Sweet
Short and focused meetings will help keep the discussion on track, ensure that attention spans aren't lost, and prevent wasted time or business expenses. Ask how much time is actually needed to discuss the topic at hand. This can help avoid discussions that may veer off course. Encourage a separate meeting be organized for other topics.
8. Document and Follow Up With Action Items
The purpose of a meeting should be to get stuff done, align perspectives, or get clarity on an item. Document time-bound commitment that comes out of a meeting, and follows up with these items, including who is responsible for each action item. Next steps are crucial to ensure progress is made and the meeting owner can always check in a week later via email on action items.
Analyzing Insurance Costs for Startups
Embroker Vertical Insurance Index
How much are you paying for your insurance? Are you purchasing the right policies? Find out what founders are doing, and the trends that you may not have seen.
Advice from Startups That Have Pivoted Their Meetings
There's no doubt that data can give a business founder valuable insights, but there's nothing quite like tangible advice from other founders who've learned from their mistakes. We asked company leaders, directors, and executives to gather insights and advice on how they've successfully pivoted unsuccessful meetings and what they've learned to make the most of your time.
Example 1: Send an Agenda 48 Hours in Advance
Copper H2O is an all-female run e-commerce social enterprise in the health and wellness space. CEO, Jessica Rose, offers her advice on how to make meetings count: "In our experience, the best way to run more efficient and effective meetings is to ensure that the agenda for the meeting is sent at least 48 hours in advance of the meeting and that your staff knows they are expected to think about the agenda topics in advance and ensure that they are well prepared for the meeting. This approach can have the additional benefit of helping more reserved members of your team voice their opinions."

Example 2: Set a Regular Meeting Cadence and Max Wait Policy
Daivat Dholakia, the Director of Product at Force by Mojio, says "We have a max two-minute wait policy which ensures that we kick off the meeting two minutes after the start of the meeting time even if we do not have everyone joined on the Zoom call. Last but not the least, it is also implied that in every call the first time anyone runs into an issue with their network while they are on the Zoom call, they immediately dial in using their phone so that we do not have to pause the meeting while they try to resolve their network issues."
Force by Mojio also set a regular meeting cadence that includes: 1) Project status meeting (weekly); 2) Customer acquisition and growth meeting (bi-weekly); 3) Engineering Meeting (weekly); and 4) Product support meeting (bi-weekly). Each meeting has its own unique set of objectives, purpose, and core people who attend.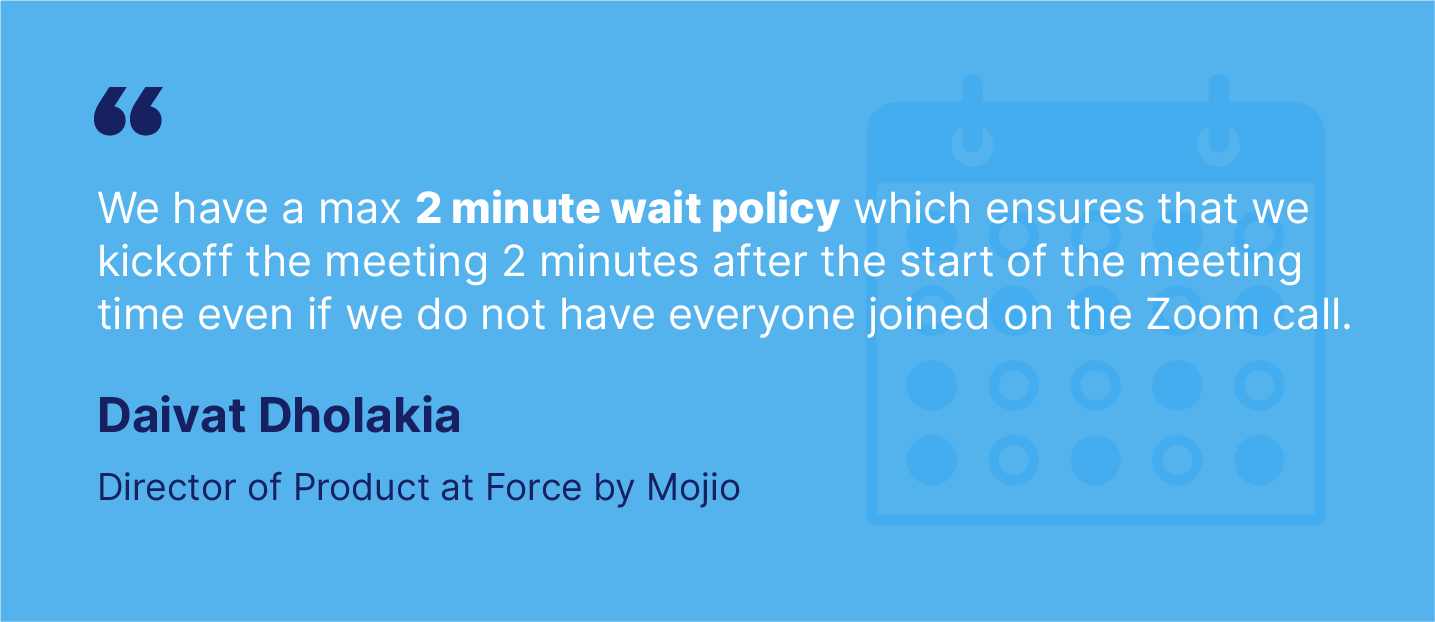 Example 3: Find a Meeting System or Method
Hook Agency uses a system to implement meeting efficiency. "We follow the EOS — Entrepreneurial Operating System. We have one all-team meeting every Monday morning and we spend only an hour on it to make sure it is efficient and productive. This helps us to not waste time in unimportant meetings and agendas."
The EOS system, helpful for companies led by entrepreneurs, focuses on six components: vision, people, data, issues, process, and traction. The framework follows a specific meeting agenda that revolves around solving problems and prioritizing issues.
Example 4: Distribute Meeting Materials or Financials in Advance
Rebecca Page is a patterning business with an all-female board and a remote-based team of over 30 across 11 countries. One of the female founders, Janine Manning, offers her valuable input on meetings, "I've found that board meetings often follow a traditional agenda, which focuses on past performance, compliance, and risk. Startups need the board meeting to be structured in a different way to maximize the value that the board can contribute in the time allocated… We have found that this structure is efficient and effective to address the issues founders face in a startup environment."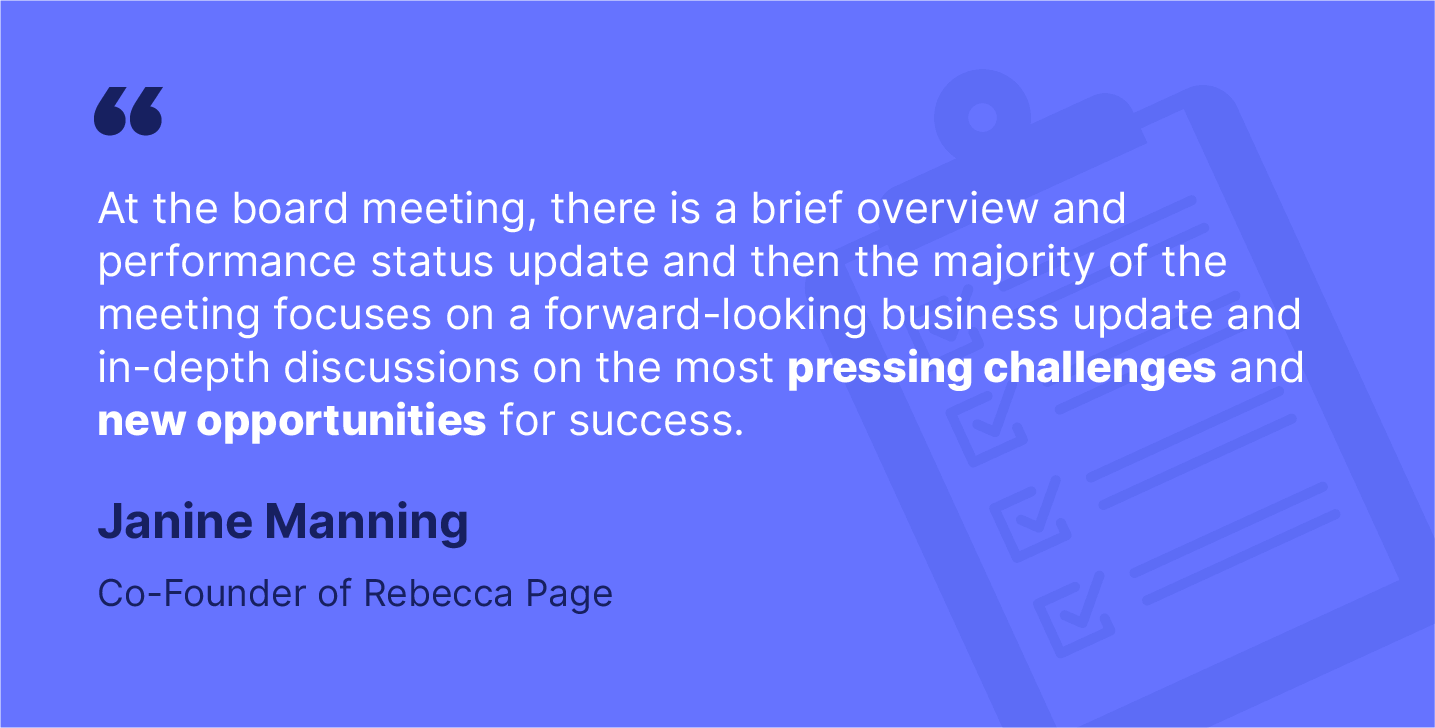 Example 5: Be Agile Based on Your Team Size and Needs
Tarah Darge, Head of Marketing at SaaS startup timetoreply, explains: "We have a monthly board meeting in which we report on progress and growth to the board members. I've found that these meetings require a lot of prep time, and often, a board member will get stuck on one point, so it can be a bit of a time-waster. Now, we are trying to remedy that by asking for all questions around the board pack to be submitted a few days before the meeting. We're then able to cover these questions instead of being blindsided by them."
In terms of tracking, "We've tried a variety of tools (Trello, Weekdone, etc.) but overall, we find that a large shared excel sheet with different tabs for departments and projects works the best and is the easiest to update. I'd say, keep the meetings in the morning, make it clear as to what everyone needs to do to prepare for each meeting, and after, immediately share any actions and follow-ups that need to take place."

Example 6: Take a Step Back to Evaluate What's Not Working
Allan Borch, the founder of DotcomDollar, offers advice based on what he's learned and how the company shifted their meetings to make them work. "Back in this startup's early stages (post-launch), our meetings were highly ineffective. It didn't have a format so we'd just talk about everything, even things that weren't necessarily company-related. After sitting there for two to three hours and feeling like we didn't really accomplish anything, I decided to implement changes. Bottom line: Setting (and sticking) to a time schedule and having an agenda beforehand are the simplest yet most effective ways to conduct effective meetings."
Now, their team holds meetings "once a week for an hour tops" after assessing that this was all the team needed to get on the same page. Allan also suggests leaving quick questions, updates, or follow-ups for the group chat.

Example 7: Keep Cross-Departmental Engagement High
Emily Perry from QuillBot, an AI writing platform and EdTech startup, says their team uses meetings to "not only to keep updated on progress and product roadmaps but also to keep cross-departmental engagement high, which we feel is especially important always."
She suggests keeping flexibility and options open. "Meeting-wise, we hold daily standups, where group/project leaders and those with roadblocks or exciting news can share and get feedback. This is how we stay on the same page, but we don't require all employees to always attend because our startup culture respects employee time autonomy wherever possible."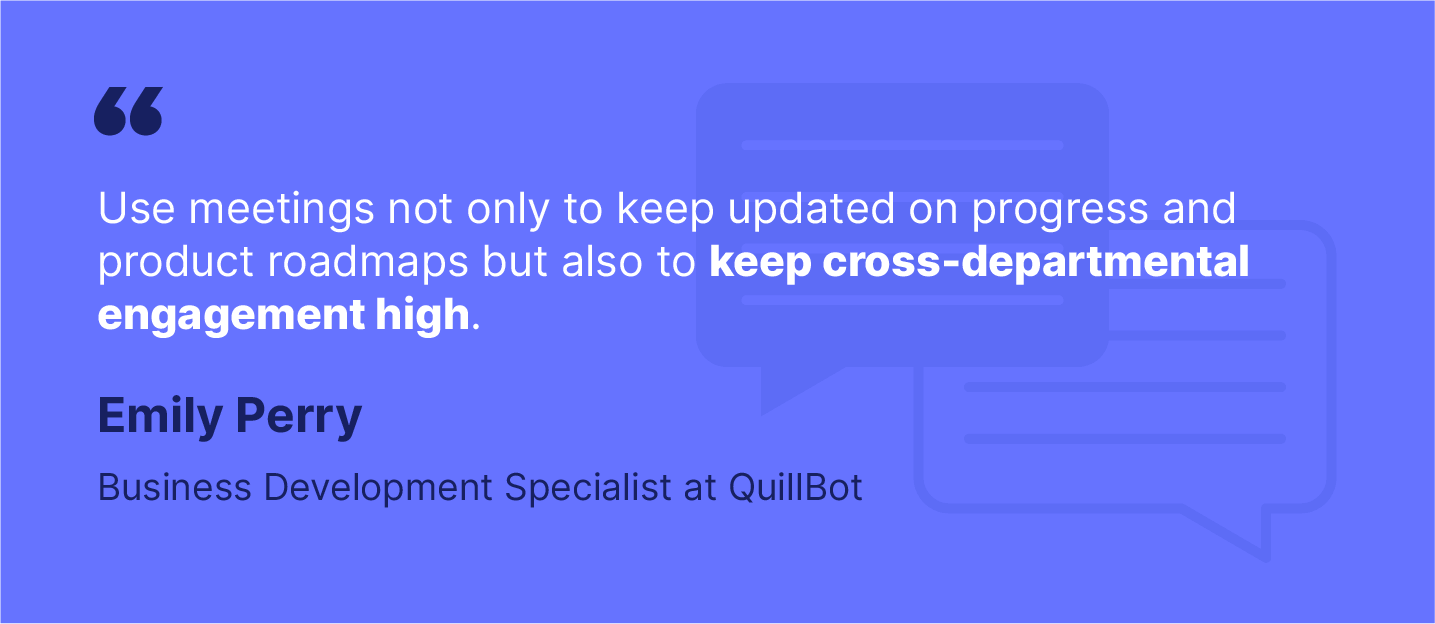 Example 8: Set a Time Limit and Keep Meetings Under an Hour
Matt Stormoen of Mobibi, a marketing technology platform, says his team's goal is to keep all meetings to less than an hour. He suggests implementing six key tips, "1) Set meetings only when absolutely necessary; 2) Establish the kinds of meetings you are allowed to have (in our case, update and process meetings); 3) Set a time limit for your meetings, preferably less than an hour; 4) Set an agenda for the meeting, as this helps with the time limit as well; 5) Schedule meetings ahead of time, so that involved members can prepare; 6) Pick a venue or channel that works for everyone, to ensure punctuality and complete attendance."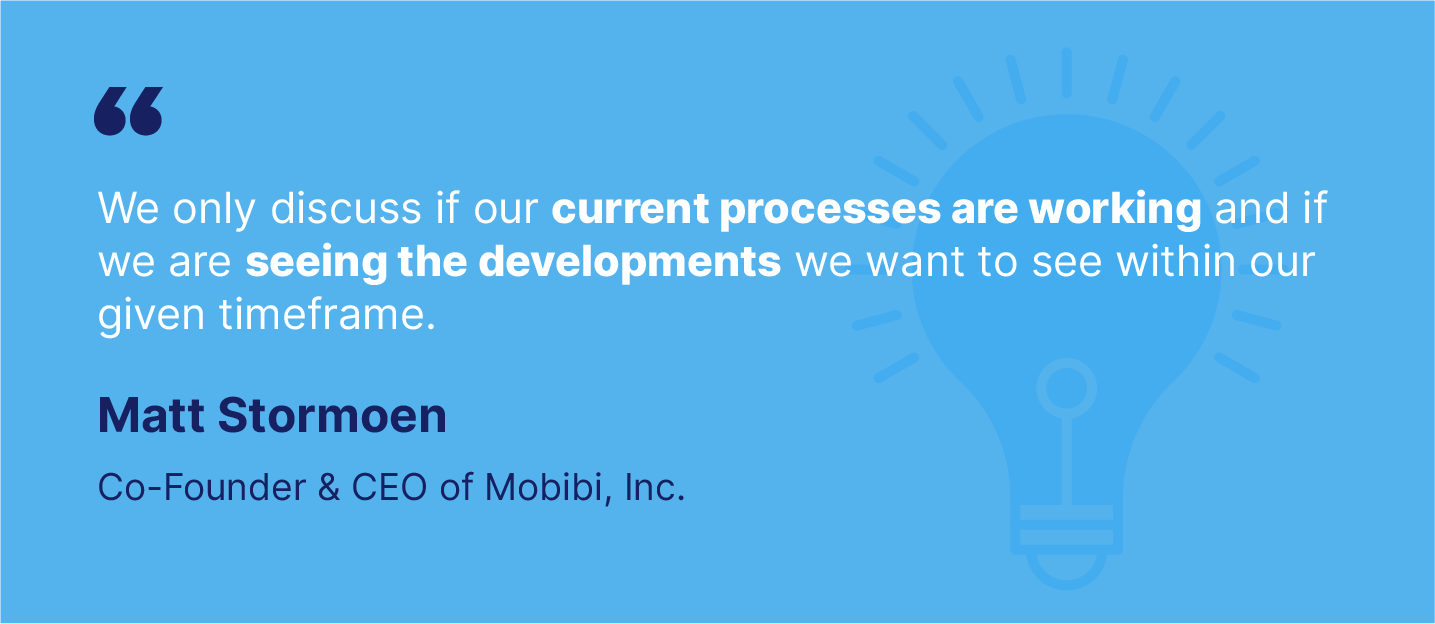 Use these steps and inspiration from other leaders to reframe your meetings and contribute to the growth of your startup. Watch your productivity and your team's communication flourish by cutting out unnecessary, wasted time blocks throughout the week.
Related Articles
11 min read
While it's certainly hard to build something new without the resources to do so, "spending money to make it" only works if you're spending on the right things.
Read More
15 min read
Ethical values are the building blocks of every startup. Learn how to implement them in your startup and ways to give back when you're getting off the ground.
Read More